In case you missed it, in late January, Research In Motion pulled a marketing stunt, or rebranding if you will, and changed its name to BlackBerry as well as its stock symbol to BBRY. The reason, according to the company, is that this was done to coincide with the release of the BlackBerry 10 phone and operating system. The long and short of it, this is a do-or-die moment, and the smart money is short on Blackberry.
Regardless of their reasons, Wall Street was not impressed and as a result, the share price plummeted. Call it what you will, a rebranding or a marketing stunt, this move was obviously an attempt by the current CEO, Thorsten Heins, to make his mark and disassociate himself, and the company, from the founders who ruined a once great enterprise. But, will any of this matter in the long run?
The Once Great Research In Motion
Research in Motion was once a leader in the smartphone revolution and its glaring success was its domination of providing enterprise solutions for the Government. Research in Motion had more government contracts than any other smartphone provider in the world; as a result, revenues skyrocketed and at its all time high, Research In Motion traded at almost $140 per share during late 2008.
But the smartphone industry is a rapidly changing landscape that requires constant reinvention to maintain any form of relevance. Take for example, Samsung (OTC:SSNLF) and Google's (NASDAQ:GOOG) Android operating system. As a direct result of a constant reinvention of itself, the Samsung Galaxy now competes directly with Apple's (AAPL) iPhone. RIM was just not able to keep up with the changes and then in June of 2007, Apple introduced the first generation iPhone and, as no surprise, RIM began to lose market share.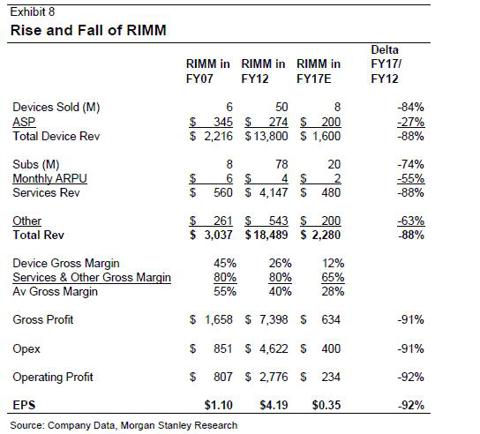 Then the death knell began to toll and RIM began to lose its government contract exclusivity.
As a result RIM has crashed from a record $148 per share to a paltry $13 to $15 per share.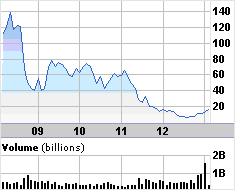 The Rebranding of Research In Motion
In anticipation of its simultaneous release of the long promised BlackBerry 10 devise and the new BlackBerry Operating system Research in Motion decided to "rebrand" itself as BlackBerry and even adopted a new ticker symbol.
Quite frankly, while it made for good publicity this "marketing gimmick" will have no more lasting effect on BlackBerry than when Phillip Morris (NYSE:MO) changed its name to Altria.
Case in point: does anyone even remember the Palm's "Personal Digital Assistant (PDA's)?" Palm was a phenomenal company that was revolutionizing the industry, so much so that in April of 2010, Hewlett-Packard (NYSE:HPQ) purchased the company for a staggering $1.2 Billion. Almost to the day, one year later, Hewlett Packard announced that it would discontinue production of all Palm operating systems.
The fact of the matter is that this is a brutal industry and no one has ever succeeded in turning around a failing smartphone manufacturer. I don't believe that BlackBerry will fair any better. This industry is just too competitive and BlackBerry has already lost entirely too much market share. I had held out hope the BlackBerry 10 would revitalize this company but alas, that is not the case.
The BlackBerry 10's release was delayed for over a year and BlackBerry put all of its proverbial "eggs in one basket." The BlackBerry 10 would have to be an industry game changer to turn the company around and it just is not. By all accounts, the BlackBerry 10 is a great phone with virtually all of the bells and whistles now found on Android and iPhones but it is not a game changer. While BlackBerry was taking its time to release the BB10, Apple, Google and Microsoft (NASDAQ:MSFT) all made significant entry into BlackBerry's core business: the enterprise market.
Make no mistake, it was BlackBerry's complete incompetence and failure to address the rising challenge of Apple's iPhone that cost them their virtual monopoly on enterprise solutions.
The Bottom Line
The release of the BB10 was supposed to be a game changer for BlackBerry. But it is just another smartphone and not a real game changer. The fact of the matter is that the iPhone and the Android have become so entrenched in the market that they are the default purchase for many consumers. BlackBerry has offered nothing on this new phone that would compel consumers to try something new. In fact, the BlackBerry is even missing applications that have become almost standards in the industry, like NetFlix (NASDAQ:NFLX) or InstaGram and countless others. So the question then becomes; why switch to the BB10? Case in point, Microsoft, which has vastly more resources than this company, has tried for years now to get people to buy Windows phones; the result, almost negligible sales in North America.
BlackBerry put all of its "eggs in one basket," and they dropped it. It is just too little to late and the smart money is on shorting this stock.
Disclosure: I have no positions in any stocks mentioned, and no plans to initiate any positions within the next 72 hours. I wrote this article myself, and it expresses my own opinions. I am not receiving compensation for it (other than from Seeking Alpha). I have no business relationship with any company whose stock is mentioned in this article.