Shares of Halliburton Company (NYSE:HAL) have returned 24.8% over the past 3 months. At $40.31, the stock is trading right at its 52-week high and offers a slight dividend yield of 0.9%. In this article, I will elaborate on the stock valuation analysis which supports my bullish view on Halliburton.
Sell-side analysts on average predict the company's revenue, EBITDA, and EPS to grow at CAGRs of 8.3%, 12.5%, and 19.3%, respectively, over the current and next calendar years (see comparable chart below). Those consensus estimates are just slightly below the averages of 8.4%, 13.9%, and 19.4%, respectively, for a group consisting of Halliburton's primary peers in the O&G services sector. Similarly, the company's EBITDA margin is forecasted to expand by 1.7% over the same horizon, slightly lower than the peer average at 2.0%. On the profit side, Halliburton has demonstrated a strong margin performance as most of the firm's profitability margin and capital return measures are markedly above the par. The company's leverage level is fairly consistent with the group as reflected by its in-line debt to capitalization and debt to EBITDA ratios. In terms of liquidity, despite the negative trailing free cash flow margin, the figure is still above the group average. Due to the higher profitability, Halliburton was able to maintain an above-average interest coverage ratio. Both the firm's current and quick ratios are above the peer averages, reflecting a healthy corporate balance sheet.

To summarize the financial comparisons, given Halliburton's in-line growth potential and relatively superior profitability performance, the stock valuation should reasonably deserve a slight premium over the peer-average level. Nevertheless, the current valuations at 6.5x forward EBITDA, 13.6x forward EPS, and 0.8x PEG are quite comparable to the peer-average trading multiples, suggesting that Halliburton shares are modestly undervalued on a relative basis.
Further, the stock's trailing P/E multiple of 14.7x is currently trading at 15.1% discount to its 3-year average at 17.3x (see chart below). From my view, the lower valuation appears to be an attractive level provided that 1) Halliburton's capital return metrics including ROE, ROIC, and ROA have all trended down from their 3-year highs in 2011, but they remain fairly comparable to their historical level in early 2010; 2) the firm's various profitability margins have seen a similar trend over the same period; and 3) the growth trajectory for revenue, EBITDA, and EPS suggested by the consensus estimates shows a potential recovery and stabilization over the current and next years (see charts below).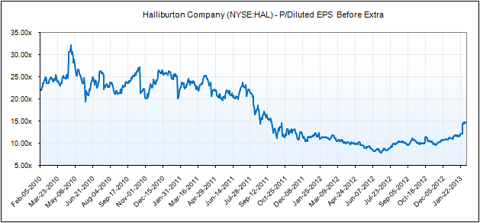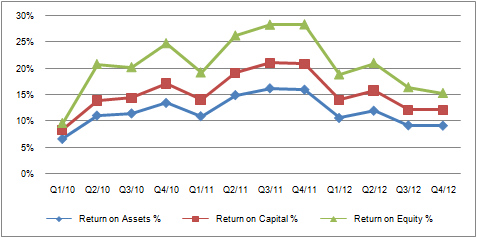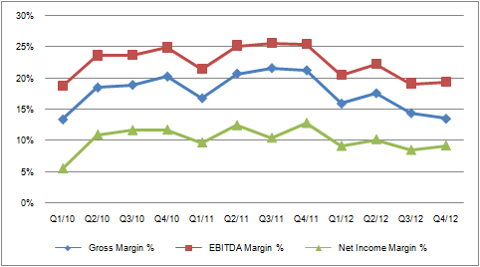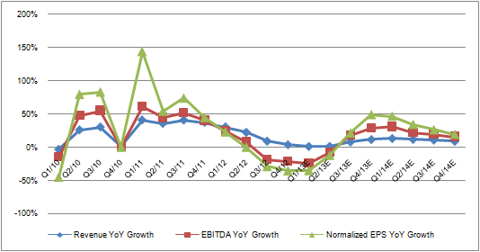 Moreover, Halliburton's forward P/E multiple is trading at 5.8% discount to the same multiple of the S&P 500 Index, which stands at 14.4x now (see chart below). Although the market discount has substantially reduced from its 1-year average of 23.0%, I expect Halliburton's P/E multiple has a potential to exceed the market level as the company's long-term estimated earnings of 17.6% is overwhelmingly above the average estimate of 8.2% for the S&P 500 companies.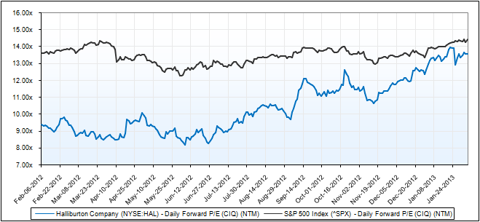 Additionally, in the company's recent Q4 2012 earnings release, management announced that the company's capita spending in 2013 will likely be 16% below the 2012 level. That would imply a potentially higher dividend payment or stock buyback as the company returns the capital to shareholders, which will modestly support the stock price in 2013.
Most sell-side analysts are bullish on Halliburton. According to Thomson One, of the total 34 stock ratings, there are 12 strong buys, 18 buys, and only 8 holds. In a recent research note, Mike Urban, a research analyst at Deutsche Bank, elaborated on his view for the company's growth prospects in 2013, which I tend to agree on (sourced from Thomson One, Equity Research):
"HAL's focus going into 2013 remains on capital discipline in its approach to growth with an eye toward increasing free cash flow generation. In North America, margins likely bottomed in Q4 as HAL works through its high priced guar inventory, onshore activity rises at the leading edge and the GoM continues its upward march at very high margins. After the normal seasonal decline in Q1, we expect international to continue to move higher with margins inflecting to the upside over the course of the year driven by higher volumes against better fixed cost absorption improving mix, old/ low margin contracts running off and a nascent pricing recovery."
Bottom line, despite the recent price appreciation, Halliburton is still trading at a tempting valuation level. In the light of the company's expected margin recovery and free cash flow expansion, a buy rating is warranted.
The comparable analysis chart is created by the author, all other charts are sourced from Capital IQ, and all financial data shown in the article and the charts are sourced from Capital IQ unless otherwise noted.
Disclosure: I am long HAL. I wrote this article myself, and it expresses my own opinions. I am not receiving compensation for it (other than from Seeking Alpha). I have no business relationship with any company whose stock is mentioned in this article.