Gold mining stocks have been one of the worst performing sectors over the last two years. They have deeply lagged behind the overall market and the price of gold (See Chart). Miners have been plagued by cost overruns, strikes and increasingly meddlesome governments. However, as my late father was prone to say, "Everything reverts to the mean". I noticed in the last 24 hours that two cheap miners reported solid production guidance. Both are worth consideration by value and growth investors.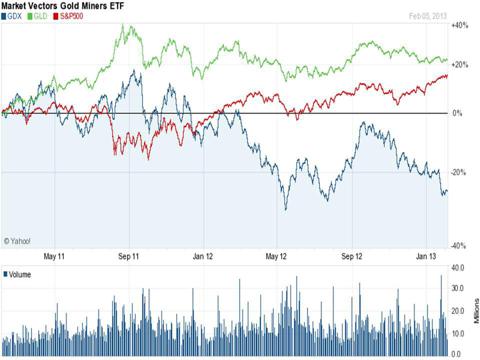 New Gold (NYSEMKT:NGD) is a gold mining company with around a $5B market capitalization. It primarily explores for and mines gold, silver, and copper. The company's operating properties include the Mesquite gold mine in the United States; the Cerro San Pedro gold-silver mine in Mexico; and the Peak gold-copper mine in Australia.
4 reasons NGD has upside from $10 a share:
The company just provided production results and guidance. Gold production grew 6% in FY2012 with total cash costs per ounce sold, net of by-product sales, decreasing to $421 per ounce from $446 per ounce in 2011. It expects a 12% production jump in FY2013 with costs per ounce continuing to drop.
The median price target of the 10 analysts that cover the stock is $15 a share, roughly 50% above the current stock price.
Revenue growth is expected to grow more than 30% in FY2013 after increasing around 13% in FY2012.
Operating cash flow is up better than 150% from FY2009 and the stock is priced at a reasonable 14.5x forward earnings given its growth prospects.
Golden Star Resources (NYSEMKT:GSS) owns and operates the Bogoso/Prestea gold mining and processing operations that cover approximately 40 kilometers of strike along the southwest-trending Ashanti gold district in western Ghana, and the Wassa open-pit gold mine and carbon-in-leach processing plant located to the east of Bogoso/Prestea in southwest Ghana.
4 reasons GSS is solid speculative growth play at just $1.60 a share:
The company just reported fourth quarter gold production jumped more than 30% Y/Y. For all of 2012, gold production was up 12% over 2011.
Credit Suisse upgraded the shares after the production update and on strong drill results at its Wassa gold mine in Ghana, which resulted in a significant increase to reserves. The firm also believes the new CEO can implement a turnaround plan for GSS, and thinks the head-office move to Toronto will provide better access to capital markets.
The stock is selling right at book value and GSS is priced at just 5.5x operating cash flow.
GSS is selling at 10x forward earnings, a discount to its five year average (13.4). The company increased revenues more than 15% in FY2012 and analysts believe almost 10% sales increases are in store for FY2013.
Disclosure: I have no positions in any stocks mentioned, but may initiate a long position in NGD over the next 72 hours. I wrote this article myself, and it expresses my own opinions. I am not receiving compensation for it (other than from Seeking Alpha). I have no business relationship with any company whose stock is mentioned in this article.