EVENT: Sees FQ4 Revs $500-520M (Midpoint $510M -27.2% Below Street Expectations)
CAUSE: "Great Deal Of Uncertainty," Especially In PC, Consumer Electronics Markets
IMPACT: Negative Supply Chain Data Point For #1 Customer WDC, #2 Customer RIMM
ACTION: Continue To Avoid PC Supply Chain, RIMM, Distis, Foundries, OSAT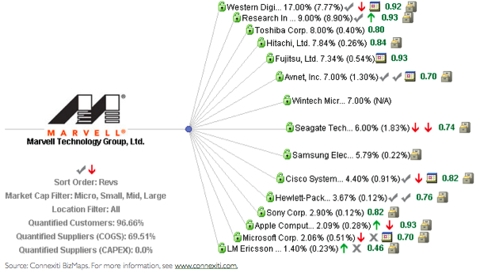 SUPPLY CHAIN EVENT TRACKER
12.17.08 Customer WDC guides FQ2 revs -11.5% below Street expectations
12.18.08 Customer RIMM guides FQ4 revs +14.1% above Street expectations
1.7.09 Customer INTC guides Q4 revs -6.7% below Street expectations
1.13.09 Competitor LLTC guides FQ3 revs -13.5% below Street expectations
1.14.09 Customer MOT guides Q4 revs -5.5% below Street expectations
1.15.09 Supplier INTC guides Q1 revs -3.8% below Street expectations
1.20.09 Competitor ADI guides FQ1 revs -8.0% below Street expectations
1.21.09 Customer NTGR guides Q4 revs +0.2% above Street expectations
1.21.09 Customer AAPL guides FQ2 revs -4.9% below Street expectations
1.21.09 Customer STX reports Q4 revs -7.7% below Street; guides Q1 revs -17.7% below Street
1.22.09 Supplier TSM guides Q1 revs -35.3% below Street expectations
1.22.09 Customer AVT guides FQ3 revs -1.0% below Street expectations
1.22.09 Customer MSFT reports FQ2 revs -2.7% below Street expectations; declines guidance
EVENT: GUIDES FQ4 REVS MUCH LOWER. MRVL Thursday after the close warned that FQ4 (Jan) revs would be $500-520M (mid-point $510M -27.2% below Street). The implied decline of -35.5% Q/Q is far below a tight 7-yr avg of +12.9% (σ=26.16).
CAUSE: PC, CONSUMER ELECTRONICS. In a Press Release, MRVL management specifically pointed out the PC and Consumer Electronics markets as being weak, and noted that the depth and duration of the current global slowdown remains unknown.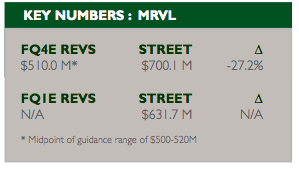 IMPACT/ACTION: CONTINUE TO AVOID PC SUPPLY CHAIN NAMES, RIMM. MRVL's statement that PCs are weak syncs with a plethora of negative PC supply chain data, most recent, from INTC, MSFT, STX, and NVDA (see "Supply Chain Event Tracker, above). MRVL's largest customer is WDC (~17% of revs), and thus we view MRVL's warning as supporting our negative view on it and several other PC supply chain names, including CAJ, DELL, and HPQ. We also view MRVL's warning as a negative for its #2 customer RIMM (~9% of revs): while management did not mention cellular as a source of weakness in the PR, it has referred to cellular devices before under the umbrella of "consumer" in both conference calls and press releases. We have seen several negative wireless handset supply chain data points recently, from NOK, MOT, Sony Ericsson, and others. RIMM itself did guide FQ4 (Feb) revs +14.1% above Street expectations back in mid-December; at the time, we viewed this as a result of the new product launches of the Bold and Storm.
However, as good as these products may be, we believe that they will not be able to escape the current macroeconomic environment, and MRVL's warning supports that thesis. From a semiconductor point of view, MRVL's severe warning syncs with our negative view there as well, and is supported by numerous recent data. We have stated for some time that the Street does not yet fully realize just how bad 2009 is going to be for the sector: as of today, it is still modeling a Y/Y reverse decline of just -15.4%. Our last analysis of this number (on Jan 9) stated a best-case scenario at that time of -23%, and we are in the process of revising this significantly downward. For more information, see our BizMaps at www.connexiti.com.