Yesterday we took action when we got news that one of our stocks had been upgraded and was rallying again. The move was made late in the day and not the morning and we posted this news in the comments section as soon as possible (unfortunately when we are away from a computer our iPhone does not allow for posts to be made in the comment section. We did however alert our followers via Twitter of the move, and if you are not following us there that is another way to get up-to-the-minute moves we make. Our handle there is @theinvestar and it is a good backup for situations such as yesterday which was unforeseen). The move took our retirement portfolio to about 1/6th cash and we are simply waiting to rotate back in, which you can read about in the article.
Commodity prices this morning are as follows:
Gold: $1676.30/ounce down by $2.50/ounce
Silver: $31.77/ounce down by $0.107/ounce
Oil: $96.84/barrel up by $0.22/barrel
RBOB Gas: $3.0586/gallon up by $0.0189/gallon
Natural Gas: $3.431/MMbtu up by $0.013/MMbtu
Oil & Natural Gas
The real bad news in the industry centered around Suncor Energy (NYSE:SU), the huge oil sands play from Canada, which saw shares fall $1.80 (5.21%) to close at $32.73/share after the company saw operating profits fall to C$1 billion which was down 30%. The company also announced that they wrote down the value of their Voyageur upgrader, a long-delayed project, by C$1.49 billion as it appears that upgrading their bitumen production would be uneconomical with the rise in US domestic oil production and the abundance of refinable oil now flowing to refineries across the 'Lower 48'.
News which was also on the negative side for those worried about production today rather than down the road would have been the Q4 release from Gulfport Energy (NASDAQ:GPOR) which saw big selling in the early part of the session due to this. Shares rallied off of the lows and ended up settling at $41.07/share after falling $1.02 (2.84%). The company generally breaks down production across 5 areas (West Cote Blanche Bay, Hackberry, Permian Basin, Utica Shale, and then the Bakken, Nibrara & Other Areas) and when looking at those areas production was pretty much down across the board.
West Cote Blanche Bay 41,030 BOE
Hackberry (43,356) BOE
Permian Basin (41,179) BOE
Utica Shale (664) BOE
Bakken, Niobrara & Other Areas (2,769) BOE
So as the breakdown suggests the company did a good job adding wells and production to their Louisiana production and their Utica Shale production was held back due to midstream issues in the play which should be resolved by mid-year for their current wells ready to produce. The main issues were the Permian and Hackberry where production fell by over 84,500 BOE so it will be interesting to see if this was the result of takeaway issues or because the company fully expected to at least meet the prior quarter's production figures.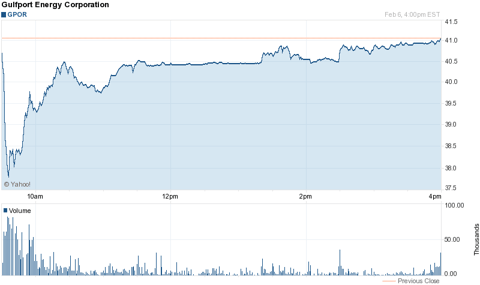 Chart courtesy of Yahoo Finance.
As bearish as this may look we have to look at the Utica and see the upside as all the wells begin to come online as well as the approximately 50 wells they will be drilling this year in the play. It is going to grow production exponentially simply with the wells they have already announced, and all of the others will simply be icing on the cake. We will be listening to the conference call to get a feel for whether the production miss was due to issues we need to be worried about, but right now we think the exploration upside outweighs any downside from potential issues (because it is highly unlikely that the company experienced two issues in two separate plays which would affect production that much and be related, possible but highly unlikely).
One move we did make yesterday was the sale of PDC Energy (NASDAQ:PDCE) shares in our retirement portfolio. It is not something we expected to do yesterday but we saw the upgrade from Miller Tabak to a 'Buy' from 'Neutral' and although we like the stock that looked to make the current valuation a little rich for our blood. So we did the reasonable thing and booked our profits as the shares looked extended and will wait for a pullback. This is a short-term trade based solely on valuation as there is good news ahead and we will rotate back in (hopefully at lower prices), but based on the last leg up we felt better served sitting in cash for a little while.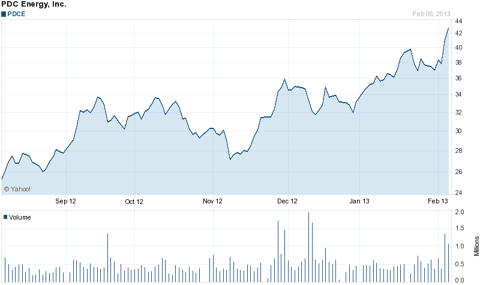 Chart courtesy of Yahoo Finance.
Investors have had a lot of questions concerning the TMS, otherwise known as the Tuscaloosa Marine Shale, and yesterday's news from Goodrich Petroleum (NYSEMKT:GDP) went a long way towards answering some of those questions after the company reported that the Crosby 12H-1 well, which they have a 50% working interest in, was completed and production continues to improve. The well is located in Wilkinson County, Mississippi and is producing 1,130 BOE with the composition being 1,050 barrels of oil and 469 Mcf of natural gas. The well had a lateral of 6,700 feet and consisted of 25 fracking stages. With this success the company said that they now expect to have capital expenditures in the TMS near the high end of their previous guidance which be about $50 million.
Goodrich has approximately 135,000 net acres in the TMS and they have a few more wells to be completed in the near future. During this month they should complete the Ash 31H-1 and 31H-2 wells which they own a 12% stake in, the Anderson 17h-2 well, 7% ownership, and the Smith 5-29H-1 well which the company is operating and will have completed in Q2. This was big news not only for Goodrich, which saw shares rally $1.94 (18.27%) to close at $12.56/share, but for the entire Tuscaloosa Marine Shale as it demonstrates that big, economic wells can be successfully drilled and completed.
Coal
Dahlman Rose lowered their price target on Arch Coal (ACI) yesterday to $8/share from their previous price target of $9/share due to the company's latest earnings and recent events. The firm did reiterate their 'Buy' rating as they believe Arch's contracts which are in place for 2013 and 2014 are adequate and the firm has plenty of liquidity as they wait for a rebound in the coal market. Dahlman Rose also sees increasing metallurgical coal sales which they believe will help with Arch's CAPP mix. The shares finished the day at $6.10/share after shares rose just about 1%.
Disclosure: I am long GPOR. I wrote this article myself, and it expresses my own opinions. I am not receiving compensation for it (other than from Seeking Alpha). I have no business relationship with any company whose stock is mentioned in this article.