Invesco Mortgage Capital (NYSE:IVR) is a REIT that invests in agency RMBS, non-agency RMBS, CMBS, and residential and commercial mortgage loans. In recent quarters we have seen mortgage rates fall significantly. The Fed has acted to lower mortgage rates and buoy housing prices with programs such as Operation Twist (expired at the end of 2012), QE3 ($40 billion/month in MBS buying by the Fed), and QE4 ($45 billion/month in long-term U.S. Treasury buying by the Fed). As a result of these programs, mortgage rates have fallen. This has allowed many people to refinance their homes at lower prices. It has also allowed buyers to qualify for loans more easily, made homes more affordable for buyers, and helped to raise home prices.
In the case of IVR, it has meant that the book values of agency RMBS have gone up. Unfortunately, the interest rate spread -- the main determiner of profits in IVR's business -- has narrowed. Fed buying of $40 billion/month in MBS has also served to push the price of agency MBS to a higher premium. Hence, the book value of IVR's agency MBS assets has risen.
As a result, the agency RMBS have become overly expensive. They generally trade at a premium to face value. This premium effectively lowers the interest rate spread that IVR and others can profit from. IVR's Q4 2012 actions show that it is adapting well to the market situation. Non-agency RMBS and CMBS are still trading at huge discounts to face value. With the housing market improving, those securities are much safer investments than they have recently been. Furthermore, they are likely to appreciate greatly as the housing market continues to improve. IVR will not only be able to profit from the higher interest rate spreads, it will be able to garner monies from the appreciation of the securities values, which could be considerable. Many non-agency MBS are trading at 30%-40% discounts to their face values. A 5%-10% appreciation in market values would mean huge gains for IVR.
IVR acted on this strategy in Q4. It decreased its portfolio's Agency holdings by $604 million; and it increased it non-agency RMBS by $453 million and its CMBS by $297 million. IVR also carried more cash into year-end 2012 at $286 vs. $190 in Q3 2012. This cash has now been deployed in Q1, and the additional $359 million raised recently has been 85% deployed. Much of this was put to work on the agency side, just as valuations were cheapening.
The chart of the 30-year Treasury bond yield below gives an indication of why the company might want to get back into agency RMBS: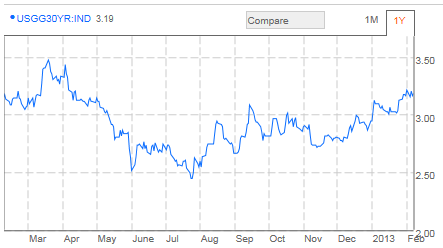 As you can see, it has been trending steadily upward. Apparently "printing money" (buying $45 billion/month in long-term bonds) causes some inflation, even though the massive Fed buying has to decrease the supply of long-term bonds. The 30-year fixed-rate mortgage rate has also gone up in recent weeks. In the late fall it got as low as about 3.30%, while it now stands at 3.60%. This provides more interest rate spread for agency RMBS (and other MBS). It also leads to a decrease in face value for agency RMBS. They still sell at a premium to face value (as many of them are for higher interest rates than 3.60%). However, that premium has decreased to reflect the smaller difference between, say, a 4.50% 30-year fixed-rate mortgage MBS and the current 3.60% rate. This allows IVR and others to make more money because the cost of borrowing to invest at multiples of its actual cash level has not risen commensurately with the mortgage rates. In Q4, IVR increased the leverage level from 5.8x to 6.1x. In the agency portfolio alone the leverage is 9.3x.
The portfolio breakout at the end of Q4 2012 is shown below: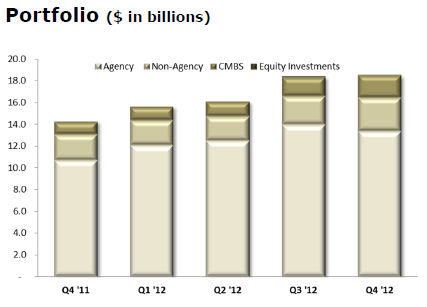 The increased amount of non-Agency RMBS and CMBS is easy to see. IVR has also managed to keep CPRs (constant prepayment rates) down. This has helped profitability. Its agency 15-year fixed-rate MBS' CPR averaged 17.4 in Q4 2012, and its 30-year fixed-rate MBS' CPR averaged 11.6. These were much better figures than cohorts averages of 26.5 and 20.9, respectively. IVR's non-agency CPR averaged 17.7 in Q4 2012.
IVR's Q4 results were impressive given the conditions. It earned $0.77 per share/unit. This was a good beat of its $0.65 per share estimate. It paid a $0.65 per share/unit quarterly dividend (12.23%). It managed to lose less than 0.5% of its book value, even in the face of rising mortgage rates at the end of Q4 2012. Overall on the year, IVR's stock price appreciated from near $14 at the beginning of January 2012 to about $21 at the end of 2012. That's approximately a 50% gain. Plus, the company paid out $2.60 in dividends/distributions. That's about an 18% dividend based on the stock price at the beginning of the year. I doubt 2013 will be as good a year. However, IVR is still paying a hefty 12.23% dividend; and its stock may well appreciate in value significantly. IVR may profit hugely as the difference between the market value of non-agency RMBS and CMBS converges with their face values in a strengthening housing market.
In sum, IVR's management appears to be moving in sync with the housing market changes. Its performance speaks for itself. The current book value of $20.83 is very close to the current stock price of $21.26. Plus, IVR's management managed not to lose much in book value during Q4, when it had a major opportunity to do so as mortgage rates rose toward the end of the quarter. This is good management. IVR is a good investment.
The two-year chart of IVR provides some technical direction to this trade:
Click to enlarge image.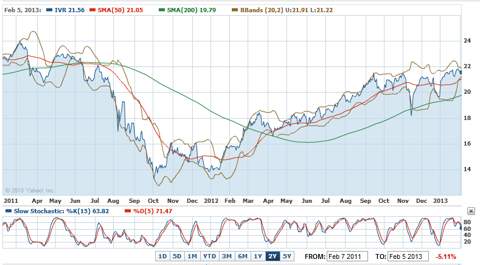 The slow stochastic sub chart shows that IVR has just backed off overbought levels. The main chart shows that IVR is in a weakening uptrend. Whether or not the U.S. goes into another recession in 2013 will likely determine whether or not this was a good time to buy IVR. However, the company's management team is impressive. It has been acting quickly to adjust to the market. The housing market does seem to be improving. It has huge backing from the Fed, which is not likely to disappear soon. If the stock goes down, it will likely bounce back up quickly. Plus, the interest rate spreads for Q1 2013 should be an improvement over those in Q4 2012.
IVR is a buy. However, averaging in at least until the U.S. Congress and U.S. president settle the sequestration issue in March is a good idea. Planning to average in over the whole of the year is probably a good strategy. Many knowledgeable analysts, such as Doug Kass, are currently bearish on the overall markets. Still, it is hard to resist the 12.23% dividend, and this industry is being heavily backed by the Fed. IVR trades at a quite reasonable P/E of 7.68. It has an average analysts' recommendation of 2.0 (a buy).
Note: Some of the fundamental financial data above is from Yahoo Finance.
Disclosure: I have no positions in any stocks mentioned, but may initiate a long position in IVR over the next 72 hours. I wrote this article myself, and it expresses my own opinions. I am not receiving compensation for it (other than from Seeking Alpha). I have no business relationship with any company whose stock is mentioned in this article.