2008 was a tough year for the Wall Street revenue engine, which declined an incredible 60% across the board. America's Growth Capital (AGC) fully recognizes that the next few quarters will be tough for most everybody, but we are determined to keep our heads down and work as hard as we can. We have seen the positive effects of this approach, as our 2008 revenues and profits were up significantly, and we are optimistic that we will all see better days by the end of 2009.
We have a ways to go, however. Public technology companies are selling at significantly lower values (0.6x LTM revenue for those under $300mm market cap). Upward equity market momentum is constrained by poor economic fundamentals, public mutual fund and hedge fund illiquidity and downright investor fear. Realizing the relative "yard sale" at their fingertips, large cap strategic buyers have started to become more acquisitive, but most of the activity in 2008 was generated by small and mid-cap public and private companies and buyout firms. M&A activity hit a 15-year low in 2008, not only because the debt and equity markets cratered, but also because buyers' fundamentals deteriorated drastically, creating a lack of ability and confidence to do deals.
Technology companies could not turn to the IPO, public follow-on or debt markets for financing in 2008 – 80% of their funding came from private placements and 20% came from PIPEs. There were only 15 tech IPOs and follow-ons completed in 2008 vs. 284 in 1998. The financing situation has deteriorated in January of 2009. The private equity and PIPE investors with the cash and the guts to invest will have many opportunities with far less competition in 2009.
For reasons outlined below, AGC believes this year will represent one of the best buying opportunities in decades. After 5 years of record breaking fund raising, private equity firms possess an enormous amount of available capital, estimated at over half a trillion dollars, and only some are willing to put it to work. Early 2009 M&A activity will get worse which is good news for those private equity funds and strategics that are ready to commit. Valuations still have not hit rock bottom. As a result, many companies that should not be public are struggling to stay alive and are now finding themselves to be prime targets for buyers. For this reason, we believe that 2009 will be a robust year for micro-cap buyouts.
The effects of the global economic slowdown, which became more apparent and alarming in Q408 – the obliteration of worldwide stock markets, the rapid deceleration in capital markets activity (equity, debt, M&A) and the ever-increasing unemployment rate – herald a tougher than expected 2009 for emerging growth companies. AGC believes that the world economy will further deteriorate for the balance of the year. The decrease in business and consumer spending and contraction in financial resources will give way to a decrease in production, profitability and employment in virtually all sectors. Companies are expected to save more and bankruptcies will balloon while the number of M&A transactions will bottom out and start rebounding mid-year.
The following illustrates the profound deterioration in U.S. economic fundamentals over the past 8 years:

Frozen Credit Markets Begin to Thaw
The subprime market in itself represented a tiny piece of the global market for collateralized assets, yet its meltdown became the straw that broke the camel's back – ultimately freezing the entire global credit markets and knocking equity values down roughly 40% worldwide. Under-regulated financial services industry giants had become so overleveraged (40:1) that even minor writedowns and liquidity constraints would have been devastating. Instead, the writedowns were massive, and the liquidity freeze created a long list of insolvent companies: Bank of America (NYSE:BAC), Citigroup (NYSE:C), AIG, Countrywide, Merrill Lynch, Wachovia, Washington Mutual, Fannie Mae, Freddie Mac, Lehman Brothers, Bear Stearns, not to mention an entire nation (Iceland). These events have negatively impacted all sectors of the economy, with the financial services (-57%), energy (-45%) and basic materials sectors (-45%) suffering the sharpest declines.
What began as a credit crunch for the subprime and hedge fund markets eventually spread to the broader economy—oil experienced a high of $147/barrel and is now at $42/barrel. Banks cut credit, consumers curtailed spending, companies embarked on massive layoffs and recession took grip of markets worldwide, sending commodities prices crashing.
This cascade of events led the Federal government to take unprecedented steps to stabilize the economy via a $700B TARP plan that consisted of taking equity and debt positions in a broad range of industries, backstopping subprime-related losses, sharply reducing the Federal Funds Rate to 0%-0.25% and the Obama administration's proposed $850B stimulus package. All these developments took shape amid a hard fought presidential campaign, and subsequent transition period, that guaranteed we, as a nation, would not stay the political and economic course to which George W. Bush was so committed. Roughly 18 months after it all started, the subprime market is open again for trading, albeit among a frenzy of vulture investors. The credit markets are expected to improve in the second half of 2009.
All the above will lead to record bankruptcies in 2009—some forced but many by choice. Corporations with debt levels well above the recapture value of the enterprise will have managers and equity holders choosing bankruptcy to cram down liability obligations and redistribute the option value on the equity. In this unique era, there is no shame of bankruptcy for not only the home mortgage holder but also the corporate debtor.
Small Cap Tech Buyouts Will Pick Up in 2009
The Dow Jones Wilshire 5,000 dropped from a 2008 high of $17.9 trillion to $10.2 trillion, representing a $7.7 trillion loss of wealth. The entire NASDAQ market capitalization has dropped 46% to $2.7 trillion in 2008 from $5 trillion in 2007. Hundreds of companies have delisted and many more will need to do the same. Financings have dropped significantly in 2008. 70% of the roughly 2,900 NASDAQ companies are trading below $300mm with median market capitalization of $47mm. At least 20% of NASDAQ (500 companies) should not be public and, worse yet, the valuations of those companies are roughly 0.6x LTM revenue, driven as much by the fallout due to redemptions at hedge funds and other small cap investors as by fundamentals.
Valuations are so low that potential sellers are holding on, and performance, among some, is so bad that potential buyers are afraid to make the bet. Nonetheless, NASDAQ tech companies will be feed-stock for strong strategics, both public and private, and PE firms in 2009 and 2010. AGC believes 2009 will represent one of the best buying opportunities in the last 25 years.
The following illustrates the current make up of the NASDAQ Global Markets: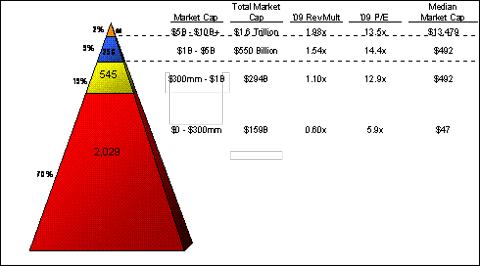 U.S. Investment Banks Got Crushed in 2008 and will Continue to Struggle Throughout 2009
The surviving top U.S. investment banks (Goldman Sachs (NYSE:GS), Morgan Stanley (NYSE:MS), J.P. Morgan (NYSE:JPM), Bank of America and Citigroup) are collectively down 67% from their one-year highs. The top public boutique investment banks' median price per share is down 38% from 2008 highs. These boutiques on average are operating on a 12% cash flow deficit, and it will get worse in 2009. Core high margin investment banking revenues for equity and debt raising and M&A were down 60% in 2008 and will drop lower in 2009.
Many investment banks will follow the path of Merrill Lynch, Lehman Brothers, Bear Stearns and Wachovia and be forced into merger (and extinction), albeit for lack of fee business rather than reckless overleveraging on complex securities. Twelve investment banks have sold out or gone bankrupt in just the last 6 months. Boutique shops such as Pacific Growth and Revolution Partners have been bought out, and Cowen Group is under fire from rival Rodman & Renshaw. This consolidation will continue well into 2010 as investment banks seek shelter from the storm at bargain values.
When the dust settles at the end of 2009, there will be half as many investment bankers as there were at the end of 2007. The good news in all this is that we had overbuilt our U.S. investment banking and venture capability and the 2-year recession and financial crisis have forced us to rationalize. I can only imagine a few smiles emerging at this inevitability.
M&A Market
In 2008, M&A activity slowed down significantly as the world economy grappled with the market meltdown. M&A volume dropped to nearly 1993 levels, suggesting that Wall Street investment banks have further restructuring to do. While share prices have sunk to attractive levels, creating opportunities for healthy companies to pick up bargains, huge price volatility has made it difficult for would-be acquirers to place shrewd valuations on potential targets. Further, the lack of available credit has made it almost impossible to consider large buyouts and difficult to pursue acquisitions on mid-size to smaller companies.
1,158 M&A deals were completed in 2008 – a 37% decline from the 1,839 deals announced in 2007. Technology transactions have experienced a lesser fall, with 237 completed transactions, representing a 25% drop (318 completed in 2007). Another striking sign of the current distress is the number of M&A transactions that have melted down. Deals worth approximately $150B have collapsed in the last 6 months, with the bulk of the cancellations occurring after the September 15th bankruptcy of Lehman Brothers. High profile deals that have recently collapsed include the $28B LBO of BCE by a private equity consortium, BHP Billiton's (NYSE:BHP) $66B hostile takeover of Rio Tinto and Apollo's $7B LBO of Huntsman.
As buyers and sellers adjust to the new world order for valuations, we expect M&A activity to increase in 2009. Portfolio rationalization, distressed sales by creditors, private-to-private match ups and opportunistic purchases by strategics will be the driving forces for M&A, as investors grapple with funding companies during a tight financing period and without the benefit of an IPO exit for any of their portfolio companies.
Buyout Market
The current economic malaise is having a dramatic impact on private equity activity. The frozen credit markets have essentially shut down the mid-to-large leverage buyout ("LBO") market. In fact, the number and volume of LBO transactions have fallen dramatically from their all-time highs of 2006. The volume of transactions in the $1-10B range has dropped by over 65%, while the era of the mega deals, those over $10B, seems to have come to an end, with no transaction of such size announced in 2008. As a result of the current economic woes, regulatory uncertainty, lack of investor confidence and overall economic weakness, LBOs are expected to be smaller and primarily equity financed by sponsors. Further, private equity players will be challenged to find new and innovative ways to put their money to work and to find deal mechanisms that can drive the kinds of returns their limited partners ("LPs") expect.
AGC believes that technology-related private equity activity will pick up in 2009, as valuations are drastically lower and funds will need to put to work the vast amount of capital raised over the last two years. In fact, despite the economic crisis, U.S. private equity firms raised over $266B in 2008, in line with 2007 fund raising of $326B, while European funds raised $106B in 2008 vs. $96B in 2007. Activity will also be spurred by drastically lower valuations and the Obama administration's $850B stimulus plan of tax breaks and government spending in technology, clean tech and healthcare.
The following graphs illustrate the tech LBO trend and the key market players:
Tech Buyouts: 2004-2008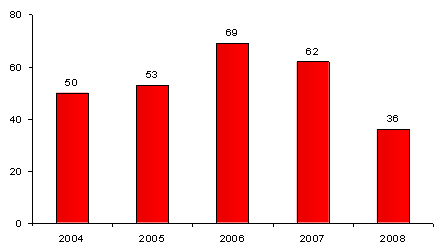 Source: Capital IQ and Press Releases
Top 10 Tech Buyout Firms: 2004-2008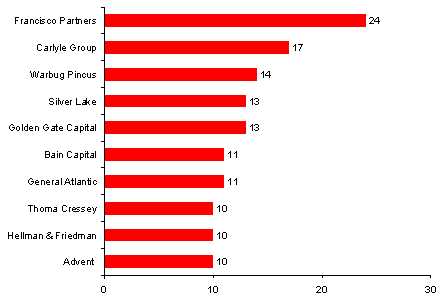 # of transactions
Private Placement Market
While the M&A and IPO markets remain challenging, VC firms are operating under the same long-term philosophy they have adhered to in the past. They are willing to invest for 5 to 10 years and will stick with their promising companies through difficult times. Thus, despite the economic downturn, 2008 VC investing amounted to approximately $30B, a new record. VCs are continuing to find and fund new deals, and the increase in later-stage investments demonstrates that they are moving away from higher risk, early-stage investments until the IPO market opens up or opportunities for M&A present themselves, allowing them to achieve liquidity.
The following table illustrates the most active technology private placement investors: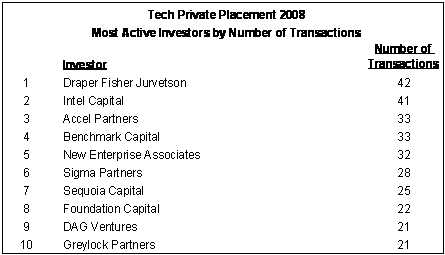 The technology sector accounted for $16B of investments, leading the way in both dollars invested and number of deals. Digital Media and Internet were strong sub-sectors of technology in 2008 with $6B of invested capital. Clean Technology investments continued at a torrid pace with $7B in 2008, up from $3B in 2007.
The venture industry has not had a solid liquidity year since 1999. 2008 saw only 6 tech IPOs and 237 tech M&A deals, with the liquidity achieved representing $705mm and $82B, respectively (vs. $7B and $209B in 2007). This is worse than the 2001 implosion of the technology bubble and raises the specter of significant contraction in the sector as underperforming funds find it harder to stay the course.
While AGC's private placement business is going strong, we see both the venture and private equity funds being more selective, more disciplined on pricing and relentless in due diligence. In 2009, venture funding will be extremely difficult as VCs grapple with what could be their worst year on record in terms of liquidity events. We expect an increase in the number of later-stage deals while early-stage investments will fall sharply. Second and third-tier firms will be talking about 2010 funds or closing up shop. Accordingly, VC investing and pre-money valuations will be down dramatically. On the bright side, the VC world was overcrowded and overinvesting. That will now change. The U.S. venture industry will finally begin downsizing and rationalizing their portfolios and even their partner and employee ranks.
On the fundraising front, we expect to see a rapid downward trend. U.S. VC funds raised approximately $25B in capital in 2008 vs. $33B in 2007, while European fundraising remained constant at $6B.
PIPE Market
2008 saw a sharp decline in the traditional private investment in public equity ("PIPE") market, as small and micro-cap deal activity ground to a halt in 2H08. Public market conditions favored more established and liquid companies, as PIPE investors avoided illiquid and emerging firms. Although the number of transactions declined by 33%, the overall amount of capital invested in PIPEs saw a massive increase of 75%, as private equity firms, sovereign wealth funds and the U.S. Government made high profile TARP investments. The majority of the transactions involved financial institutions in dire need of capital in order to replenish balance sheets strained by subprime related losses and write downs. In effect, the PIPE market became the replacement vehicle for traditional follow-on offerings.
Issuers such as General Electric (NYSE:GE) and Goldman Sachs were forced to issue warrants as part of their PIPE raises, an act previously reserved for small and micro-cap companies as sweeteners to compensate investors for additional risk. Due to the depressed values of public companies, the shuttered public equity issue market and hedge funds illiquidity, we look for further participation on the part of venture capital and private equity firms in the PIPE market as we head into 2009.
SPAC Market
Hedge funds, faced with massive redemptions and illiquidity, stopped being the funding vehicle for special purpose acquisition companies ("SPACs") which led to that market being shut down in 2008. 2007 was a banner year for SPACs, as 66 companies were able to raise over $11B in blind capital. In 2008 there were only 16 SPAC IPOs, 76% less than in 2007. The aggregate amount raised by SPACs was down as well, with only $3.8B in IPO proceeds, representing a 67% drop in comparison to 2007.
Those SPACs which were ironically unfortunate enough to complete their offerings prior to the deterioration of the markets have been unable to convince investors to approve acquisitions. As a result, 21 SPACs liquidated in 2008 compared with only 5 in 2007 and 1 in 2006. The sponsors of those liquidated SPACs will lose most if not all of their investment. With a lack of investor confidence and a premium on liquidity, there were only 9 acquisitions approved (7 of which were announced in the first half of the year) out of 71 companies seeking acquisition targets at the beginning of 2008. By contrast, in 2007 there were 19 SPAC acquisitions approved and only 48 SPACs actively seeking acquisitions at the beginning of the year.
Given the ongoing economic malaise and the premium on liquidity, liquidations will accelerate in 2009 as most of the 49 SPACs currently searching for acquisition candidates will be forced to return the cash as cash thirsty hedge funds continue to opt for liquidation over deal approval. The SPAC market is dead, at least for 2009.
Follow-on Market
2008 saw a sharp decline in the number of follow-ons—a 61% drop compared to 2007 levels—even though the $131B raised was staggering. Bruised by the many rounds of massive write-downs, financial institutions relied on the follow-on market as the only way to shore up their capital bases to re-equitize albeit at disadvantageous prices and terms. In fact, investors took advantage of the difficult capital raising conditions and raised the file-to-offer discounts and the offering discounts for follow-on equity offerings. High profile transactions included the $12B offering by General Electric, the $11B offering by Wells Fargo (NYSE:WFC), the $7B offering by AIG, the $4B offering by Wachovia and the $2B offering by Nucor (NYSE:NUE). Technology companies faced a more difficult task raising capital as evidenced by the 94% decrease in volume in 2008 compared to 2007 (9 transactions vs. 139). Technology secondary offerings decreased from $12B in 2007 to $735mm in 2008.
We believe that the overall follow-on equity market will experience a welcomed recovery in late 2009, as technology, financial institutions and companies across all sectors of the economy require additional capital to shore up their balance sheets, survive the headwinds and fund future growth.
IPO Market
With the global economy in its worst state since 1970 and unprecedented stock market volatility, 2008 was dismal for the IPO market. In fact, IPO activity came to a veritable standstill in the second half of the year with fewer than a dozen pricings. The year saw a total of 43 IPOs raising $70B in capital which is sharply off from 2007, when there were 233 offerings. Visa (NYSE:V), whose March 2008 IPO came to around $19B, was the shining star and bolstered the anemic 2008 numbers by comprising over 27% of the IPO capital raised for the entire year. Many companies that had filed for IPOs have withdrawn their filings or postponed plans indefinitely. In fact, with the broader S&P 500 index down 38%, many firms were dissuaded from pursuing their IPO plans. The bleak IPO market has been toughest on technology companies, which priced only 6 IPOs in 2008 compared to 60 in 2007 and 87 ("Party On") in 1998. Only two of these companies were U.S.-based. The IPO drought is also having adverse effects on the venture capital community which is struggling to find exit paths.
In the first half of 2009, there will be few IPOs. Continued pressure on revenue and earnings combined with investment banks' continued instability and lower public equity valuations will keep the IPO market closed for most of 2009. Those companies that are big and strong and have to go public might test the markets. This being said, why would a healthy company that actually could go public even want to do so at these low valuations and during these extremely negative times?
As the recession status becomes clear and companies properly adjust, the credit markets will come back and the stimulus package will kick in. IPOs will return but not until 2010.
Predictions for 2009
George Bush has ended his tenure as the most unpopular president in American history, having presided over the meltdown of the entire banking and mortgage markets and the worst economic slump since the Great Depression. Looking ahead, we are in for a slow recovery. That said, the vultures are already bidding for the remains of the subprime bonds. The catalyst to our crash will be the beginning of the credit recovery. The banks will eventually get their balance sheets in order, investors will be forced to go back in the debt waters rather than live with 1% returns. The equity market will take longer because no one knows how hard the ongoing recession will hit them.
Although the Dow Jones at 8,000 and the NASDAQ at 1,500 feel cheap, it may not yet be the bottom. Venture investing will be down in 2009, and private equity will be down but not big because most funds are sitting on piles of cash and companies will have nowhere else to go. Hedge funds will continue to feel the wrath of LPs, with increased redemptions curtailing their participation in the M&A, PIPE, and private placement markets. SPACs are dead. IPOs as a source of entrepreneurial motivation are over unless Washington rewrites the rules for emerging growth companies. M&A will be the strongest market for the emerging growth world in 2009.
The U.S. has a strong will and history for rapid recovery. That said, this was the mother of "financial failures".
To download AGC's 2008/2009 Market Perspective, click here.
Disclosure: No positions.