Oracle (NYSE:ORCL) now presents a strong case for investment due to its numerous 2012 cloud-based acquisitions. Rising projected cloud-growth bodes well for the company that has previously dominated the software applications and hardware systems markets. Notably, the company's recent acquisition of marketing automation firm Eloqua for $871 million signals a business in ascendancy. Industry access granted by Eloqua, coupled with the estimated potential of the rest of Oracle's acquisitions, make the tech giant an exciting long-term play.
What Is Eloqua?
Eloqua is a top provider of revenue performance management (RPM) - software solutions that are designed to enable businesses to accelerate revenue growth and improve revenue predictability by automating, monitoring and measuring their complex marketing and sales initiatives. The strategic value of this deal is clear: it will boost Oracle's marketing software offerings. Analysts predict that because of this move, industry competitors will follow suit in strengthening their respective marketing automation platforms. Amongst other candidates ripe for acquisition, automation firm Marketo could prove the strongest. Both Salesforce (NYSE:CRM) and SAP (NYSE:SAP) may soon produce bids for the small San Mateo company.
The market is ultimately projected to shift away from on-premise space, and move in the direction of cloud-computing. Herein lies the motivation for Oracle, and SAP for that matter, to shift focus to the cloud. When it comes to cloud-based CRM, Salesforce is still the top dog, and it is estimated that the company has a 40% market share in the $5 billion CRM SaaS market. Meanwhile, competitor SAP is the largest dealer of on-premise CRM and ERP systems and has about 20% market share in the global CRM market. The company realized total revenues of $20 billion in 2012.
Oracle's Current Cloud Products
Oracle markets to businesses. Its cloud products consist of commodities necessary for business-function applications, such as sales and marketing, customer experience, human capital management, and enterprise resource planning. Among a few other offerings, Oracle also provides social relationship management (SRM) solutions, to help organizations use social data and channels.
Cloud versions of Oracle's software offerings brought in $230 million in overall cloud sales in the third quarter. This contributed to an 18% increase in total profit, despite only a 3% growth in revenues. According to president Mark Hurd, the company expects its cloud business to become much bigger over time and to soon produce $1 billion in revenue.
What are the Implications?
Oracle is a perfect example of a business that continues to evolve and adapt with changing technological and business trends. The Eloqua deal caps what is a possibly game-changing string of acquisitions in 2012. CEO Larry Ellison has apparently recanted his previous dismissal of cloud computing and has added an impressive list of cloud companies to Oracle's arsenal. The shift in the company's focus comes as its hardware segment continues to lag in performance, when compared to the rest of the company. Perhaps this fact is not a complete negative. Oracle maintains that this drop in hardware revenue is a result of its efforts to trim low-margin commodity products and to focus on areas that realize more profitability. Will this prove true? It shall remain to be seen in 2013.
With this solid movement forward into the future of marketing automation, coupled with the success of the rest of its cloud-based acquisitions, Oracle is poised to compete with rest of its industry from a position of strength.
Brass Tacks
Morgan Stanley (NYSE:MS) has maintained its "Overweight" rating for Oracle, citing that underlying fundamentals continue to improve. The company has also seen an increase in total revenue in each of the last three years. Revenues for the company were $26.8 billion in 2010 and $35.6 billion in 2011, an increase of 33%.
The Eloqua acquisition will likely strengthen Oracle's projected EPS and revenue growth for 2013 - and increasingly in 2014, as both companies' synergies are cultivated. Thomson Reuters puts Oracle's 2013 EPS and revenue growth at 8% and 3% respectively, and 2014 growth even higher at 9% and 7%. Moreover, Eloqua is nearing $100 million in annual revenue. This rate is expected to grow at double digits in the next few years. Thus, simply by using its cash reserves to purchase Eloqua, Oracle acquires an asset that will immediately begin to generate considerable annual returns.
Most importantly, the combination of Oracle and Eloqua is expected to create an extensive Customer Experience Cloud offering that will lead to a transformation in the way companies interact with their customers at every touch point. The deal grants Oracle Eloqua's marketing automation expertise, specifically in areas of lead management, reporting, and analysis of marketing programs. Oracle will now control a top provider of software solutions that allow businesses to accelerate revenue growth and improve revenue predictability. As such, look for Eloqua to become the crown jewel of Oracle's marketing cloud.
The Verdict
According to Gartner, by 2016, 20% of all the unseen organizational processes currently supported by IT departments - such as excel spreadsheets, routing of emails using rules and phone call routing will be supported by cloud computing business processes. I believe this figure will continue to compound itself. Companies that recognize this fact and adapt their business accordingly will not only thrive, but will arise as market leaders. Oracle's behavior in 2012 suggests a solid business, commanded by a CEO who recognizes and responds to the shifts in current industry trends. The company invests necessary capital in acquisitions that will position itself well for the future.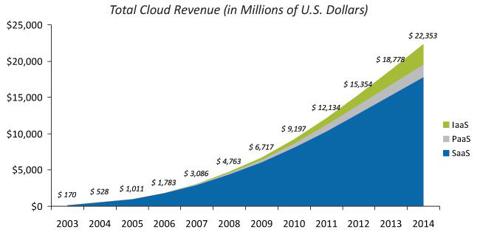 I'm predicting substantial room for long-term, extended growth here. With the uncertainty of 2013 already upon us, Oracle is a smart near-term trade as well as an exciting long-term investment.
Disclosure: I have no positions in any stocks mentioned, and no plans to initiate any positions within the next 72 hours. I wrote this article myself, and it expresses my own opinions. I am not receiving compensation for it (other than from Seeking Alpha). I have no business relationship with any company whose stock is mentioned in this article.