For those of you that do not know, Baidu (NASDAQ:BIDU) is the Chinese version of Google (NASDAQ:GOOG). Given Google's astronomical growth, I believe we can expect to see much of the same with Baidu. In this article, I will give you my rationale for going long on Baidu.
Baidu operates as a Chinese language Internet search engine that provides its consumers tailored search results for web pages, audio files, news, images and multimedia through links provided on their website, much in the same way Google provides links to internet content. Their format and web layout design is also "eerily" similar to that of Google such that one cannot help but to make the comparison. Baidu also offers community services including an online collaboratively built encyclopedia, think Wikipedia, and a searchable keyword-based discussion forum. As a revenue generator, Baidu, Inc. provides online marketing services that include auction-based payments for performance and tailored solutions, think Google AdWords.
Now, as much as I hate to say this, the Chinese are terrible innovators; however, they are incredible imitators with an uncanny knack for improving upon originals. With that in mind, I look at Baidu's internet presence, layout, and format and cannot help but compare them to Google. Keeping in line with that comparison, I have been taking a hard look at their "numbers" and can only come up with one conclusion. With that being said, it is difficult to catch a stock when it changes trends, but, if you happen to play it right, the returns are well worth the risk and I am going long.
Results Show Growth
Baidu just released its fourth quarter earnings which showed remarkable growth of 35% for a total of $448.7 million or about $1.28 per share year-over-year. Online marketing revenues for the fourth quarter were RMB 6.288 Billion or $1.009 Billion US, representing a 40.8% increase from the corresponding period in 2011. Baidu had about 406,000 active online marketing customers for Q4, which represents an astounding 30.5% increase from the corresponding period in 2011. Furthermore, it also reports a 50% year-over-year increase in operating profit to $525 million. Granted, Baidu's stock has been quite volatile. In Q4 alone share prices fell from $110 in early November to $90 in early December and then rising again to $110 as of last Thursday. But it is in volatility that we find the best opportunities.
Technical Indicator For Going Long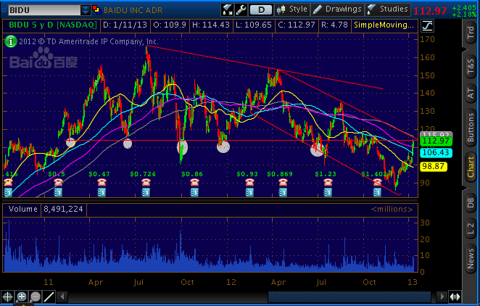 For you technical traders, Baidu has been on a very large downward trend channel for close to a year. However, if you look closely you will see that it is now in an upward trend and consolidating. Furthermore, it is consolidating just under the 200-day moving average, represented by the purple line. This, to me, is signaling a breakout. Also, in my experience, breakouts that move above not one, but two resistance factors, are usually more explosive and tend to last longer. In this instance, the two key resistance factors are the 200-day moving average and the overall down trending channel.
We already discussed the fourth quarter and year over year results showing strong growth and strong revenues. What we have not discussed is the overall market and the potential for growth.
In a recent report furnished to the Brookings Institute's Wolfenshohn Center For Development:
It was argued that several Asian countries, in particular China and India, have reached a tipping point where large numbers of people will enter the middle class and drive consumption…if this transpires, the world will see a new global middle class-an Asian middle class. There will be a cross-over from the West to the East in the products, fashions, tastes, and designs oriented to the mass middle class.

According to their estimates, by 2015, for the first time in 300 hundred years, the number of Asian middle class consumers will equal the number in Europe and North America. By 2021, on present trends, there could be more than 2 billion Asians in middle class households. In China alone, there could be over 670 million middle class consumers, compared with only perhaps 150 million today.

Our scenario shows that over the coming twenty years the world evolves from being mostly poor to mostly middle class. 2022 marks the first year more people in the world are middle class than poor. By 2030, 5 billion people - nearly two thirds of global population - could be middle class.
This potential increase in the global middle class is associated with a significant geographical redistribution, as almost all of the new members of the global middle class reside in Asia. Today there are only 500 million middle class consumers in Asia, with one quarter of these in Japan. Within twenty years there could be a six-fold increase, to some 3.2 billion people. Asia's share in the global middle class would rise from just over one-quarter today to two-thirds by 2030. Meanwhile North America and Europe could see their combined share drop from 54% to just 17%.
These are astronomical numbers representing an incredible market. As a direct response to this growth, China has implemented the Broadband China Project that is expected to drive the Chinese internet user base to upwards of 800 million users by 2015.
However, my only concern is that Baidu must adapt and learn how to harness this market and drive revenues less they fall the way of Facebook (NASDAQ:FB), Yahoo (YHOO) and Microsoft's (NASDAQ:MSFT) Bing. It would do well for these companies to find a way to capitalize on this emerging market as well. Luckily, Baidu seems to have found the formula that works for them considering the 35% posted growth in earnings we previously discussed.
Baidu would do well to pay attention to Facebook, Yahoo and Bing given that the problem with Facebook is that despite over 1 billion users' world wide Facebook has still not found the formula for converting that traffic into consistent revenue. The problem with Yahoo is that they have lost such a large market share to Google and the problem with Microsoft is that their platform Bing is a late player into the game and is facing extreme criticism on whether or not Bing copies and uses Google's search engine results. Given the knack of the Chinese to improve on originals, I would expect them to learn and avoid these costly mistakes.
In either case, Baidu, is uniquely positioned to take advantage of the rapid growth of the Asian middle class; it already has a loyal following of users and more importantly, advertisers, and to date, seems to have found the proper formula for driving revenue growth.
The Bottom Line
For traders, look for a breakout over $110 and then position to go long. As a stop I would use between $105 and $107 with a profit taking potential at between $125 and $135, depending on risk levels. If you set this trade up correctly, you are looking at about a 1 to 3.5 risk to reward ratio.
For long-term investors, stock prices are down for the year by about 20% and now is a good time to enter for a long position. Be prepared to exit on quarterly reports if negative but look for growth to exceed expectations and stock price to return to 2011 highs of over $150 per share.
Disclosure: I have no positions in any stocks mentioned, and no plans to initiate any positions within the next 72 hours. I wrote this article myself, and it expresses my own opinions. I am not receiving compensation for it (other than from Seeking Alpha). I have no business relationship with any company whose stock is mentioned in this article.