Judging from the charts below, Digirad (NASDAQ:DRAD), has done a fine job of disappointing investors since its IPO in 2004. In addition to a dismal performance in the stock market, the company has seen its book value and sales decline substantially. However, shares may finally be bottoming for the company.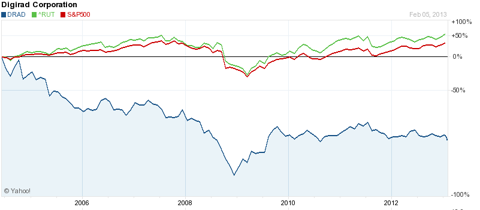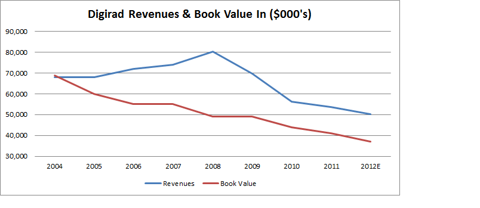 Digirad is one of the leaders in solid state and nuclear screening equipment and services in the United States. Since the last recession, the company's service business has held up better than its product business, as major purchasers of the company's equipment pulled back on capital equipment purchases. Also, reimbursement from Medicare to run scans for the company's customers has declined significantly in recent years, resulting in a price decline for Digirad.
All of the company's cardiac gamma cameras employ single proton emission computed tomography (SPECT). While the company's technology has been widely used over time, over the past five years or so, competing technologies such as positron emission tomography (PET) and magnetic resource imaging (MRI) have been shown to be as efficacious if not more, and as a result, have stolen market share from the company's core SPECT technology. To combat this trend, the company has introduced new products in the market that combine SPECT with CT, which should make the company more competitive and stem the trend of declining sales.
After three years of declining sales, it appears the company's service segment has stabilized. This is likely due to an effort on the company's part to deliver specialized services for each of its primary customer segments. Additionally, the company is seeking to provide services to a greater number of specialties, which should broaden Digirad's revenue base.
Even with the company's efforts to stabilize and ultimately increase sales, management faces an uphill battle. Competition is intense, the medical device tax will make it more difficult for the company's product business to turn cash flow positive and Digirad as a whole continues to lose money. However, recent corporate actions could be the catalyst that the company needs to turn the business around.
Early in 2012, the company adopted strong policies around representation on its board of directors, which included term limits, encouraged non-employee directors to use their cash compensation to purchase company stock and resulted in the formation of a strategic committee chartered with outlining corporate strategy and capital allocation.
As a result of the newly adopted policies, two directors stepped down and three new directors were appointed to the board with the assistance of a large stockholder of the company. Two of the three new board members' experience lies in the financial sector, while the third is the CEO of Natus Medical (NASDAQ:BABY), a medical device company. All three nominees appear uniquely qualified to advise the company on how to move forward with a strategy that manages investments in growth with capital preservation. As an additional incentive, new board members have purchased over 300,000 shares of the company since joining the board of directors earlier this year. These purchases handily put insider ownership over 10%, generally considered a healthy portion. Additionally, two of the company's largest shareholders own close to 10% of the company, respectively.
Mysteriously, while management has continued to cite the efforts of the board to assist in moving forward with a bold strategic plan, nothing has been publicly disseminated about what plans the company has that will shift the way shareholders look at the company.
With the cost structure management has in place, we estimate that with only a 5% increase in revenue, the company will be cash flow breakeven. With the stock price under $2, $1.40/share ($27 million) in cash on the balance sheet and a tangible book value of $1.90/share, we think that Digirad offers a low risk high reward investment. Additionally, shares trade at an Enterprise Value (Market Capitalization - Cash)/Sales ratio of 0.20x, dismally low for any medical technology company. Two of the only public companies that are at all comparable to Digirad, Alliance Healthcare Services (AIQ) and Radnet (NASDAQ:RDNT), trade at 1.3x and 0.95x EV/Sales, respectively.
We are very interested to see what the company has to say concerning its long term strategy in the coming months. While many companies with a significant portion of cash on their balance sheets issued one-time dividends in anticipation of a hike in taxes on dividends in 2013, Digirad has held onto its capital, making us believe that management is confident in its current/upcoming strategy. While purchasing shares of Digirad will require patience, we think investors will be rewarded with market beating performance over the next 12 months.
Disclosure: I am long DRAD. I wrote this article myself, and it expresses my own opinions. I am not receiving compensation for it (other than from Seeking Alpha). I have no business relationship with any company whose stock is mentioned in this article.