Whether you are new to dividend investing or you are a seasoned pro, it's likely that your main goal is to build a long-term portfolio that generates consistent income over time with as little volatility as possible. That said, over the next few weeks we will continue publishing our 10-part series which should help you build your own 6% DIY Dividend Portfolio for 2013.
In part 1, we highlighted the investment plan and strategy for the portfolio and parts 2-10 will highlight each sector in the S&P 500, including high-rated stocks within each sector that you should consider for your portfolio. Below is a schedule of the entire series. Please make sure to "follow" us so that you will be notified when each new article is published.
As we highlighted in Part 1, just because a stock has a high Parsimony composite rating, it doesn't necessarily mean that you should run out and purchase it that day. We believe that patiently waiting for a low-risk entry point for a given stock will drastically improve your long-term investment results. We call these entry points our "Buy Zones" and they are points at which long-term dividend investors should feel comfortable starting to build a position in the respective stocks. We focus on four key levels of support when determining a "Buy Zone":
Technical - Support from short and long-term trend lines (i.e, 10-week and 40-week moving average).
Volatility - Target correction levels based on historical volatility and maximum draw down.
Valuation - Support levels based on historical valuation multiple.
Yield - Support levels based on forward dividend yield.
We then average the low end and the high end of these key support levels to determine our target "Buy Zone."
It should be noted that this is how we determine our "Buy Zones," but there are no right or wrong answers here. We encourage investors to think hard about the key levels of support for their own stocks. What is the valuation level that you would feel comfortable buying a certain stock? What yield level makes sense for you? Also, you may want to add different parameters that fit your investment style better. The key takeaway here is that you establish a consistent process for determining a "Buy Zone."
Sample "Buy Zones"
Part 5a of the series highlighted some our top-ranked dividend stocks in the Consumer Discretionary sector.

As a follow up to Part 5a, below are our target "Buy Zones" for each of these top-rated Consumer Discretionary stocks.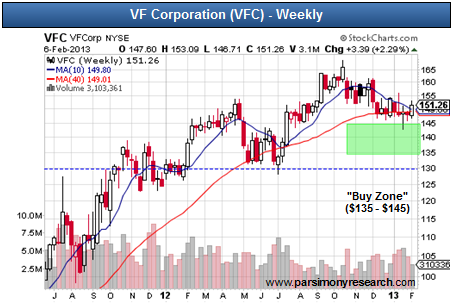 VF Corporation (NYSE:VFC) is definitely one of those stocks that you want to buy on every dip. The long-term trend is very strong and historically the stock has pulled backed to consolidate before heading higher again. The company's dividend yield will start approaching 2.5% as the stock dips below $145 and we believe that this will be a good entry point. VFC carries our highest overall rating (99) and we definitely think that it is a great stock for your core DIY Dividend Portfolio.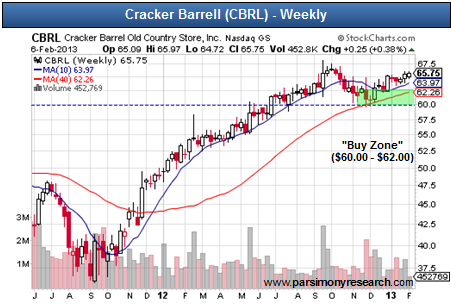 Cracker Barrell (NASDAQ:CBRL) is also one of only eight stocks that carries our highest overall rating of "99". The stock seems to be consolidating after its 80% rally that started in late 2011. The company increased its dividend not once, but twice last year and 2013's dividend is expected to be 43% higher than 2012. This stock should definitely be on your watch list if you are a dividend investor and we think that the $60.00-$62.00 range is a good long-term entry point.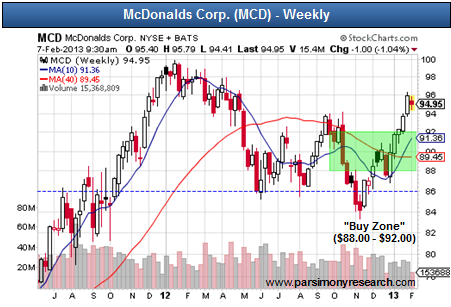 In our opinion, McDonald's Corp (NYSE:MCD) is one of the greatest dividend stocks of all time as the company has increased its dividend at a compound annual rate of 28% over the past 10 years. MCD's earnings tend to cycle and we believe that the company's earnings growth will start to pick up again in 2013. Historically, every time MCD has gone through a slow growth period, it has been a great buying opportunity. We would be a buyer again in the $88.00-$92.00 range.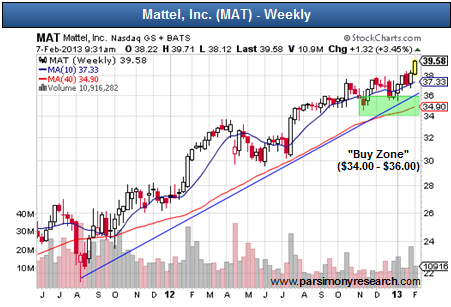 Mattel (NASDAQ:MAT) is in a very strong uptrend and the stock is up over 80% from its recent trough in August 2011. We expect the stock to test its 40-week moving average (~$35.00) on a pullback before continuing its upward trend. Below $36.00 per share, MAT will yield over 4.0% and we believe that this will be a great entry point.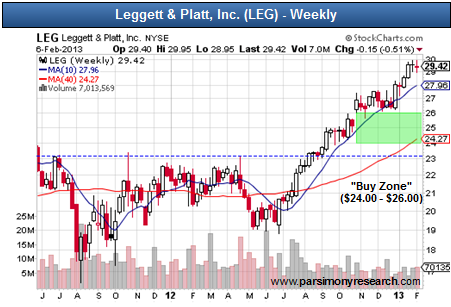 Leggett & Platt (NYSE:LEG) broke out of its range in August 2012 and it hasn't looked back. The company pays a great dividend yield (~4.0%) and it has grown its dividend at a compound annual rate of 13% over the past 40 years! This is a stock that you definitely want to own in your DIY Dividend Portfolio. We are targeting a 10-12% pullback in the stock before it heads higher again.
Cash-Secured Put Analysis
We often use a cash secured put strategy to generate income while we patiently wait for the "Buy Zones" on high-rated stocks that we are stalking (see Part 1 for further details). We try to make sure our break-even price on the option trade is in or below our target "Buy Zone". In other words, a cash-secured put is like putting in a limit order to buy a stock at a lower price ... except that you get paid for it!
On average, the options below have a 2-5 month premium (income) yield of 2.3% with a margin of safety of 7.1%.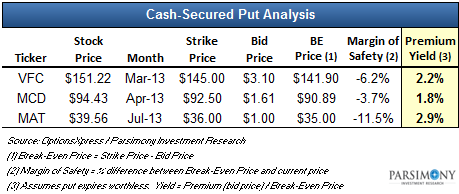 Summary
Building a DIY Dividend Portfolio is a marathon, not a sprint. Don't put pressure on yourself to have a fully diversified portfolio overnight. The various sectors will offer good buying opportunities at different times; you just need to recognize them when they are there.
Disclosure: I am long MCD. I wrote this article myself, and it expresses my own opinions. I am not receiving compensation for it (other than from Seeking Alpha). I have no business relationship with any company whose stock is mentioned in this article.