Summary
The agreement between Monsanto (NYSE:MON) and Brazilian grower organizations supports a smooth transition to next-generation soybean technology, but uncertainty remains around pricing.
Background News
On January 23, 2013, Monsanto reported an agreement with leading grower organizations in Brazil that would allow farmers to secure a new license to purchase Monsanto's soybeans that contain the next generation Intacta RR2 PRO technology; this technology won't be available until the 2013-2014 growing season. To facilitate a smooth transition for farmers who already use first generation soybean technology, Monsanto will waive royalty fees for this season and next season. Monsanto had previously excluded the contribution to the company's first-generation Roundup Ready soybean business in Brazil from its earnings per share and free cash flow guidance, reflecting an estimated historical annual range of $0.20 to $0.25. (Source: PR Newsire)
Analysis
We see $0.05-10/sh risk to consensus FY2013 following clarity on RR1. In real-terms, we believe Monsanto is offering first season Intacta at $10/acre for growers who decide to convert after a two season abatement. Our sense is the Street was expecting $20/acre in initial value share in nominal terms. Settlement partially alleviates Intacta launch risk, but resistance to agreement apparently remains among Mato Grosso growers. We believe RR1 abatement terms and initial Mato Grosso response confirms our thesis that the Street has become too complacent around the Intacta platform launch, especially regarding potential price concessions required and remaining resistance among growers in Mato Grosso. Brazilian news agencies (also cited in the Chicago Tribune) are reporting that several grower groups (Aprosoja & Famato) within Mato Grosso, which produces 35-37% of Brazil's annual soybean production, are resisting Monsanto's settlement offer.
Valuation
Using forward 12-month consensus EPS data, Monsanto's P/E ratio has historically traded in a range between 16x-26x since January 2011. For the current and t+8 quarterly periods, the chart below holds price constant at the current level and uses mean consensus forward 12 month data.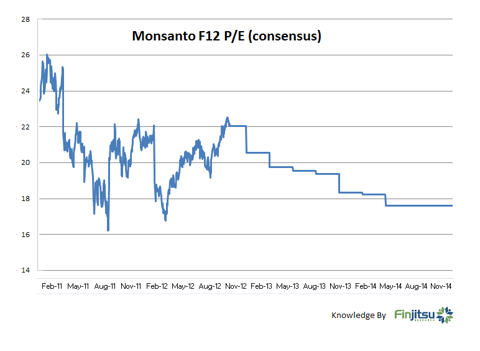 Disclosure: I have no positions in any stocks mentioned, and no plans to initiate any positions within the next 72 hours. I wrote this article myself, and it expresses my own opinions. I am not receiving compensation for it. I have no business relationship with any company whose stock is mentioned in this article.
Business relationship disclosure: The article has been written by Finjitsu Research, Contributing Analysts. Finjitsu Research is not receiving compensation for this article. Finjitsu Research has no business relationship with any company whose stock is mentioned in this article.
Disclaimer: This abstract was prepared by Finjitsu Research for convenience only and does not claim to be a complete analysis, nor should it be relied upon. This abstract is intended to be a general sample and is qualified in its entirety by the full report, which is not available on this website. This report contains opinions that are inherently biased. In addition, this report was prepared for general circulation and does not provide investment recommendations specific to individual investors. As such, the financial instruments discussed in this report may not be suitable for all investors and investors must make their own investment decisions based upon their specific investment objectives and financial situation utilizing their own financial advisors as they deem necessary. To review additional important disclosures please visit finjitsu.com/legal