Big snows coming to parts of the Northeast and more likely mid-late month with cold weather affecting Energy Markets.
FEB 1979 TYPE BLIZZARD FOR NORTHEAST WITH SOME AREAS 2 FEET OF SNOW BY SATURDAY
SOURCE: WSI
We mentioned two to three weeks ago about the potential for a cold late winter in key U.S. energy areas. This possibility still exists in which we feel more frequent snows and cold will blast parts of the Northeast and even the Midwest, which have had a second consecutive year of below normal snowfall. Until recently, we have witnessed an incredibly volatile temperature pattern, with record Midwestern highs a week ago, tornadoes and even some places around D.C. reaching 70 degrees. This transition has been triggered by the atmosphere oscillating back and forth between weak El Nino and La Nina conditions, but also due to what we call the Madden Julian Oscillation (MJO). This is a wave which travels from the Indian Ocean to the western Atlantic and has been one of the strongest in 30 years for this time of the year.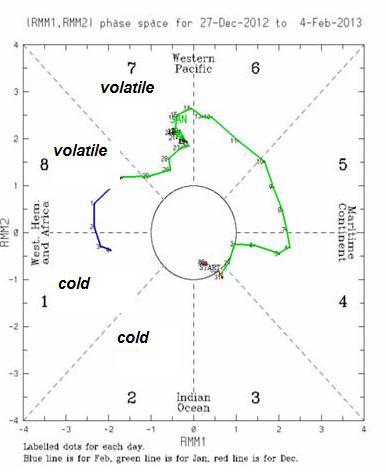 The MJO --- Notice now it is phase 1 and should remain in this general area the next 2 weeks. This coupled with warming over the Arctic and Greenland still mean to us a much colder late winter for key U.S. energy areas, while Europe gets hammered with snows next week.
SOURCE: Australian Bureau of Meteorology
Energy Trading is still Partly Weather Related
Natural gas stocks are still very large. However, we still expect that after a brief warm up later this week in the Midwest and in the eastern U.S. next week, some of the coldest weather of winter may infiltrate enough key areas, that again natural gas prices and (NYSEARCA:UNG) will remain volatile but head higher. Today's EIA was bearish as we expected due to the warm weather last week, but the upcoming cold will likely set a floor on prices in the weeks ahead.
Crude oil prices and one of the many oil ETFs [United States Oil Fund (NYSEARCA:USO)] continue to surge due to a weaker dollar and a rebound in the global economy. They are up some 9.8% for the year so far. However, heating oil and gasoline have rallied versus crude oil, in part due to refinery shut-downs in New Jersey and the existing tightness in refined products. You throw in the recent cold weather in the eastern U.S., snow on the way later Friday, coupled with big time snows in Europe next week and an overall cold mid-late month weather pattern for the Midwest and Eastern U.S., and the stage may be set for sort of a "squeeze" on heating oil supplies, heading into late winter. Hence, a contra-seasonal and potentially higher late winter prices in the ETF United States Heating Oil Fund (UHN) is likely. One trade that may continue to work would then be selling UCO and buying UHN heading into late winter. This offers protection on a long heating oil position, in the event that crude prices weaken. Heating oil may have more upside potential than heating oil due to tighter stocks and other friendly fundamentals.
Weather futures contracts traded at the CME. Visit here.
Source: firstenercastfinancial.com
Some models (left) have been going for a warm second half of February helping to pressure natural gas last week, but are likely wrong with a much colder solution expected that could surprise traders, especially those who are short natural gas and heating oil. SOURCE: WSI and NCEP
Other Markets Affected by the Weather
The soybean market has rallied due to a return of dry weather to Argentina and harvest delays in northern areas, in the key State of Matto Grosso. Wheat prices have fallen partly due to Russian export policies but also due to the first important rains in months for portions of northern Kansas and Nebraska. However, due to client privacy obligations for the moment, I am not at liberty to discuss the grain situation and the upcoming forecast. However, some big improvements in the developing drought in Argentina may well be in the offing mid-late February.
Coffee prices continue their downtrend due to large Brazilian supplies and continued excellent moisture supplies. It is not clear whether the cold late winter may spark some additional demand for coffee, in which prices may stabilize a bit, otherwise we remain in a bear market.
Orange juice futures will be reacting to a USDA report this Friday and the longer term implications of a terrible Florida "greening disease" that was likely brought in by travelers from Asia and poses significant longer term adverse effects to the Florida citrus industry. This could keep FCOJ prices in a longer term uptrend.
Weather conditions for West African cocoa will continue mostly ideal for now and contrary to some bullish firms out there, that have been touting previous weather issues last summer to the end of the main crop.
Disclosure: I am long UNG. I wrote this article myself, and it expresses my own opinions. I am not receiving compensation for it (other than from Seeking Alpha). I have no business relationship with any company whose stock is mentioned in this article.