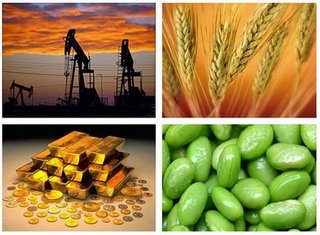 More and more inverse/short ETFs are being launched by issuers nowadays. I have posted an article already about reverse ETFs sorted in groups. At US stock exchanges you can find mostly exchange traded funds underlying equities with 1:1, double or triple leverage.

Today I would like to focus on commodity based short ETFs - if you want to trade commodities and you are bearish that this is the right product. Of course, in case you don't trade futures contracts on the commodity exchange.

In the US, there is a very limited offer of inverse commodities funds. The most active issuer is PowerShares and now offers the following ETFs:
ProShares doesn't bring anything new and this is the latest offer.
The US ETF market is behind the London Stock Exchange - where the offer of commodity ETFs (ETCs) is much wider. You can find funds going long / short with wheat, sugar, cotton, corn, soybeans, gas, copper and of course the same which are also in the US. The most active issuer in the LSE is ETF Securities and here is the full list of commodity ETFs (ETCs).