On February 7, Philip Morris International Inc. (NYSE:PM) reported its Q4 and FY 2012 results. Q4 EPS came in at $1.25, beating estimates by $0.03. Revenue for Philip Morris came in at $7.9B, slightly missing estimates by $130M. Cigarette shipment volume, excluding acquisitions, were up by 2.9% in the Q4. Also during the quarter, Philip Morris was active in buying back stock, repurchasing 22.4 million shares for $2.0B. As of this writing, Philip Morris is trading for $88.91 and offers a 3.8% yield.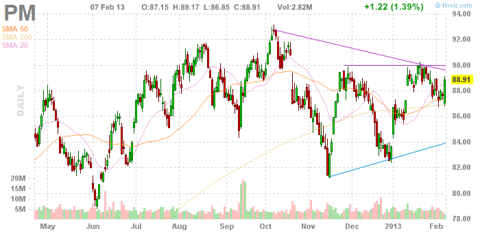 FY 2012 revenue for Philip Morris was hurt by a 7.4% decline in the European Union. This revenue decline can be mostly attributed to the weakening of the euro currency. Philip Morris saw 5.7% revenue growth in the "Eastern Europe, Middle East & Africa" segment and 4.6% revenue growth in Asia. Revenue for "Latin America & Canada" was basically flat at only 0.7% growth. Note that revenue growth in Eastern Europe was hit hard by the currency fluctuations. Total FY 2012 revenue for Philip Morris grew by 0.9%.

FY 2012 operating income for Philip Morris was effected by an 8.2% decline in the Europe Union. The "Eastern Europe, Middle East & Africa" segment saw its FY 2012 operating income surge 15.4% (21.6% ex-currency). Asia and the "Latin America & Canada" segments also saw operating income growth of 5.6% and 7.5%, respectively.

Philip Morris also provided guidance for 2013. The company forecasts FY 2013 EPS to be in a range of $5.68 to $5.78, at prevailing exchange rates, versus FY 2012 EPS of $5.17. The 2013 EPS range represents a projected increase of 10% to 12% compared with 2012. Philip Morris also forecast a cost-savings and productivity target of $300M for FY 2013. The 2013 forecast includes a share repurchase target amount of $6.0 billion.
I have written about Philip Morris previously, and I still believe that the stock will provide outsized returns in 2013. Philip Morris continues to be all about its dividend, dividend growth, and share buybacks. For FY 2012, Philip Morris repurchased nearly 75 million shares for $6.5B. Since 2008, when Philip Morris was spun-off from Altria (NYSE:MO), the company has spent an aggregate of $27.9 billion to repurchase 489.0 million shares at an average price of $56.96 per share, or 23.2% of the shares outstanding at the time of the spin-off. Philip Morris has also increased its quarterly dividend five times since the spin-off, increasing it by 84.8% to an annualized rate of $3.40 per share from the initial annualized rate of $1.84 per share.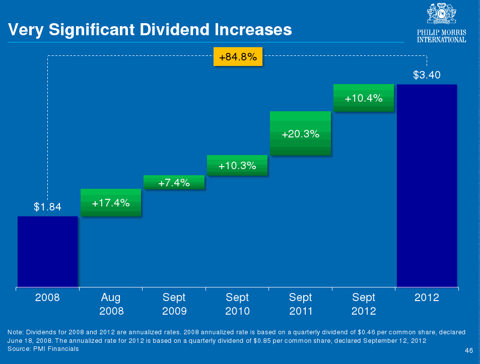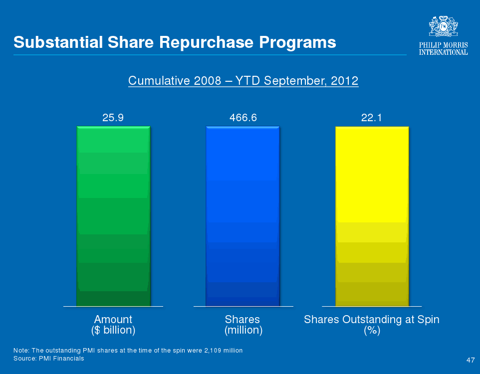 Conclusion
Philip Morris is one of the better dividend-growth stocks out there. It offers a compelling 3.8% yield, massive share buybacks, and high dividend growth. It is my opinion that every portfolio should have several "slow and steady" stocks such as Philip Morris, as they will serve as a bulwark against market turbulence.
Disclosure: I am long PM. I wrote this article myself, and it expresses my own opinions. I am not receiving compensation for it (other than from Seeking Alpha). I have no business relationship with any company whose stock is mentioned in this article.