Reviews of Microsoft's (NASDAQ:MSFT) Surface Pro device, a device that attempts to combine the best-of-both worlds (tablet + notebook), have so far been mixed. While reviewers seem to praise the build quality of the device (the screen is apparently gorgeous, unlike what so many Windows PC vendors try to push onto customers these days) and, more importantly, the sheer speed of the device, it comes with a few very serious drawbacks that will likely limit its adoption in this first iteration. They are:
Battery Life: While the device is multiple times faster than any ARM (NASDAQ:ARMH) based tablet, the battery life of the Surface Pro is generally considered abysmal at roughly 4-5 hours. While power users are likely to appreciate the fact that on this gorgeous 10.6" tablet they can play modern PC games, go crazy with multi-tasking, and generally have a very smooth experience, tablets are ultimately expected to offer high battery life.
Cost: At $900, this thing is a pricey beast. While it comes loaded with the highest end/quality components such as a Core i5, 4GB of DDR3-1600, a very fast solid state drive, and a 1080p high quality touch screen, people may not be willing to plunk down $900 on a "tablet", even if it can be so much more than a tablet.
Weight: According to the reviews, it's a bit bulkier than the Windows RT based "Surface". While the Surface Pro is really a tablet/notebook hybrid, people will -- at least initially -- identify it as a tablet first and notebook second. This may be unacceptable to the target market (although we really need to wait for the sales figures to come in).
It Makes For A Lousy Laptop: Many laptop users like to...erm, put their laptops in their laps! The Surface Pro's flimsy type and touch covers are no match for a legitimate, sturdy keyboard.

What good is a hybrid tablet/laptop with all of that horsepower if...
Microsoft Is Being Outdone By Partners
The problem with Microsoft's device is that, while it's well done for what it is, the Windows PC/tablet ecosystem has already beaten Microsoft to the punch in many key areas. Take for example this hybrid that Lenovo (OTCPK:LNVGY) showed off at CES: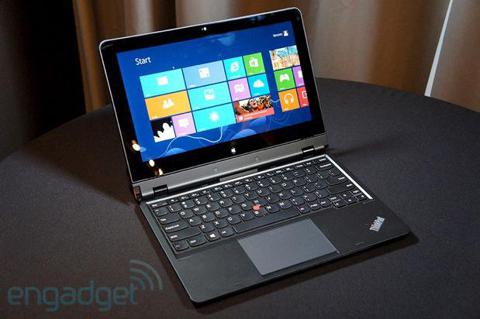 That looks like a simple, innocent notebook with a touch-screen, right? Take a look at what else it can do: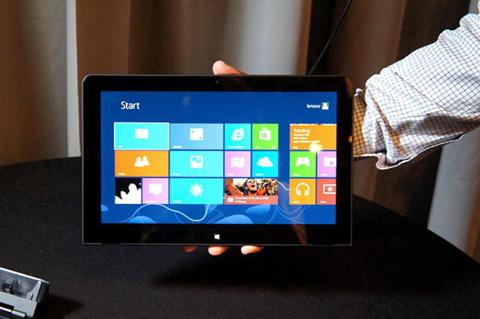 It's also a tablet, just like the Surface Pro! However, it solves a number of the key problems that I mentioned above:
Battery Life Is Good: According to the previews, in laptop mode, this device will have 10 hours of battery life. This is due to the fact that

there is a battery in the actual screen/device in addition to a battery included in the keyboard. That means that as a laptop, it's a lot better than most laptops today (I'm lucky to get 4 hours on my Lenovo Y580), and as a tablet, maybe battery life isn't like the lower power iPad-like tablets, but the performance is still there.

It's A Good Laptop: The key to getting customers to pay a premium for a hybrid laptop/tablet is by making sure that the "tabletness" is purely additive and not compromising. The device needs to be a good laptop from the get go, and people should be delighted that they can also get a high performance tablet for the money.
Weight Is Acceptable: At 835 grams, it is still quite a bit heavier than a 652 gram iPad 4. However, given the fact that it can actually play nice as a laptop AND given its significant performance advantage over the iPad, it becomes a lot easier to accept the weight in tablet mode.
However, this device still has the cost problem (it's expected to come in at $1500+), but to be fair, this is a high end laptop that also comes with a high end tablet. Since the device is actually good at what it does, and since it comes with all high end components (Core i7, 8GB of RAM, a very high quality display, NFC, LTE/3G support, etc.), the value proposition is actually there.
In short, Microsoft's Surface Pro is bested in many key ways by what Lenovo, and likely what other PC players, will likely put out.
But what does this mean for Microsoft's shareholders?
Heads Microsoft Wins, Tails...Microsoft Wins
Notice that I am comparing a Windows 8 device with...another Windows 8 device! There are no comparable Android devices out there in terms of performance, software compatibility, and functionality, nor are there any iOS competitors. In no way is Microsoft losing a sale of Surface Pro to, say, Lenovo, a bad thing!
Microsoft's plan actually seems brilliant. The PC market had gotten stale in the race-to-the-bottom that the market has seen over the last several years. Laptops have traditionally been bulky, come with crappy screens, and have generally pushed fashion- and style-conscious users into Apple's (NASDAQ:AAPL) arms. Microsoft built a beautiful, high quality device that left some obvious areas for improvement. The bar has been set on many of the key aspects of device quality for the high end PC space, and now the PC vendors won't be "racing to the bottom" but will, instead, be racing to provide better and more featured systems.
As long as Microsoft is selling a Windows 8 license, it wins. However, there are definitely some technological advancements to look forward to in the next generation of these Windows 8 tablets and convertibles before I think they become really mainstream:
A Better Atom
While there has been a focus on these higher end, higher performance "Core" based tablet/hybrids, there will still be a need for more affordable, budget systems. These will need to be powered by the Intel (NASDAQ:INTC) Atom in order to get the same kind of lightness/battery life that users tend to see on the more mainstream tablets. Right now, Intel actually has its "Z2760" chip out and powering these kinds of tablets. For example, the Lenovo Thinkpad Tablet 2: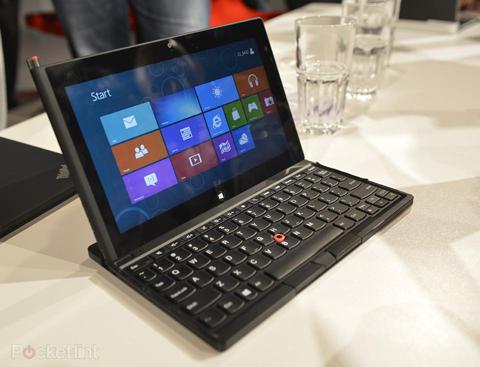 This is a 10.1", fanless, thin-and-light tablet with the typical battery life that people expect from pure tablets.
As far as that chip's CPU cores go, it's quite competitive. However, there are two big problems with the current Atom:
Graphics Stink: The graphics subsystem on Atom Z2760 is awful. Now, Intel had to recycle the Power VR SGX 545 from its older netbook Atom chips in order to get to market quickly, but it's still quite embarrassing that Apple's A6X and Qualcomm's (NASDAQ:QCOM) Snapdragon clean the Z2760's clock in terms of graphics.
It's Not Fast Enough To Run Windows: The CPU cores on this Atom, while very fast when compared to the ARM guys, is just a slow dog when it comes to trying to run the higher powered software that people expect on Windows. This is a 5 year old CPU architecture built on a last-gen manufacturing process with an ancient graphics core that was meant to be built cheaply to go into super cheap Windows systems at launch. If this is going to run Windows and "feel" like Windows, then Intel needs to put out a much better Atom in order to really push the value proposition of full Windows compatibility in a lower cost hybrid. Otherwise, it's just a compromise in the other direction.
This is why I was so excited about the announcement at CES that Intel's next generation Atom, codenamed "Bay Trail" would be in designs, on the shelves for purchase by "Holiday 2013" and not, as previously leaked, in early 2014: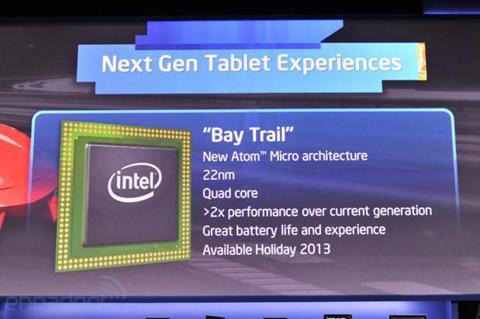 This is the chip that should finally make a Windows 8 tablet/convertible a very legitimate computing device at a mainstream price point (with high battery life & passive cooling). I believe that Intel's low end "Celeron" and "Pentium" chips, along with the bulky, low performance, $299 laptops that they go in will go the way of the dodo as the Atom gets the love and attention it deserves.
A Better Core
The problem with Intel's "Core i5" in the Surface Pro isn't that it's inefficient -- it performs much faster, and therefore eats more power. It's a more power hungry chip, but the performance is justified. The problem, though, with the current Ivy Bridge, is that the platform power is actually not all that great. That means when the chip isn't doing anything, it's still burning an unhealthy amount of power and therefore lowers total battery life.
"Haswell" will be the first step towards fixing this for a high end convertible tablet. Platform power, according to Intel, is down by 20x. The upshot is simple: in high intensity workloads, the "Core" processor will give a "high end" experience, but in idle/low power modes, the platform won't waste power, and thus increasing battery life substantially. It will be interesting to see if the generation after "Haswell" is a full system-on-chip like the Atom (the "Haswell" will be a system-on-chip, but the southbridge is still a separate die built on 32nm process), or if we will need to wait until the "Skylake" generation to see this full integration.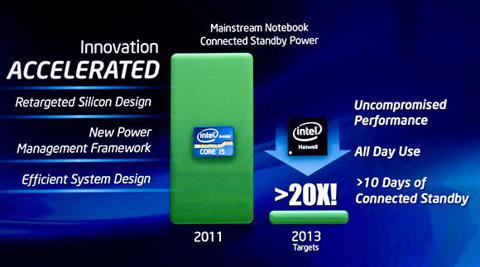 Conclusion: Yay At Prospects, Nay At Today's Implementation
Today's Surface Pro is interesting, but not viable -- implementations of the convertible tablet/notebook idea are done better by companies such as Lenovo. The 17W Core i5 without all of the next-gen platform power reduction features means that the thing is doomed to have unacceptable battery life. Why Microsoft didn't use the 13W TDP/7W SDP Core i5, I have no idea, but we really need to get to "Haswell" before the high end convertible is really a great tablet AND laptop.
The price is too high considering that the device seems like a failure as a "laptop", and I believe that a full Windows 8 "Surface" should be built on a next generation "Atom" chip for the device to hit mainstream price points. If Microsoft wants to do the high end "Core" based convertibles, it needs a full, "real" keyboard that makes the device into a high end laptop.
That being said, this is but a first step on a long journey for Microsoft, but one I believe they will eventually emerge successfully from. As the processor technology improves, as components such as 1080p touch screens get cheaper, and as the PC OEMs start to race to make great products instead of cheaper products, the Windows laptop/convertible should gain traction, and the "funk" that currently surrounds Microsoft should go away. Until then, the sexy tablets that everyone wants are made by Apple, ASUS, and Samsung. And they're not running Windows 8.
Disclosure: I am long MSFT, INTC, QCOM. I wrote this article myself, and it expresses my own opinions. I am not receiving compensation for it (other than from Seeking Alpha). I have no business relationship with any company whose stock is mentioned in this article.