By Jayson Derrick
Over the past few days I have done a lot of research as I am looking to further diversify my long-term portfolio. Diversification is key to maximizing the likelihood of a profitable outcome while minimizing downside, especially in an uncertain 2013 (and beyond) macro economic environment. I feel that healthcare, technology, and precious metals are three sectors that will positively impact any portfolio.
Healthcare - Express Scripts (NASDAQ:ESRX)
Express Scripts will offer formal 2013 guidance on February 18, and the company has previously suggested that it expects gross profit/Rx growth in the high single digits and EBITDA/Rx improvement in the mid-teens. Consensus of $4.49 a share seems to be "overly aggressive" and investors should expect guidance in the low $4.10-$4.30 range, which is way above the consensus of $4.19. If the company beats estimates the stock should see a sustained upside.
Consensus EBITDA estimate is $6,598M, which assumes year-over-year improvement of 21%. This figure should give the company tremendous financial flexibility to not only drive EPS but to introduce a share repurchase program at some point in 2013, which will bode well for the shares. The company has been constrained in its use of cash as it had committed to paying down debt to 2x debt/EBITDA range, or lower. Currently the company is at 3x and based on the cash flow expectations this can easily be achieved during 2013. The company should have an extra $2 billion in cash, which can be used for a buyback program that was announced by management and should occur at some point in 2013. Every $1 billion in buybacks will add $0.08-$0.10 to EPS on an annualized basis.
Looking forward to 2013 and beyond pharmacy retailers should benefit from greater profitability from generics versus 2012. Companies within the drug channel are generally less levered to absolute volume and more levered to mix, i.e generics. The retail and pharmacy segment should benefit from the up-tick in recent generic introductions (such as Actos and Singulair).
Technology - Intel (NASDAQ:INTC)
In a recent article I singled out three companies that will perform favorably in 2013 due to their exposure to international markets. I would like to add a fourth company to this list, Intel. One of the reasons for Intel's poor performance in 2012 was the lack of growth in PC units within emerging markets, but the prospect for 2013 is strong.
I believe that many emerging markets such as China, Brazil, Indonesia and Russia are reaching a tipping point to mass penetration to PCs. Population growth and the desire for connectivity to the internet are main factors that should drive growth for the company, as the PC remains the dominant device for internet access. For FY 2013, revenue from emerging markets should account for 19% of overall sales, and this figure should grow 13% year over year with a target of 40% by 2016. PC growth is directly correlated to GDP growth, which should rise by 5.6% in 2013.

One of the key indicators for PC growth relies in the "weeks of income" that is needed in order to purchase an average priced notebook. PC penetration increases as price declines relative to weekly income. There has been a steady decline in the weeks of income, which will further drive PC unit growth. Argentina and Brazil are in the sweet spot now and China is moving toward the range by 2014, while India can expect a drop in almost half from 18.4 weeks in 2012 to 11.7 weeks in 2014.

The stock is trading at ~10x 2013 EPS of $2.07, below its five-year average P/E of 13.5x. This indicates that there is a chance for multiple expansion closer to historical levels based on improvement of PC demand. A moderate price target of $26 is based on ~13x 2013 EPS.
Precious metals - Silver Wheaton (SLW)
Silver Wheaton announced recently a binding term sheet to acquire two gold streams from Vale (NYSE:VALE) in Brazil, and certain Sudbury Mines in Canada. Total consideration for this is $1.9 billion in cash and 10 million warrants with a strike price of $65/share. Under the terms, Vale will deliver 25% of the life mine gold production from its Salobo mine and 70% of the gold production from certain mines in Canada for a 20-year term. Silver Wheaton estimates revenue generated from gold over the next five years will increase from ~12% to a peak of ~25%. The gold streams are expected to add an average of 110Koz of gold production per year for the next 20 years.
Silver Wheaton is still very much committed to Silver as CEO Randy Smallwood was quoted as saying "This isn't a change in focus for us. We've always been interested in broader precious metals so I still call us a silver-focused streaming company," Smallwood said. "We do focus on silver and will still focus on silver but we don't ignore the broader precious market, mainly because of the same reasons we invest in silver apply to gold." The company forecasts FY13 attributable silver equivalent production of 33.5Moz, which includes 145Koz of gold. Looking forward to 2017, the company forecasts 53Moz of silver equivalent production, which includes 180Koz of gold.
Despite the recent deal, Silver Wheaton remains a favorite for many commodities experts. An article written by Christopher F. Davis points out that Silver Wheaton has more silver in reserve versus other major silver companies. Due to Silver Wheaton's size the company is able to purchase silver production in bulk prices below market value. Once the silver is acquired, the company can proceed to sell the silver at higher prices.
Recent underperformance in the shares of Silver Wheaton versus the silver ETF (NYSEARCA:SLV) (-9% on a 3 month basis) provides a compelling entry point in the shares given our view that Silver Wheaton warrants a premium valuation due to its above-average growth profile, fixed-cost structure, and strong liquidity position.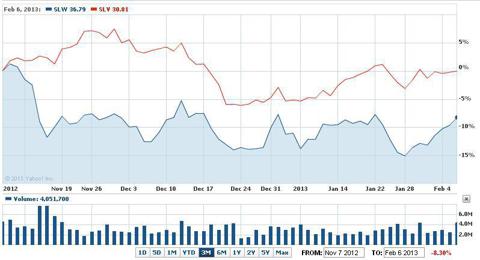 Conclusion
The stocks I have selected in this article appear to be great choices for any portfolio going in to 2013 and beyond. All the companies are major players within their respective industry, which is always a requirement when considering an investment choice. I believe that all the companies have tremendous upside versus their peers and the companies are all picks that will allow investors to sleep comfortably at night without worrying too much.
Disclosure: I have no positions in any stocks mentioned, but may initiate a long position in SLW over the next 72 hours. I wrote this article myself, and it expresses my own opinions. I am not receiving compensation for it (other than from Seeking Alpha). I have no business relationship with any company whose stock is mentioned in this article.