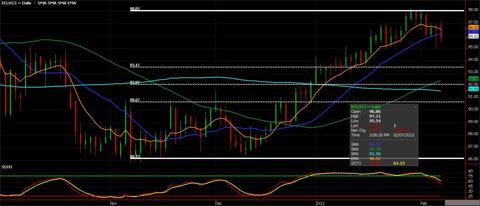 In the last 6 weeks, crude oil has appreciated H/L 13.7%. Prices did get within $2 of $100/barrel but fell shy, and it appears prices are starting to roll over. I have voiced in recent sessions that we will need to trade under the 8 day MA for a signal that prices are headed south. That has happened, and prices are below that pivot point as of this post -- see the orange line above. The next hurdle is the 18 day MA, which prices are also below -- see the dark blue line above. I suggest using the Fibonacci levels on the chart above as your downside objective on bearish trades.
My favored play is short futures while simultaneously selling out of the money puts 1:1. The U.S. dollar is above the 50 day MA, advancing 1.6% this week and poised to move higher. An inverse relationship should exist with the greenback and a number of commodities.
Tensions have started to ease in the Middle East, and prices may have gotten to a point where demand destruction has started to take place. While crude took the stairs higher in recent months, I would not rule out an escalator ride down. It took 2 months to climb better than 10%, and it would not astonish me to see half that move given back in the next 30 days.
Risk Disclaimer: The opinions contained herein are for general information only and not tailored to any specific investor's needs or investment goals. Any opinions expressed in this article are as of the date indicated. Trading futures, options, and Forex involves substantial risk of loss and is not suitable for all investors. Past performance is not necessarily indicative of future results.
Disclosure: I have no positions in any stocks mentioned, and no plans to initiate any positions within the next 72 hours. I wrote this article myself, and it expresses my own opinions. I am not receiving compensation for it. I have no business relationship with any company whose stock is mentioned in this article.