VIX - Market Sentiment:
Thursday began with S&P futures higher across the board, trading near the high of 1510.90 before again hitting a wall. This time, unemployment numbers sent the futures lower after missing by 5K on the jobs number, and the last number being revised up 3K. The futures were not helped any when Europe's Mr. Draghi's comments were taken negatively by the market, with many Europe markets closing down 1%. Companies reporting last night, including both Green Mountain (NASDAQ:GMCR) and Akamai (NASDAQ:AKAM), both were crushed in early trading before rebounding after guidance disappointed investors. For those who follow me and my trades on Twitter, I did close my GMCR diagonal today and entered into a Coinstar (NASDAQ:CSTR) long. The NYMO closed yesterday mostly flat, and continues to sit near 0 and reads 3.43, a 2.27 point increase.
The spot CBOE Volatility Index (VIX) and futures recovered for the second day in a row, but again, continues to be weighed down by volatility sellers. This is now 4 consecutive trading days where we have seen 10 handle moves in the SPX and triple digit moves in the DOW. Interestingly enough, this is reflected perfectly in volatility ETF (NYSEARCA:VXX), 2x ETF (NASDAQ:TVIX), and alternative 2x ETF (NYSEARCA:UVXY). Futures were almost completely flat today, although spot VIX was up more than 3.5% at one point today. I have pointed this out time and time again that the spot VIX is not what these ETFs trade off of, it is VIX futures. Today, the VIX pits were rather quiet for the most part, trading just 50% of average daily volume. Yesterday's sonar (here) highlighted a large put sale, which went off to the tune of 50K of the March 16 strike puts. This action was confirmed by a large drop of the March 16 strike put open interest, which now sits just over 103K contracts. Today saw calls overall bought and puts also net bought, but just slightly.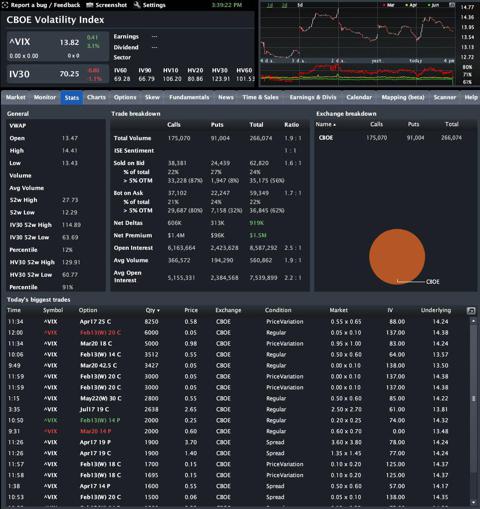 Statistics and Screenshot Provided By LiveVol
VIX futures are below.
Yesterday
· February VIX futures 14.70
· March VIX futures 15.73
· April VIX futures 16. 73
Today
· February VIX futures 14.30
· March VIX futures 15.50
· April VIX futures 16.45
Options Paper:
Options paper was just about average today, with some interesting paper in several stocks. As mentioned earlier, CSTR saw some bullish paper as someone bought the 57.50-62.50 call spread some 7K-plus times for 1.10 ask. When you combine this with the net puts sold on the bid, 26%, options players are looking for good numbers out of this stock, which is almost 43% short. I put a short on Apple (NASDAQ:AAPL) today, which worked until just minutes before the stock ripped higher some 2.5% after announcing a response to David Einhorn. Other names like National Oilwell (NYSE:NOV) saw massive bullish plays as May calls were bought across the board as part of large call rolls. Another big rip came in the form of Boyd Gaming (NYSE:BYD), which saw a large rip higher after call rolls continued to dominate trading. Another name I got into yesterday was LinkedIn (LNKD), which although was not as clear-cut bullish as CSTR, still overall had some bullish paper flow into this name over the last 3 days looking for more upside.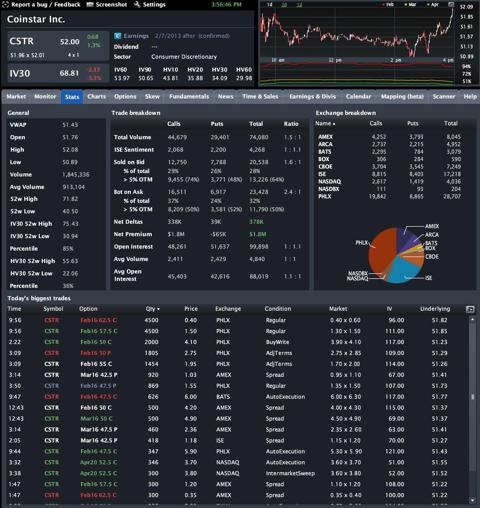 Statistics and Screenshot Provided By LiveVol
General Motors (NYSE:GM) is not a name I am long very often, but today saw a massive June call spread bought to the tune of 1.6M and change. Today a large bull stepped in, buying the June 30-35 call spread almost 16K times for 1.08, believing GM will be north of 31.08 prior to June expiration. This trade follows other bullish plays recently in Ford (NYSE:F), who bought upside calls of both front and back months. There was a significant buyer in the GM January 2014 25 strike puts today, which also should be noted but overall, the bulls appear to be in control of the auto sector. Option volume was more than 2x average daily volume, with calls outnumbering puts more than 2 to 1.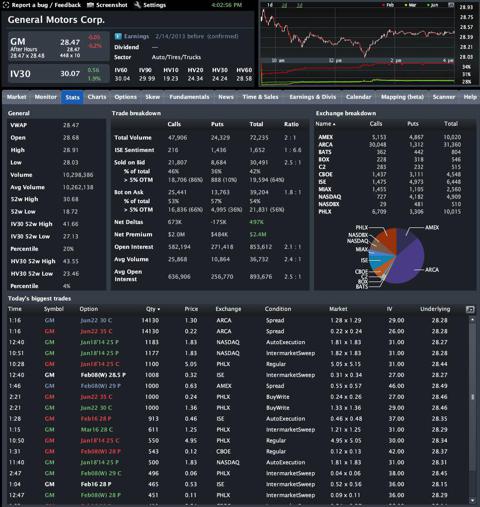 Statistics and Screenshot Provided By LiveVol
Popular ETFs and equity names with bullish/bearish paper:
Bullish Option Flows - ISE & % OTM calls bought on offer
Talisman (NYSE:TLM) 86% of 28K OTM calls bought on offer
PPG Industries (NYSE:PPG) 86% of 4.8K OTM calls bought
Flextronics (NASDAQ:FLEX) 79% as July and January 7 strike calls bought
Marathon (NYSE:MPC) 58% - Call rolls continue to put money to work
Constellation (NYSE:STZ) 2.1K ISE calls bought
United Parcel Service (NYSE:UPS) 1.7K ISE calls bought
Time Warner (NYSE:TWX) 1K ISE calls bought
Bearish Option Flows - ISE & % OTM puts bought on offer
NYSE Euronext (NYSE:NYX) 91% of OTM puts bought on offer
Nationstar (NYSE:NSM) 73% February 35 puts bought heavy - could be closing short position
Melco Crown (MPEL) 70% February 18 puts bought heavy - could be closing short position
Bond ETF (NYSEARCA:HYG) 2.2K ISE puts bought
Materials ETF (NYSEARCA:XLB) 1K ISE puts bought
Disclosure: I am long AGNC, BA, CBB, CONE, F, INTC, KERX, KOS, LNKD, MCD (Straddle), MTGE, NRG, PCLN (straddle), PG, TUMI, VHC, VOD, and I am short CMG, DDD, EDU, MCD (Strangle), PCLN (Strangle), SPY.
Trades Today: Got my face ripped off on AAPL short, CSTR risk reversal long, bought WAG calls, closed GMCR short, sold LNKD weekly volatility against long.
I wrote this article myself, and it expresses my own opinions. I am not receiving compensation for it (other than from Seeking Alpha). I have no business relationship with any company whose stock is mentioned in this article.
Disclaimer: The opinions in this document are for informational and educational purposes only and should not be construed as a recommendation to buy or sell the stocks mentioned or to solicit transactions or clients. Past performance of the companies discussed may not continue and the companies may not achieve the earnings growth as predicted. The information in this document is believed to be accurate, but under no circumstances should a person act upon the information contained within. I do not recommend that anyone act upon any investment information without first consulting an investment professional as to the suitability of such investments for his or her specific situation.