While many other fashion retail companies garner more attention, there is one clothing retailer quietly generating fantastic returns for its investors. The Buckle (NYSE:BKE) has, for over eight years, been driving consistent, respectable revenue and income growth-even through the recession. The key to its success ultimately is in focusing on a less flashy but very large and profitable niche market combined with a management team that has built an incredibly streamlined company.
The Business Model
Compared to other retailers like Abercrombie & Fitch (NYSE:ANF), American Eagle (NYSE:AEO), and the Gap (NYSE:GPS), the Buckle does not focus on major affluent areas particularly on the coasts. Instead it has built its business in mostly smaller markets in the Midwest and the interior of the US. As a result, it has been able to build a brand and a customer base in places that tend to be the last, or at least not first, to receive other major brands that prefer to launch on the East or West Coasts.
In addition, as a result of this, the Buckle does not get completely pulled into the major fashion fads that emerge only to die a year later. Instead, the Buckle focuses on its own as well as other reliable well-respected brands and designs, such as Guess (NYSE:GES) and Fossil (NASDAQ:FOSL), that keep customers coming back.
Managers Are Owners
Yet, so much of this focus and success is the result of a fantastic management team. The management team are, and think, like owners. The founder, Daniel Hirshfield, is still involved as Chairman and owns over 33% of the company while the long-standing CEO, Dennis Nelson, owns over 5% of the Buckle. These guys have been with the company for decades.
I am sure at least some people have had the experience of working for a company and recognizing a glaring problem that just baffles you why the management haven't yet fixed. A problem that if you were "CEO for a day" would be the first thing you fixed. Well, Dennis Nelson, the CEO, is exactly this CEO. He started at the Buckle as a college student working as a salesman, then moving his way up over thirty years later as CEO. After working in nearly every position in the company, no doubt he saw things that needed fixing and when he became CEO, he fixed them.
The Supply Chain Design For A Great Business
Most prominent to their success is in the supply chain. For a sales person, one of the most frustrating things is when a customer comes into your store wanting to buy a product only to discover that you don't have any in stock or that customer's size is not available. For a sales person, as for the company, that is money literally walking out of the door. I can imagine the CEO of the Buckle experiencing this and becoming determined to never let it happen again in his stores.
The Buckle developed an innovative system to solve this, instead of reviewing stock sales and delivering inventory once or twice a week, the Buckle does this every day. While seemingly more costly, The Buckle has greater and faster insight into its current sales trends than many of its competitors. It uses this insight to shift merchandise as close to real-time as it can. Its led to gross margins, profit margins and sales per square foot that are some of the best in the industry.
For example, in one of the Buckle's stores a piece of clothing might be selling out but in another it might not be selling at all. With the Buckle's system, it can within one day shift its slow-selling inventory into stores where it is selling. This means that when a customer walks in, the products he or she wants are almost always in stock and ready to buy, making both sales people and investors happy.
As you can see from the charts, the Buckle's system works. Even while Abercrombie has higher Gross Margins, the Buckle still generates profit margins twices its closest competitors.
The Buckle's Comparable Gross Margin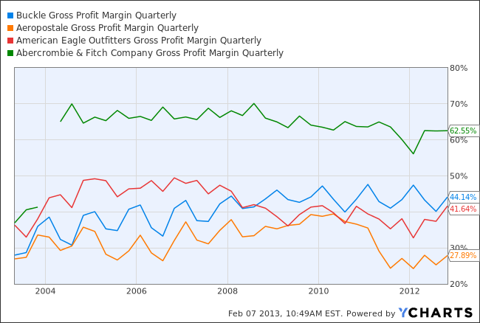 The Buckle's Comparable Profit Margin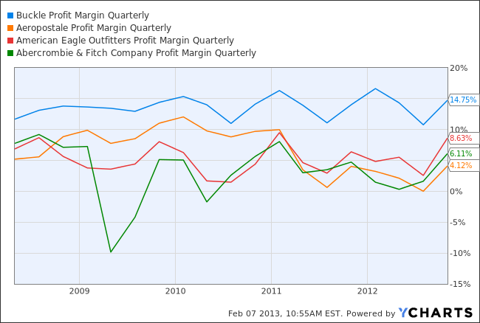 Careful Expansion
The management team also is very cautious in expanding. They only grow when it makes clear business sense and when there are fantastic opportunities. They are very cautious about expanding opening just 13 in 2011 and 19 in 2010. By being cautious they prevent over expansion that has plagued companies like Starbucks (NASDAQ:SBUX) and Abercrombie in the past. In contrast, the Buckle focuses its energy on making its stores increasingly profitable and consistently growing its same store sales. This also means that it is able to integrate its new stores into its distribution system extremely well, allowing it to keep its gross margins consistently over 40%.
Part of this, I believe, is the result of being based in Kearney, Nebraska, very far away from Wall Street and the fact they do not issue sales numbers. This remoteness allows the management team to focus on building a successful business, rather than a successful stock. The lack of estimates means the management does not have to focus on making quarterly numbers, and can instead focus on growing over the long-term-which is exactly what they have done.
The Secret Dividend
Lastly, this focus on thinking like owners is seen in their dividend policy. Their dividend appears to be only about 1.7% but what are not factored in are the large one-time dividends that the company pays out at the end of most years. If the management team does not have a use for its cash at the end of the year, the Buckle pays it out to shareholders. This past December in fact, it paid a $6.00 dividend to its shareholders and $2.25 per share in 2011.
Ultimately, with a management team that thinks like owners, a consistent and focused business strategy and a healthy dividend yield, the Buckle is a fantastic stock for long-term oriented investors. Unlike many of its competitors you probably won't see large stock peaks or losses, but consistent growth over the long term.
Disclosure: I am long BKE. I wrote this article myself, and it expresses my own opinions. I am not receiving compensation for it (other than from Seeking Alpha). I have no business relationship with any company whose stock is mentioned in this article.