Long-term equity investors are often presented with a difficult choice: purchase a stock that will provide market outperformance based on its revenue and earnings growth or purchase a stock that will provide steady income based on consistent and increasing dividend payments. It is not often that investors can find both in the same equity but it is most certainly possible. I firmly believe that an investor does not have to decide between growth and dividend growth, as there are a handful of quality stocks that provide both on a consistent basis; the only hard part is finding them initially.
In my search for the increasingly rare stocks that offer investors a combination of above-average revenue/earnings growth and consistent dividend-growth, I have come across a few unique equities that manage to qualify as both. My previous articles Church and Dwight: A Solid Growth/Dividend Investment in 2013 and VF Corporation: The Right Mix of Dividends and Growth focused on two such stocks in the Consumer Goods segment.
I have now found a third stock that I feel meets the rigid criteria needed to qualify as both a growth stock and a dividend-growth stock, a rare gem in the Industrial Equipment Wholesale segment of the Services industry: W.W. Grainger Inc. (NYSE:GWW).
W.W. Grainger Inc. is an Illinois-based distributor of facilities maintenance, repair and operating supplies to over 2 million businesses and institutions in over 150 countries worldwide. Primarily servicing the United States and Canada, Grainger operates through three main channels: a 'Branch Network' with over 700 networked sites, 'The Grainger Catalog" with over 400,000 maintenance products available to order and 'Grainger.com,' the company's e-commerce platform, which offers over 1 million product solutions.
As a growth stock and a dividend-growth stock, Grainger has to satisfy the requirements of both, which is no easy task. As a proper growth stock, I want to see Grainger meet four criteria: healthy-looking chart, consistently growing revenue/earnings per share, solid fundamentals and fair valuation. On the other hand, as a proper dividend-growth stock Grainger needs to have increased dividends consistently for long periods of time at impressive growth rates. Although these criteria sound simple enough, most stocks simply can't do all of the above and so the few that can manage to do it all are worthy of serious consideration by the majority of long-term investors.
The Chart
Let's have a look at Grainger's long-term chart first to make sure it is trending upwards, as a consistently upward-trending chart is indicative of a positive growth story, anything else is cause for concern on the growth front. The following is a five-year chart of W.W. Grainger Inc. (included are 50-day, 100-day and 200-day moving averages):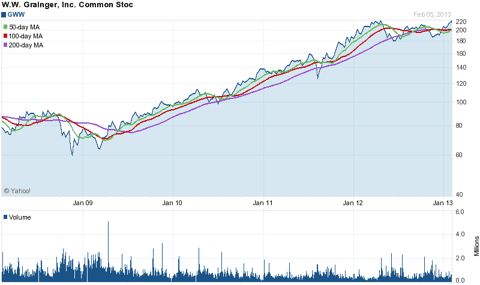 (Chart courtesy of Yahoo! Finance)
GWW: total return (with dividends reinvested) - 200%
S&P: total return (with dividends reinvested) - 22.7%
The five-year chart of GWW is very strong and is exactly what long-term growth investors want to see: upward trending price action. Additionally, GWW obeys its moving averages rather well, significantly breaching its 200-day MA only twice since the financial crisis of 2008.
Now let's have a look at GWW's more recent trading action by looking at its one-year chart (included are 50-day, 100-day, 200-day moving averages as well as MACD and slow stochastic indicators):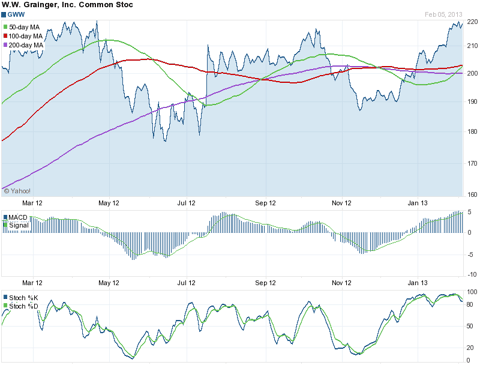 GWW: total return (with dividends reinvested) - 16%
S&P: total return (with dividends reinvested) - 17.7%
GWW's one-year chart is showing considerable weakness. Although the stock managed a positive return over the last year the price action has been very inconsistent and has actually lagged that of the S&P 500. Additionally, GWW has broken below all of its moving averages twice during the last year alone, which indicates severe weakness.
When considering the five-year chart and the one-year chart together, GWW is still trending upwards and is acceptable from a growth chart perspective. However, the more recent price action is nowhere near where it needs to be and should be monitored going forward.
Growth
To best illustrate Grainger's growth, I have chosen to compare it to companies operating in similar segments: Applied Industrial Technologies Inc. (NYSE:AIT), Fastenal Company (NASDAQ:FAST), Stanley Black and Decker Inc. (NYSE:SWK) and WESCO International (NYSE:WCC).
| | | | | | |
| --- | --- | --- | --- | --- | --- |
| Company | AIT** | FAST | GWW | SWK | WCC |
| Revenue Growth (2012) | 7.69% | 13% | 10.77% | 7.94% | 7.34% |
| Revenue Growth (2013) * | 4.9% | 11.6% | 7.2% | 8.5% | 17.6% |
| Revenue Growth (2014)* | 6.5% | 12.1% | 7.7% | 4.5% | 6.2% |
| Revenue Growth (3-yr. Avg. 2012-2014)* | 6.36% | 12.23% | 8.55% | 6.98% | 10.38% |
| EPS Growth (2012) | 13.39% | 17.36% | 4.96% | -23.3% | 10.89% |
| EPS Growth (2013)* | 7.3% | 16.2% | 12.4% | 17.8% | 29.4% |
| EPS Growth (2014)* | 13.2% | 15.8% | 13.1% | 15.8% | 14.8% |
| EPS Growth (3-yr. Avg. 2012-2014)* | 11.39% | 16.45% | 10.15% | 3.43% | 18.36% |
(Numbers from Yahoo! Finance, MSN Money as of 2/6/2013)
* Some numbers derived from average analyst estimate in listed fiscal year/years
** AIT fiscal year ends in June
Fastenal Company is the clear growth leader of the group, growing revenue and earnings per share at an impressive three-year average rate of 12.23% and 16.45% respectively. The second best growth company, in regards to both revenue and EPS, is the much smaller company WESCO International. Grainger's average revenue growth rate is third highest and its EPS growth rate is fourth highest, behind the smaller Applied Industrial Technologies.
Grainger's revenue growth rates seem to be slowing somewhat. In 2011 the company managed to grow revenue at an impressive 10.77% but projections for the next two years are for approximately 7% growth in revenue each year, still solid growth but notably lower than what the company managed in 2012.
On the other hand, Grainger seems to be increasing the rate at which it is growing earnings per share. GWW's 2012 EPS growth rate was a meager 4.96%, however the company's EPS growth rate is projected to bounce very nicely over the next two years, increasing to well over 10% growth for each year.
Although GWW's three-year average revenue and EPS growth rates, 8.55% and 10.15% respectively, are not as robust as that of Fastenal Company or some of the smaller companies listed above, they do indicate the company is still growing at a solid rate. Solid growth is acceptable here as long as the fundamentals and valuation are in line.
Fundamentals
| | | | | | |
| --- | --- | --- | --- | --- | --- |
| Company | AIT | FAST | GWW | SWK | WCC |
| Market Cap | 1.86B | 14.83B | 15.14B | 12.46B | 3.2B |
| Total Debt | 33M | O | 564.64M | 3.54B | 1.74B |
| Total Cash | 51.85M | 79.96M | 452.04M | 716M | 86.1M |
| 2013 Projected Revenue* | 2.49B | 3.5B | 9.59B | 11.05B | 7.74B |
| Net Profit Margin | 4.87% | 13.42% | 7.71& | 8.67% | 3.4% |
| ROIC | 15.9% | 27.1% | 19.5% | 3.5% | 7.6% |
| ROIC (5-yr. Avg.) | 12.7% | 23.2% | 18.5% | 4.2% | 8.1% |
| P/E (TTM) | 16.07 | 35.21 | 22.88 | 14.57 | 14.28 |
| P/E (forward) | 13.99 | 26.18 | 16.44 | 12.14 | 10.97 |
| Dividend/Yield | 0.92/2.1% | 0.4/0.8% | 3.20/1.5% | 1.96/2.6% | NA/NA |
(Numbers from Yahoo! Finance, MSN Money as of 2/6/13)
* Numbers derived from average analyst estimate in listed fiscal year
The fundamentals tell a story similar, Grainger is squarely in the middle of the pack when compared to its competitors. Grainger is the largest company based on market capitalization, at $15.14 billion, and has debt of only $564.64 million, which is very manageable at just 3.73% of the company's market cap. Grainger's net profit margin, at 7.71%, is average when compared to all listed companies.
Grainger has the second highest 'return on invested capital' metric, which indicates that management has been successful at investing capital in the company's operations efficiently. The five-year average ROIC rate of 18.5% indicates that management has a strong history of efficient capital investment.
Grainger's P/E ratios are toward the high end of the range. The company's trailing twelve-month P/E ratio and forward twelve-month P/E ratio are both second highest out of all listed companies; only Fastenal Company's P/E ratios are higher and this is to be expected as FAST offers superior growth in all regards. When viewed on a historical basis, Grainger's current P/E of 22.88 is expensive when compared to its five-year average P/E of 16.48. The company's forward P/E of 16.44 is more reasonable, suggesting the company is fairly valued on a forward-looking basis.
Finally, Grainger's dividend of $3.20, a yield of 1.5%, is again right in the middle of all listed companies. Both AIT and SWK offer greater yield than GWW. However, Grainger's real, hidden strength lies in the growth of its dividend.
Dividend
To best analyze the dividend-growth aspect of Grainger, I have chosen to compare GWW to several companies I recently researched whose management excelled at increasing dividends at a consistent rate: Church and Dwight Co Inc. (NYSE:CHD) and VF Corporation (NYSE:VFC). Greater detail and analysis on CHD and VFC can be found in my two previous articles.
| | | | |
| --- | --- | --- | --- |
| Company | CHD | GWW | VFC |
| Price Per Share | 59.75 | 217.87 | 151.26 |
| Dividend | 0.96 | 3.20 | 3.48 |
| Yield | 1.6% | 1.5% | 2.4% |
| Payout Ratio | 38% | 32% | 32% |
| Dividend Increases In Last 10 Years | 10 | 11 | 11 |
| % Increase in 10 Years | 860% | 344% | 248% |
| Annual Dividend Growth (5-yr.) | 25.1% | 18% | 6.4% |
| Annual Dividend Growth (10-yr.) | 41.7% | 15.8% | 13.6% |
| Most Recent Dividend Raise | 2/16/12 | 5/10/12 | 12/6/12 |
| Most Recent Dividend Increase (%) | 41.17% | 21.21% | 20.83% |
(Numbers from Dividend-Stocks.com as of 2/7/2013)
As the table above illustrates, all three companies have done remarkably well at growing dividends for investors over time. First, all companies have raised dividends every year for the last decade without falter, which is impressive in and of itself. This means that in the last decade all three companies have never once stopped paying shareholders and have never once decreased the amount paid to shareholders. What's more is that both GWW and VFC have actually managed to raise dividends more than once a year in the last decade!
Additionally, all three companies have most recently raised their dividend by over 20%, although Church and Dwight Co. practically doubled the most recent rate of growth of the other two companies, providing a 41.17% increase in February 2012. Over the last decade, CHD, GWW and VFC have managed consistent dividend-growth, all are well above 200%, but again CHD is increasing dividends at an incredibly fast pace compared to the other two.
GWW does currently offer the lowest yield out of all three companies but the dividend-growth is admirable as it bests VFC in all aspects with regards to dividend growth. It is important to note that CHD and VFC are very aggressive with regards to raising dividends and so for GWW to hang in there with both, and even best VFC, speaks volumes.
Growth Catalysts:
In the company's latest earnings call, management seemed confident about the strong start Grainger got off to in 2013. CEO Jim Ryan stated, "We are encouraged by the strong sales rebound we've seen thus far in January." Ryan reiterated 2013 EPS guidance of $10.85 to $12.00, which represents earnings growth well over 10%, and raised sales guidance to possibly as high as 9%, previously from a high of 8%. Jim Ryan is attributing the rise in guidance to Grainger's recent acquisition of Techni-Tool.
Grainger's e-commerce site 'Grainger.com' posted revenue of $2.7 billion, which represents 30% of total revenue for the company. The e-commerce department grew 23% year over year.
In 2012 Grainger achieved over $1 billion in revenue in Canada for the first time ever. Canada has been a bright spot for the company as sales increased 14% in Q4 2012, versus only 5% in the United States in the same quarter. Together, the United States and Canada represent approximately 90% of total sales for the company.
Grainger now has its sights set on expanding more in Latin America, primarily through way of Brazil. Grainger acquired AnFreixo in mid-2012 as a way to gain a "solid entry point for physical operations in Brazil" and growth in the country may just be getting started. CEO Ryan explained that "Other Business" sales in Q4, which is sales other than U.S. and Canada and most notably in Asia, Europe and Latin America, grew 16%.
The trend is clear: sales in the U.S. are not nearly as robust as sales in Canada and are nowhere near as robust as other international markets that Grainger is currently developing. The more the company expands internationally, the better total revenue growth rates should increase. Grainger's methodical expansion in Latin America and elsewhere, although slower than some investors may be hoping for, is slowly coming along and should provide expanding revenue streams in the future.
Also worth noting is that Grainger has settled its long contractual dispute with the federal government over disclosure language. The government contracts with the General Services Administration and United States Postal Service accounted for 17% of Grainger's 2011 revenue and so it is one less headache for shareholders to worry about in 2013. Management set aside $0.66 per share at the end of Q4 2012 for the expected settlement.
Risks
Grainger's one-year chart is a little concerning because it has been very volatile, which is unlike the company's long-term trading trend. Although the stock has recently regained all of its moving averages and is currently trending upward, the stock's chart is nowhere near the strongest out there. In fact, it reminds me a lot of VF Corporation's one-year chart, which I cautioned investors about. Both charts need to be monitored going forward. The major difference between the two is that GWW is still able to be purchased from a chart perspective.
The downturn in sales at Grainger from 2012 and projected sales in 2013 and 2014 is also concerning. I have no doubt that the slowdown in revenue growth has caused the stock's recent weakness and this is deserved. The growth is still adequate but the valuation needs to be adjusted for the slowing sales. The stock is expensive on a trailing twelve-month basis and only adequately valued on a forward-looking basis. GWW is more expensive than most of its peers and offers growth that is only comparable but not better than those same companies.
Conclusion
Grainger is another rare stock that offers investors growth and dividend-growth and it manages to do both relatively well. The revenue/EPS growth aspects of the company are solid but not great when compared to its peers as well as my two other recently reviewed growth/dividend-growth stocks, CHD and VFC. Although Grainger has very nice fundamentals, the valuation may need to come down.
The dividend-growth story is the highlight of Grainger, as management has been very consistent at delivering constant increases over long periods of time. As with CHD and VFC, the dividend history is almost unmatched and warrants serious consideration from investors looking for continual increases in dividends.
In summation, Grainger seems to falter a little bit as a growth stock but excels as a dividend-growth stock. I am confident in calling GWW both a growth stock as well as dividend-growth stock but it is not quite on the level of CHD and VFC. I recommend buying Grainger only on weakness, particularly if it nears its major moving averages at the $200 level.
Disclosure: I have no positions in any stocks mentioned, and no plans to initiate any positions within the next 72 hours. I wrote this article myself, and it expresses my own opinions. I am not receiving compensation for it (other than from Seeking Alpha). I have no business relationship with any company whose stock is mentioned in this article.