We believe that if investors want exposure to a telecom-oriented company that offers great turnaround potential, they should buy the mobile services provider Sprint Nextel (NYSE:S). We can see that Sprint has made significant progress in its turnaround project because not only does it have the right to sell Apple's (NASDAQ:AAPL) wildly popular iPhone smartphone and iPad tablet computing devices, but because its Network Vision project has been dismantling its archaic 2G iDEN Nextel network and Sprint joined AT&T (NYSE:T) and Verizon (NYSE:VZ) in offering 4G LTE communications services. While Sprint's near-term upside will be limited because of the terms of its merger agreements with SoftBank (OTCPK:SFTBF) and Clearwire (CLWR), we believe that Sprint still offers solid long-term potential for investors because of its strong fundamental factors, and that is why SoftBank was willing to acquire 70% of Sprint. We said it before and we'll say it again: Sprint is the best value for the consumer and the best value for wireless investors.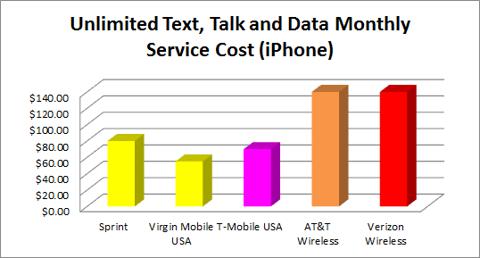 Source: Wireless Company Websites
Revenue Trends: Sprint's revenue peaked in 2007 at $41B, and this was because it acquired two of its former wholesale affiliates in 2007 and one of its former affiliates in 2006. Sprint's revenue troughed in 2009 at $32.26B, and this represented a decline of 21.4%. Sprint's revenue had incremental growth from 2010-2011, and Sprint's wireless revenue growth rate in the first nine months actually exceeded Verizon Wireless's revenue growth. Sprint's wireless revenue growth rate has also exceeded AT&T Mobility's wireless revenue growth rate in the last three quarters, and it has also exceeded AT&T Mobility's wireless service revenue growth rate for the last five quarters.
Verizon Wireless's minimum monthly service price for smartphone customers that use 2GB of data each month is $80 for prepaid plans and $100 for contract customers. There are two reasons we believe why AT&T hasn't does away with its individual plans in favor of "family share plans" like Verizon Wireless. The first reason is AT&T's 4G-LTE footprint only covers 125 cities versus 470 for Verizon Wireless, the second reason is that AT&T no longer has exclusivity with regards to carrying Apple's iPhone smartphone device, and the third reason is the first two reasons have led Verizon Wireless to add 7.2M retail postpaid customers since the end of FY 2010, versus 1.7M for AT&T Mobility in that time period.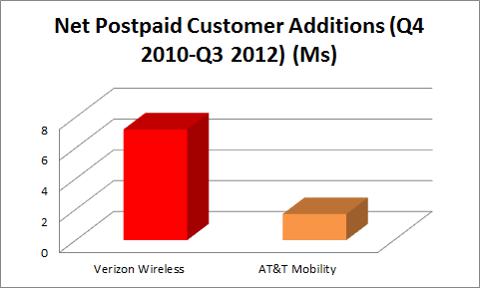 Source: Last eight quarterly reports for Verizon and AT&T
Because the AT&T/Verizon duopoly has pushed forth with plans to boost monthly service fees for Data packages, we believe that Sprint's Unlimited Text and Data Package with 450 Anytime minutes for $79.99/month is a fantastic deal for smartphone customers, especially iPhone customers. While Sprint's 4G LTE Network footprint is smaller than that of Verizon and AT&T, we can see that Sprint has been making significant progress in extending its 4G LTE Network footprint since July (49 cities as of December). Sprint's revenue has increased in 7 out of the last 10 quarters on a linked quarter basis thanks to strength in its prepaid and wholesale segment, and its quarterly revenue has increased on a year-over-year basis during the last nine straight quarters. We are pleased that Sprint's Virgin Mobile USA prepaid subsidiary has been selling the iPhone without a contract since June, and we believe that Virgin Mobile USA's $55/month smartphone plan offering unlimited talk, text and data is quite simply the best value for American wireless customers.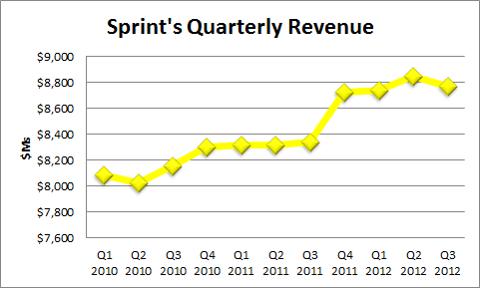 Source: Morningstar Direct
Tablet Computing Devices: Sprint has the lowest number of connected devices customers with regards to the Big Three U.S. carriers. However, we believe that there is more potential for Sprint going forward in the tablet computing space. Sprint began reporting to investors its connected devices customer numbers in Q1 2012, and the company has seen its connected devices customer base grow from 2.6M in Q1 2011 to 3.36M in Q4 2012, even though it only has between two to four tablets and laptops for sale at a given time and was previously selling lower-end devices like the ZTE Optik. We believe that Sprint has the potential to improve its competitive position in the connected devices space because Sprint gained the right to sell Apple's revolutionary iPad device in November, which was earlier than we were anticipating. We were anticipating that Apple would release its newest iPad devices in March, and we were expecting Sprint to beginning selling the iPad then. We think it is worth repeating the reasons why we believe Apple let Sprint join the iPad party when it released its newest iPad devices:
Sprint is on pace to satisfy its $15.5B iPhone purchase agreement with Apple
Sprint's progress in building out its 4G LTE footprint and improving its 3G network as part of the Network Vision project
Over 40% of Sprint's iPhone sales have been to new customers, and the number of new customers buying an iPhone through Sprint is comparable to the number of new customers buying an iPhone through AT&T/Verizon
Sprint's willingness to sell the iPhone through its Virgin Mobile USA prepaid brand
Sprint has been aggressively promoting its iPhone availability, while AT&T has sought to displace Apple's iPhone with Nokia's Lumia Windows Phone devices and Verizon is pushing Android devices in order to displace Apple's iPhone
Sprint's previously high end tablet computing device available for sale was the Samsung Galaxy Tab 10.1. Considering that Samsung infringed on Apple's patents, this would be a great way to stick it to Samsung
Sprint has reported a higher linked quarter connected devices customer growth rate than AT&T in Q1 2012, Q2 2012 and Q3 2012, even though AT&T has the iPad.
Cash Flows: Despite ramping up capital expenditures in 2011 and 2012 as part of its Network Vision transformation, Sprint had a small free cash flow deficit in 2011 (-$37M) and the first nine months of 2012 ($268M). We also expect Sprint's free cash flows to increase after 2013 once it completes the Network Vision project and shuts down the Nextel iDEN network. We see two ways that Sprint will see increased cash flows from the completion of Network Vision. The first way is through capital spending that is stable or lower in 2014 and afterwards, and that the Network vision project is expected to save Sprint $1-$2B in annual operating expenses, which it can use to bolster profits and to reinvest in promotional activity to improve its competitive position against AT&T and Verizon.
Macroeconomic environments: Sprint generates all of its revenues from the U.S., which we believe will perform better than Europe and Japan, even with concerns about the Federal budget. We have also seen economic slowdown in the formerly fast growing emerging markets of Asia and LatAm.
Conclusion: Based on these four factors identified, we conclude that Sprint offers a high likelihood of turnaround potential in the telecom sector. We see Sprint has made significant progress in its turnaround journey with manageable execution risk. Sprint is gambling its company's future on selling the Apple iPhone. So far, we find that there's a strong momentum for Sprint and its Apple iPhone partnership. Sprint Nextel may never be Apple, and it has a long way to go to catch up to Verizon Wireless and AT&T. The last reason why we believe Sprint offers good long-term potential is because Sprint also has the benefit of a deep-pocketed new parent (SoftBank), and this will enable it to bulk up its network faster than it was originally planning.
Disclosure: I am long S, AAPL. I wrote this article myself, and it expresses my own opinions. I am not receiving compensation for it (other than from Seeking Alpha). I have no business relationship with any company whose stock is mentioned in this article.
Additional disclosure: This article was written by an analyst at Saibus Research. Saibus Research has not received compensation directly or indirectly for expressing the recommendation in this article. We have no business relationship with any company whose stock is mentioned in this article. Under no circumstances must this report be considered an offer to buy, sell, subscribe for or trade securities or other instruments.