In the wake of the successful spinoff of Pfizer's (PFE) former animal health unit, Zoetis (ZTS) (company site link), our attention is drawn to analyzing the balance sheet of the pharmaceutical company. It follows that we believe the company's cash position, strong ongoing cash flows and access to additional capital appear to be inconsistent with the company's strategy and may signify an intermediate-term shareholder distribution.
Zoetis IPO proceedings, estimated to have raised approximately $2.2 billion for Pfizer, were dedicated to lowering the company's debt position. That aside, additional offerings would allow Pfizer to realize its approximate remaining 83% stake in A-shares and 100% of Zoetis B-shares which could take place within the next 6 months. This excludes potential proceeds from a mid-January Zoetis debt placement of $3.65 billion (link here).
Though the fiscal Q4 10Q filing will not be available until later this month, we are interested in the potential utility of carrying $22.9 billion of cash and short-term investment position on the balance sheet of a company transforming into a smaller entity. That total places Pfizer only behind Amgen's (AMGN) $25.3 billion on the list of all healthcare companies' cash balances and ahead of other leading firms such as Johnson & Johnson (JNJ) and Wellpoint (WLP).
That balance when coupled with a firm that has also continued to generate operating and free cash flows ranging between $3-6 billion and $1-4 billion per quarter respectively over the past 2 years, suggests that the level of liquid assets being carried would not appear to be the most effective use of shareholder funds. This is especially true for an organization focused on shedding "non-core" assets and entertaining a large scale break up (a nice article here).
That said, recent balance sheet maneuvers suggest Pfizer may be preparing for such a transaction though a reviewing of the fiscal 4Q12 will be telling. The composition of liquid assets on Pfizer's balance sheet has become increasingly cash oriented. The company's latest reported cash position shows that the account has grown to approximately $4.5 billion as of the company's fiscal third quarter of 2012 10Q. The total reflects significant movement in the company's cash position representing a $1.5 billion sequential increase from fiscal 2Q12 or 49% and a 22% expansion over fiscal 3Q11 and 517% over fiscal 1Q11 respectively.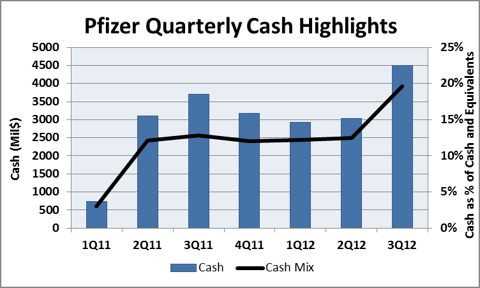 When reviewing the liquid asset mix of Pfizer a similar evolution can be observed. The cash component of liquid assets has grown to nearly 20% of the total, up from 12% in fiscal 2Q12, 13% in fiscal 3Q11 and 3% in fiscal 1Q11.
It is important to note that such movement typically signifies a change in company dividend or share repurchase strategies. This is consistent with recent actions by CFO, Frank D'Amelio who has been active in implementing additional share repurchase programs, increasing dividends and making changes to the company's organizational structure of the firm.
In analyzing the potential uses of the capital, Mr. D'Amelio indicated during the fiscal 4Q12 conference call that existing stock repurchase programs have an additional $11.8 billion in remaining capacity (link to the quarterly report is here). This point coupled with the advancing stock price of Pfizer shares (8.2% YTD and 36.2% since the initiation of the latest program on December 12, 2011) greatly devalues the potential impact of this alternative (link here).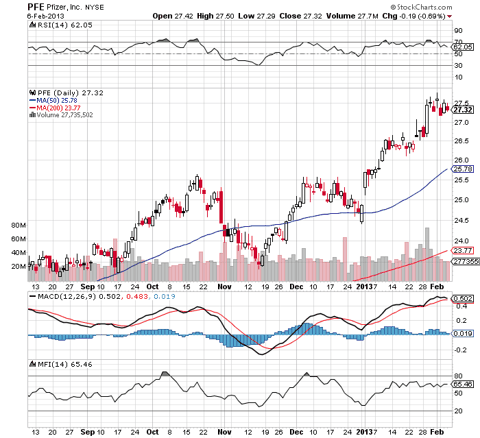 Pfizer has made recent changes to its common share dividend policy. In December the company announced a 9% increase in the quarterly dividend to $0.24 per share (link here). At first glance this may seem to be an aggressive move but it is largely consistent with the $0.02 or 10% increase that was approved in December 2011.
We believe that a near-term event related to a new share repurchase plan or one-time dividend may be in play for Pfizer. Increases to the company's cash position, similar recent company activities, a de-emphasis of large scale M&A activity and the ongoing possibility of further spinoffs or a large scale breakup provide cover for such an event and would be overwhelmingly welcomed by the shareholder community given the state of the pipeline and the poor acquisition track record of recent years.
Disclosure: I have no positions in any stocks mentioned, and no plans to initiate any positions within the next 72 hours. I wrote this article myself, and it expresses my own opinions. I am not receiving compensation for it (other than from Seeking Alpha). I have no business relationship with any company whose stock is mentioned in this article.