Exelon (NYSE:EXC) is a power generation and distribution utility with a diversified power generation mix. They manage 10 generating power plants and 17 nuclear reactors. They are concentrated in the Midwest, Mid Atlantic and Texas areas.
In the search for yield utilities are a typical target for long-term investors and retirees. The recent news that Exelon is cutting its dividend from $.52 to $.31 would usually be met with grave concern. In this case the dividend cut was initiated to maintain its investment grade status and fund growth. Share price has declined over the past year, another concern. So why am I positive on Exelon now? The longer-term thesis for power pricing in the US, in my opinion, supports the purchase of shares now and if prices drop during the rest of 2013 investors may be adding shares.
Key Thesis Points
Exelon is the

nation's

largest owner and operator on nuclear-power plants. It is unlikely that more facilities will be built that would compete with them. This "nuclear moat" should add incremental profitability as electricity prices increase.
Natural gas pricing is maintaining near all time lows. The general outlook on power prices is that they will increase with an increase in natural gas costs and wider distribution as old coal fired power facilities transition to natural gas.
Exelon is positioned to capitalize on the politically popular green energy sectors.
They have maintained profitability and still offer a yield greater than our retirement fund average of 3.6%.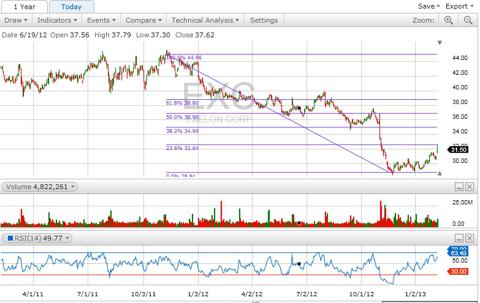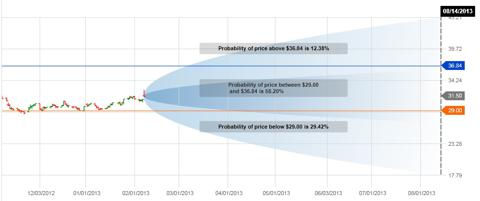 So the news isn't great, past performance is poor and the dividend is now lower. The probability chart above demonstrates pricing based on retracement predictions. Pricing is near the 52 week low of $28.40, and the sector generally out of favor but recovering as demonstrated by the chart of the XLU below. The XLU is a utility sector ETF that tracks Exelon and its competitors. This is an opportunity to get into a utility that is currently suffering but has significant upside potential for both share price gains and reinstatement of their previous dividend rates.
The tactical plan from here forward based on the current news is to hold current positions and add if prices decline. It is always uncomfortable to invest in a company during a bad news and performance cycle but if you believe as I do that over time electricity prices will increase, then Exelon is an opportunity to share in the upside and earn dividends while you wait. This is a long-term position.
Disclosure: I am long EXC. I wrote this article myself, and it expresses my own opinions. I am not receiving compensation for it (other than from Seeking Alpha). I have no business relationship with any company whose stock is mentioned in this article.