If you surveyed a few people on the street and asked them what Google Inc. (NASDAQ:GOOG) does, most people would say "search" and maybe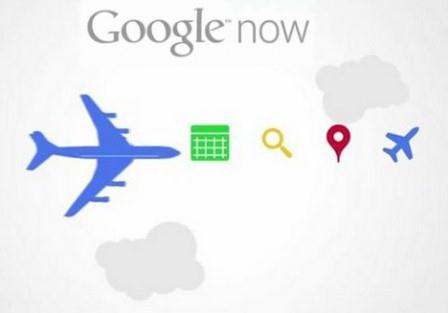 a few others would talk about their other really cool, free services like Chrome, Gmail, Google Maps, Docs, or Plus. As investors, we know better: Google generates almost all of its revenue through advertising related income. However, in order to maintain its search dominance and keep selling advertising effectively, it needs to keep offering great, free services that help people organize their lives and make sense of the vast amount of data that we are drowning in. And it needs to keep indexing new information.
What is the next frontier it has begun to index?
You.
As investors, we also know, as Eric Ries so succinctly put it: "If you get a product for free, you are not the customer. You are the product. The rancher isn't in business for the cattle." (Special thanks to Chris Lau for the quote)
Google's products and services that I already mentioned including YouTube and the Android operating system, are actually ways for Google to find out more about us and maintain its advertising/search dominance against its competitors.
Google's Goals for your Personal Information: Next-Gen Search
In Google's "2012 Update from the CEO," Larry Page explains the importance of one of their free services, Google Plus:
"Imagine how much better search would be if we added…you. Say you've been studying computer science for awhile like me, then the information you need won't be that helpful to a relative novice and vice versa. If you're searching for a particular person, you want the results for that person - not everyone else with the same name. These are hard problems to solve without knowing your identity, your interests, or the people you care about."

"Google+ helps solve this problem for us because it enables Google to understand people and their connections…This kind of next-generation search in which Google understands real-world entities - things, not strings - will help improve our results in exciting new ways. It's about building genuine knowledge into our search engine."
Implicit in this idea is that we will trade our personal information and privacy for help navigating the digital deluge of the modern Internet. Earlier in the update, Page explains their goals this way:
"I have always believed that technology should do the hard work - discovery, organization, communication - so users can do what makes them happiest: living and loving, not messing with annoying computers!...People shouldn't have to navigate Google to get stuff done. It should just happen."
As part of this effort, Google also changed their privacy policy last March, so they could combine the information they have collected from their over 60 free services and use it to improve the user experience. This means more accurate search and advertising, but it also cleared the way for Google Now.
Google Now
Now, for Android-based smart phones, combs through your searches, calendar entries, emails, most visited locations, etc. and offers you notifications relating to local weather, delayed flights, traffic jams, your favorite sports scores, and even restaurant recommendations.
On a very basic level, Now has the potential to ease data and app overload. It can replace or render obsolete individual apps for weather, traffic, sports, or even apps like Foursquare or Yelp (NYSE:YELP). Further investigation reveals a more subtle but powerful shift.
"Popular Science" recently chose Google Now as the most innovative software of 2012. In the article, the author, Jacob Ward explains its exciting capabilities in this way:
"Google Now draws a distinct technological line. On the side you're on now, you tell your devices what you want to do. On the far side, the devices do the telling. Google Now is waiting for you over there. It's the first virtual assistant that truly anticipates your needs. All you have to do is opt in."

"Voice interfaces like Siri seem outdated by comparison. With Google Now, you don't pull the phone out when an idea occurs to you. You pull it out when an idea occurs to it." [Emphasis mine]
Yes, Google Now, combined with Voice Search, destroys Apple Inc's (NASDAQ:AAPL) Siri, but that is not the entire point. Think bigger!
The Power of Now: Disruption is Google's Middle Name
Now has the potential to revolutionize the Internet in the same way Google's original search engine once did. Now uses what Google learned from Web 1.0 (search), Web 2.0 (social networks, your personal information, etc.) to take us to the next level, the Intelligent Web or Web 3.0.
"Web 3.0, a phrase coined by John Markoff of the New York Times in 2006, refers to a supposed third generation of Internet-based services that collectively comprise what might be called 'the intelligent Web' - such as those using semantic web, microformats, natural language search, data-mining, machine learning, recommendation agents, and artificial intelligence technologies - which emphasize machine-facilitated understanding of information in order to provide a more productive and intuitive user experience."
The next phase of the Web is Google Now, a personal assistant who combines the general information of Google's Knowledge Graph with the personal information it learns about you to anticipate your needs.
At this point you may be thinking, "If Now is such a big deal, why didn't Google say more about it during their recent conference call?" Perhaps Google is not engaging in a marketing push because they don't want to bring further attention to privacy concerns. This is a stealth takeover. They know that continued Android market share dominance will put Now in the hands of consumers, fulfill a need they didn't know they had, and become indispensable.
A Profitable Future for Google
Google's detractors have said that it is trapped in an old business model, that it can't monetize mobile search. However, Now can easily facilitate advertising or promote Google's partners. Here is one example of the many possibilities: Now can use your location to tap into Maps and Zagat reviews to suggest restaurants and deals, through Google Offers, that you will enjoy based on previous purchases.
Now will take root in mobile and then spread to Chrome and eventually Google TV. This can accentuate Google's "network effect," causing more people to buy into the Google/Android ecosystem and help in its, somewhat, indirect war against Apple.
Increased adoption of Now will create a virtuous cycle for Google. When people "opt in," they will inevitably give Google more information as they attempt to personalize Now. This has the potential to open the door to what has been dreamed about in marketing circles for years: Advertising so targeted that it is actually welcomed by consumers. This would be a home run for Google's main source of profit and give it a strong advantage over its competitors.
In search and advertising, Google competes with Microsoft Corp. (NASDAQ:MSFT) and Yahoo Inc. (YHOO) through the Bing search engine. It also competes with Facebook, Inc. (NASDAQ:FB) in advertising and their newly announced Graph Search, which I will expand on in my next article. While Amazon.com, Inc. (NASDAQ:AMZN) may not automatically come to mind as a competitor, Google competes with them in advertising and sales as part of search. As far as Now is concerned, it competes with Grokr, a free app on iTunes/App Store that offers some of the same services of Google Now. The reviews at the bottom of the linked page are not great, but Google still needs to stay one step ahead.
Barriers to Success
While Android OS has a whopping 68% market share, only the more recent versions of Android Jellybean have Now. For Now to be successful, Android needs to continue its market share dominance.
Will people choose to "opt in?" I believe they will. The widespread adoption of Facebook is an easy example of people giving up some privacy in exchange for services that they feel are indispensable.
Google also needs to appease government regulators over its use of consumer personal information and ease of opting out. Fellow contributor, J.M. Manness has begun an in-depth series on the subject.
Closely related to the previous point is that Google needs to tread carefully with its use of our personal information and not arouse the ire of its user base. Page has mentioned wanting to be a company that people can trust; he has only to keep an eye on Facebook for examples of what not to do.
Investment Takeaway
It can be easy to paint a rosy picture of the future, but what do the numbers tell us about whether Google is a good buy right now.
| | | | |
| --- | --- | --- | --- |
| | Current | Industry Avg | Goog 5yr Avg |
| Price/Earnings | 23.7 | 26.2 | 23.9 |
| Price/Book | 3.5 | 3.6 | 4.0 |
| Price/Sales | 4.9 | 16.7 | 5.9 |
It currently has a Forward P/E of 15.6 and PEG of 1.2. Their expected EPS for next year and the next five years is 17.1% and 14.7%, respectively. (Data taken from Morningstar and Finviz)
Based on the earnings report on January 22nd, a number of analysts have increased their price targets (below) and the stock price has increased to an all time high.
Analyst changes in price target.

Old Target

New Target

Cantor Fitzgerald

$820

$900

Citigroup

$800

$830

Needham

$825

$850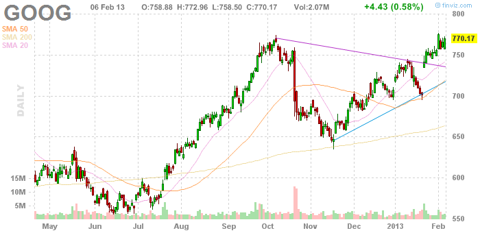 I think Google is a buy at this point, so I plan to nibble on a pullback. Fellow contributor Erica Reisman has called our attention to a historical trend in the shares of Google that would dictate a pullback during the spring. I will look for a further buying opportunity it this occurs, but I am buying now to make sure that I don't miss the chance.
Final Thoughts
People believe in the power of technology to make their lives easier. Now is the promise of a personal assistant that anticipates your needs, and I believe it will be successful as Google continues its mobile OS dominance. Now is the perfect profit vehicle for Google and its partners. Now's very nature is to suggest. It has the potential to suggest purchases, deals, locations, etc. in such a way that could eventually be welcomed.
In a previous article, I came to the conclusion that I was not going to invest in Google and I described them in this way: "Their focus has been fractured: It has seemed like their company has A.D.H.D., buying any bright and shiny object that catches their fancy." Why have I changed my mind? I believe they have restructured and refocused. I can see how their vast array of services work together to maintain dominance for the future. You better believe if I can see it, so can their competitors. However, Google has such a wide moat that it will be hard for competitors to catch up. In the mean time, Google can keep advancing further and continue making money for its shareholders.
Disclosure: I am long AAPL. I wrote this article myself, and it expresses my own opinions. I am not receiving compensation for it (other than from Seeking Alpha). I have no business relationship with any company whose stock is mentioned in this article.