Marvell Technology Group's (MRVL) earnings have disappointed lately despite its products being used in such popular devices as the Xbox, Kindle and one of my Top 13 Stocks for 2013 -- BlackBerry. Will those earnings and other major factors keep this stock down?
Value Story
If there is a major reason to buy the stock at this point, it is based on undervaluation. Marvell's balance sheet is solid. Marvell has no debt and $3.77 per share in cash, which is a very large amount. If someone were to buy the whole company tomorrow for $9.50 per share, they would effectively be getting it for $5.73 a share. Marvell also sports a forward P/E of 13.14 and a PEG of 1.36, signaling its relative undervaluation. It has a price-to-book ratio of only 1.08. Marvell has a price to sales ratio of 1.58, which is almost half the industry average of 3.03. All this despite the fact that it is expected to grow earnings at 12% per year for the next five years.
Marvell has higher gross margins and operating margins than the average for its industry. Its return on assets and return on equity are both higher than its industry averages. It also has a very nice price-to-free cash flow ratio of 10.78. These factors indicate that the company is very profitable.
The company's solid state drive business has been one of the few bright spots lately, and it has the potential to boost sales to mobile handset makers over the next 12-18 months due to technology advancements. While value is the overriding "buy reason," there is the potential for a return to growth. Additionally, the company has been buying back shares with some of its cash hoard, which is always good for EPS.
Risks
Concerns for the stock center around the recent billion dollar judgment against the company; last quarter's large Y/Y decrease in earnings; its exposure to a potentially softening Asian market (substantial portion of sales); the large portion of its sales to the PC market; and dubious decision making from its management.
If the judgment is upheld on appeal, it will eat into a significant portion of cash and will reduce resources that could otherwise be used on R&D, dividends, and stock buybacks. Additionally, Marvell could have to pay 50% patent royalties over chips making up 50% of its sales. This would be extremely damaging to the company. This is a big concern going forward, although please note David Einhorn's thoughts in the following section.
The Y/Y earnings decrease is concerning, but since it is mainly due to exposure to a declining PC market, it is not necessarily company specific. And to counter this trend, the company has focused on the growing mobile handset industry.
Another Seeking Alpha author wrote a great piece on Marvell's questionable management decisions. It seems that poor decision-making doesn't hold back Marvell overall, but I wonder where the company would be if its focus was totally on shareholder interests. My hope here is that the hedge funds discussed in the next chapter can "influence" management into changing its decision-making and/or its actual management structure. This is a moderate concern going forward.
The Smart Money Seems Confident
Despite the above noted concerns, some hedge fund titans have announced their ownership of the stock. David Einhorn believes in the company since his Greenlight Capital owned it as of their last SEC filing. Greenlight had purchased about 6% of outstanding shares. Einhorn believes that the company can get the recent patent infringement judgment reduced or reversed, which would seem to alleviate one concern listed in the previous paragraph. Normally a hedge fund would consult with trial attorneys about the likelihood of overturning a verdict like this, so I believe there is a pretty high likelihood that the current verdict won't be affirmed.
David Tepper's Appaloosa took a smaller $35mm position, but a position none-the-less. And Paul Tudor Jones had a $13.5mm in the stock as of the last SEC report. I do like the odds of having those guys as stock owners with me, although nothing guarantees they are all still in it now.
Charting
The stock chart looks very attractive to me. It looks to have ended its slide, breaking out of a downward channel and putting in a double bottom at $7.00. It has broken above its 20 and 50 day moving averages, though it may face a bit of resistance when it reaches its 200 day moving average. The price also broke through the Ichimoku Cloud, which is a display of potential resistance and trend change. Based on Fibonacci levels, I have an intermediate term price target of between $12 and $13.20, which represents a 26% to 39% gain from levels at the time of writing this.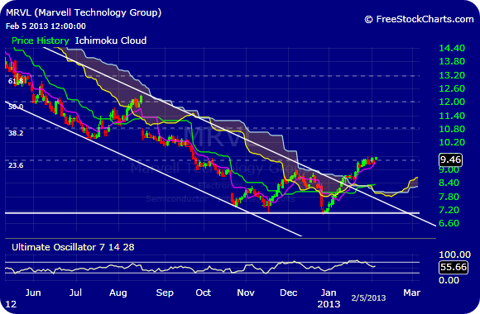 Alternatives to Marvell include: Intel Corporation (INTC), Advanced Micro Devices (AMD), Atheros (ATHR), Texas Instruments (TXN), LSI Corporation (LSI), STMicroelectronics (STM), and Broadcom (BRCM). I believe that this stock is still ripe with risk, but also ripe with potential large gains. If I were buying today, I would probably look to also buy some $6 Aug puts for about .28, in case the court doesn't over-rule the $1 billion verdict, and stock falls back towards $7.
Disclosure: I have no positions in any stocks mentioned, and no plans to initiate any positions within the next 72 hours. I wrote this article myself, and it expresses my own opinions. I am not receiving compensation for it (other than from Seeking Alpha). I have no business relationship with any company whose stock is mentioned in this article.