With a market capitalization just under $298 million at the close of markets on February 7th, Dyax Corporation (NASDAQ:DYAX) is an emerging biopharmaceutical that has been experiencing growth since its late 2009 FDA approval for lead product, KALBITOR®. Launched in February of 2010, KALBITOR® is approved for the treatment of patients 16 years of age and older for acute attacks of hereditary angioedema (NYSE:HAE), a rare, genetic disorder characterized by severe, debilitating and frequently painful swelling, typically occurring in the abdomen, face, hands, feet and airways. KALBITOR® has garnered the FDA's and EMA's (European Medicines Agency, Europe's regulatory agency for drugs) Orphan Drug status, providing 7 years of marketing exclusivity and 10 years of marketing exclusivity in the EU. Not only does this protect the drug against competition in the HAE indication with 1:10,000 to 1:50,000 people worldwide affected, but the designation also reduces the regulatory filing fees associated with the clinicals.
Although this is a moot point with regard to the U.S. markets now, the company has not yet obtained authorization from the EMA to market the drug in the European markets. On November 14th of 2011, Dyax provided an update on its international marketing pursuit of KALBITOR®. In that update, the company noted that it had withdrawn its application for European marketing approval citing "the information provided was not deemed sufficient to demonstrate a positive benefit-risk balance. Based on the availability of supportive data, in particular from an ongoing bioequivalence study using a 1mL, high-strength formulation of KALBITOR®, the Companies will consider a resubmission to the EMA."
Although there have been no recent updates on a European resubmission, Dyax has ventured beyond Europe and has had a great deal of success partnering up with other pharmaceuticals to market the promising drug in many other countries. In June of 2010, four months after the U.S. launch of KALBITOR®, Dyax announced a partnership with Sigma-Tau in which the two companies would develop and market KALBITOR® in Europe (that country is obviously on hold for the interim), North Africa, the Middle East and Russia. Under terms of the deal, Sigma-Tau paid Dyax an upfront fee of $2.5 million in cash up front and agreed to purchase $2.5 million in equity shares at a 50% premium above market value. Dyax would also be eligible to receive over $100 million in development and sales milestones related to DX-88 (now KALBITOR®) and royalties equal to 41% of net sales of product. Although Sigma-Tau would be responsible for 100% of regulatory and marketing fees in the territories it licensed, the two companies would share costs for future indications (other diseases targeted) as part of the agreement.
On January of 2011, Dyax and Sigma-Tau would announce an expansion of the agreement to cover New Zealand and Australia. As a result of the new agreement, Dyax received another $500,000 in cash up front while Sigma-Tau agreed to purchase another $500,000 in equity shares at a 50% premium. Dyax would also be eligible to receive another $2 million in regulatory and commercialization milestones not to mention royalties of 41% of net sales of the product, minus the cost of goods. An additional expansion of the Dyax/Sigma-Tau agreement would be announced on May of 2011 in which the partnership would be expanded to cover Latin America (excluding Mexico and the Caribbean), Taiwan, Singapore and South Korea. The partnership expansion yielded another $7 million upfront payment as well as up to $10 million in regulatory and commercial milestone payments with 41% of net sales of KALBITOR®, less cost of goods sold while Sigma-Tau would once again cover the regulatory and commercialization fees associated with the additional countries.
In September of 2010, Dyax announced a partnership with CMIC Co., Ltd in which it received $4 million in cash up front and $102 million in future development and sales milestones for KALBITOR® for treating HAE and other indications. CMIC would be wholly responsible for all development and marketing fees and would purchase the drug on a cost-plus basis for clinicals and marketing purposes. If given regulatory approval, Dyax would be eligible to receive 20-24% royalties on net sales of KALBITOR®
On January 31st of this year, Dyax announced that it had partnered with Novellus Biopharma AG (NASDAQ:NVLS-OLD) to develop and commercialize KALBITOR® in Latin America, including Argentina, Brazil, Chile, Colombia, Mexico and Venezuela. As a result of the agreement, Dyax will received an undisclosed upfront payment from Novellus, will receive milestone payments based on product sales and will sell KALBITOR® to Novellus as part of the marketing agreement. Novellus will also be responsible for 100% of the costs associated with development, regulatory fees, and the commercialization of KALBITOR® in the targeted countries.
On Thursday, Dyax announced yet another partnership for KALBITOR®, this time with CVie Therapeutics (CVie), a subsidiary of Lee's Pharmaceutical Holdings Ltd. The announcement went largely unnoticed as the company's shares closed at $3.00, down over 2% on the day on below average volume of 324,523 shares traded. Perhaps investors have gotten numb to all the partnership announcements, but the event should not go unnoticed for current or interested shareholders. The agreement covers the largest populations targeted for marketing yet via China, Hong Kong and Macau. While the announcement noted the standard "CVie is solely responsible for all costs associated with development, regulatory activities, and the commercialization of KALBITOR® in China,Hong Kong and Macau", the agreement was also a bit different with no dollar amount yet revealed for the upfront payment or the milestone payments for regulatory or commercialization events. Is the dollar amount reserved for yet another day or another venue for a reason? Time will only tell, and I advise interested investors to watch for this news carefully either in a separate press release, or during the Q4 2012 earnings conference call currently scheduled for next Wednesday, February 13th.
Q3 2012 earnings were promising with the company showing much growth in sales for KALBITOR®. At the time, sales as a result of KALBITOR® had grown to $10.8 million, up 18.5% from Q2. Operating cash burn for the quarter was reduced to $5.0 million with the company having cash and equivalents of $30.4 million as of September 30th. The key moving forward for investors is sustained growth in the U.S. as the company moves forward with its sales and marketing force. The multiple agreements with other pharmaceuticals for additional markets will only help to add to the company's bottom line as the partners purchase KALBITOR® for the required clinicals and then also purchase product for sales should the partnerships yield additional regulatory approvals. Dyax will have very little capital invested in the regulatory process in each of these partnerships, while it will reap the rewards due to the likely coming milestone payments and royalties. Although Dyax did not impress the EMA with its data, I expect a resubmission should be forthcoming. The FDA tends to be the more difficult regulatory agency to impress, so the remaining regulatory entities should be giving affirmative decisions as clinical data is presented from foreign and U.S. trials.
The upcoming earnings announcement on February 13th could be key to the company's stock for the short term. The company's shares are trading at the bottom of an uptrend channel that started in May of 2012. Weaker than expected earnings from KALBITOR® sales could cause a break in the trend resulting in downward pressure to the next support at $2.80 or to the 200-day moving average at about $2.61. In-line or better sales should keep the shares trending upward with resistance at the 50-day moving average of $3.35 and then the 52-week high of $3.74. Interested investors are advised to consider earnings growth, review any updates on the company's partnerships and also look for any dollar amounts associated with the recent partnerships with CVie Therapeutics and/or Novellus. Armed with knowledge about the company's only significant source of revenue via KALBITOR® and a bit of technical assessment on the company's stock chart, wise entries and exits may be ascertained. As with any investment, I advise entry and exit points determined before the investments are made, although those may change depending on how events unfold.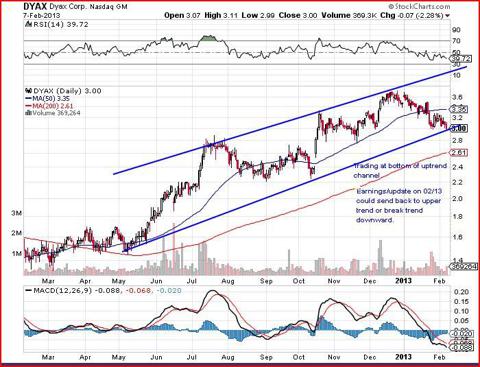 Disclosure: I am long DYAX. I wrote this article myself, and it expresses my own opinions. I am not receiving compensation for it (other than from Seeking Alpha). I have no business relationship with any company whose stock is mentioned in this article.