The Chinese stock market has been in a deep slump, having underperformed global markets since 2007. The reasons for this have been plentiful. Not-so great valuations, following a major credit bubble and followed by tight monetary policy, have kept one of the world's fastest growing economies in what feels like a perpetual penalty box.
In fact, you may be surprised to know that despite being a super-charged economy, the Chinese market has significantly underperformed the basket-case economies of the UK and France over the past three years. Despite a near 10% return in Q4 (which was really only in line with global markets), the Chinese market has only returned investors -2.3% per annum in the 36 months ending January 31, 2013.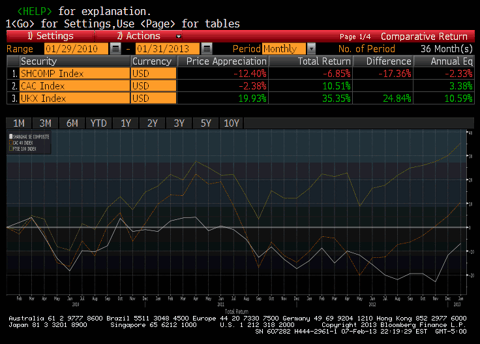 I feel that the disconnect between an economy slowing down to "only" 7% per year and a stock market that seems to be a perennial loser, simply cannot last.
I think there are a number of clear and present drivers which could reverse the trend of underperformance.
To start, the PBOC is pursuing a historically conservative, but clear reflation policy. This can be seen in the trajectory of M1 YoY.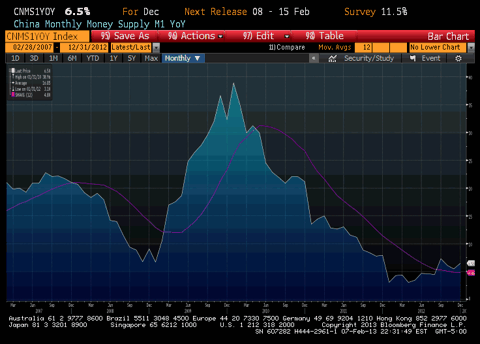 Borrowing rates continue to fall. Over the past year, we have seen a substantive drop in the spreads lenders required in order to make loans to high yield Chinese corporations. The collapse of the shadow banking system in 2011 was a huge concern, but risk appetite in the high yield bond market appears high and so far, at least, there doesn't appear to be a catalyst for a fundamental reversal. Chinese equities are severely lagging this trend and need to catch up.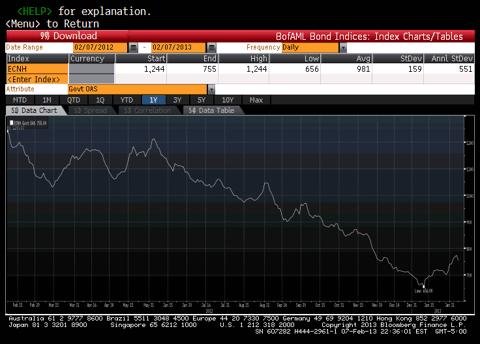 Option Adjusted Credit Spread, Source: BAML
Chinese valuations have come down a lot. The Price:Sales ratio of the Shanghai Stock Exchange is currently under 1x. This marks the bottom 10th percentile of all Price:Sales ratios in our data-set and is a valuation level which preceded the last two bull markets. On a forward Price:Earnings basis, Chinese equities are at levels comparable to the period before the massive 2006 run-up.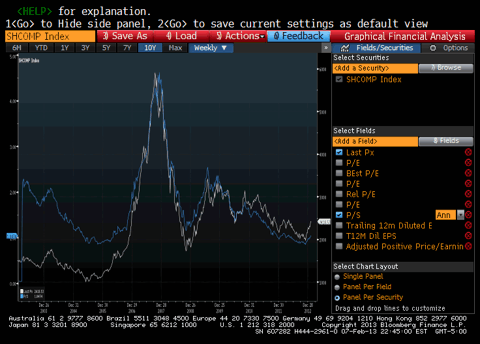 Shanghai Composite vs. its Price:Sales Ratio
I would be remiss to not mention at least one risk with investing in Chinese equities. Potential growth in China is currently unknown, but the general consensus is that it has fallen. As such, inflationary pressures could once again rear their head at much lower levels of growth. An increase in Chinese inflation would be a game changer for the Chinese stock market and probably Emerging Markets as a whole. For the moment, Chinese inflation appears pretty well contained. In fact, a little inflation is likely a sign of re-inflated corporate profits which when married to lower borrowing costs, would be a huge benefit to share prices.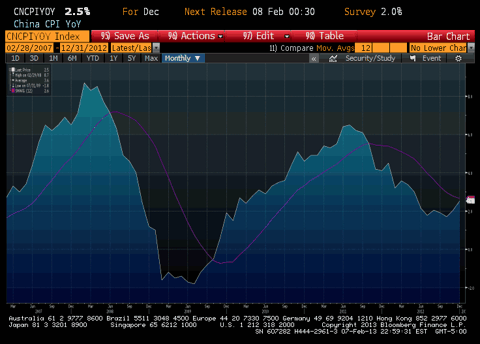 In a nutshell, I love Chinese shares. They are trading at a historically cheap levels, economic growth is healthy, the Central Bank is engaging in proactive monetary policy, inflation is contained (for now), and credit risk is contained. The confluence of those factors is good enough to make FXI the largest position in my portfolio.
Disclosure: I am long FXI. I wrote this article myself, and it expresses my own opinions. I am not receiving compensation for it (other than from Seeking Alpha). I have no business relationship with any company whose stock is mentioned in this article.