Did you know that of the Dow Jones Industrial Index... after 116 years, General Electric Co. (NYSE:GE) is the only company that has continuously been listed?
Perhaps GE's size, diverse product/business mix, and shareholder friendly dividend policies through the past century have kept it as a solid performer. However, some investors and writers alike have missed a key strength evident in the GE of today.
There have been several debates brewing over the past several weeks ranging from GE's increasing yield to global diversification. Some of my colleagues here at Seeking Alpha claim GE's lumbering size is a weakness, while others think of the GECC division as a perpetual anchor which makes meaningful growth unachievable going forward.
First of all, GE Capital was just a slice of the total GE pie as of Q4 2012, accounting for just 29.43% of revenues and 27% of total profit, compared to GE Industrial's 70.57% of revenues and 73% of total profit. In addition, in my recent article, I proved the CEO Mr. Immelt is effectively managing GECC's downsizing, and is in fact pulling in the reigns making this segment less risky, as originally planned some years ago.
For this reason, investors should really focus on GE Industrial since this segment's growth has overwhelmed the reductions in GECC and its naturally lower profit margins. GE a "lumbering giant"? I think not. GE Industrial's revenue growth combined with solid profit margins over the past several years is nothing short of impressive: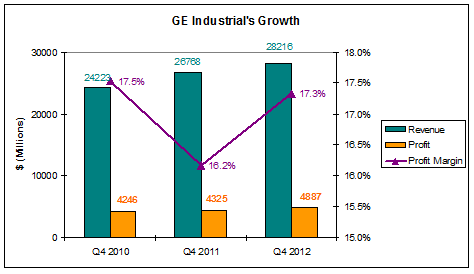 However, even more profound than the headlined revenue and profit growth statistics most investors are aware of, is a record backlog of bookings that's still growing.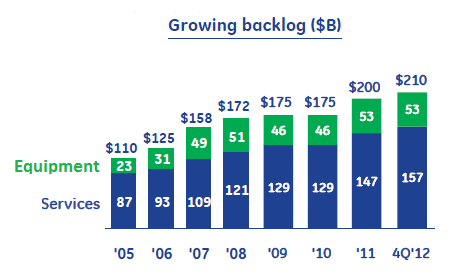 This order backlog, which is often watched by investors as an important indicator of future sales growth, hit a record high of $210 Billion at the end of 2012, up from $200 billion at year end 2011, and nearly double to that of 2005 levels. To put in perspective against another industrial company with a record backlog, I chose Boeing Co (NYSE:BA), for its amazing growth of new Dreamliner orders.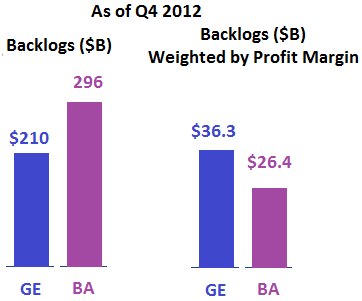 BA has a much larger backlog, however profit margins for BA's commercial planes shrank in the recent quarter, even as revenues rose 32% to $14.16 B and profits rose 29% to $1.27 B. These numbers indicate 8.9% margins for Boeing, versus that of 17.3% for GE Industrial as of Q4 2012. My point here is that not only is GE's backlog very large, but GE's margins are solid relative to other industrial businesses, like Boeing in this example. On a weighted basis we can see how despite BA's larger backlog, GE's is much more valuable in terms of earnings power on a profit basis.
Summary:
GE won't double in 2013, but 2012's growth is sustainable as proven by consistent backlog growth from 2005 to 2012, and most profoundly from 2010 to today, in which booked orders grew 20%. I find it remarkable that after over 100 years in the Dow, GE is still growing revenues, profits, paying dividends, and perhaps the most underappreciated metric of health of all - is currently growing a record backlog of projects. In addition, GE can digest this backlog into profits at a reasonable margin, which has been relatively steady over the past 3 years.
GE is a buy.
Disclosure: I am long GE. I wrote this article myself, and it expresses my own opinions. I am not receiving compensation for it (other than from Seeking Alpha). I have no business relationship with any company whose stock is mentioned in this article.
Additional disclosure: I am long GEB