Zynga (NASDAQ:ZNGA) Inc. released a surprisingly good earnings report for Q4 2012, beating Wall Street estimates and posting a profit of $.01 per share. Analysts expected a loss, but were rewarded with a tidy profit and stable revenue. As a result, the stock jumped about 50 cents in several days, climbing over the $3 mark for the first time since September 2012. Although Zynga may have outperformed expectations, it is in a unique situation that needs to be handled deftly in order for the corporation to stay afloat.
Zynga was birthed and nurtured through Facebook (NASDAQ:FB); the gaming company has made extensive use of the Facebook platform, and was its front running game provider. The two firms' exclusivity contract expires at the end of March 2013, however, and this will make things that much more difficult for Zynga. Zynga has long enjoyed special privileges through its contract with Facebook, allowing its games to be discovered first and foremost by most Facebook users. Now that Zynga will be treated just like every other developer, they will have to actually compete. Zynga is a gaming company, and their ability to succeed depends on them being able to consistently produce excellent titles. While their original Farmville game has enjoyed consistent success, most of their other releases have fallen flat: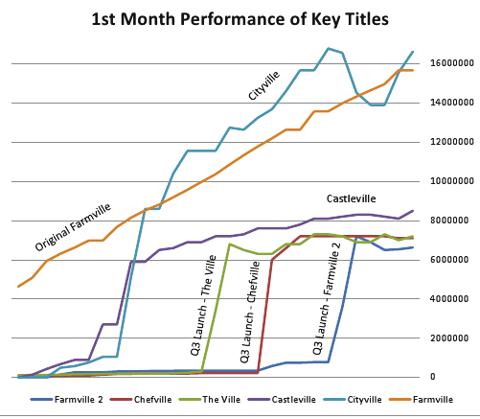 If Zynga couldn't produce breakout titles while under special terms with Facebook, how can it do so when it has to compete against a swarm of newcomers? Zynga's dependence on the social network may end up being its downfall. Attracting users to play "social" games without the presence of a "social" network could prove to be difficult if not impossible.
While Zynga may generate most of its revenue from Facebook, it has started to monetize mobile gaming on its own. CEO Mark Pincus has stated that this is where he wants to take the company; he believes Zynga's future lies in people playing their games on their phones. During Q4 2012 Zynga had 72 mobile monthly users. This represents a healthy growth of 75% year over year. The company also ranked 5th in overall time spent on mobile applications, only lagging behind titans like Google and Facebook (comScore).
Zynga has also started to venture into the online gambling space, signing a deal with bwin.party to open up a real money online poker service in the United Kingdom. The corporation has been looking at online poker as a potential revenue source for a long time running, but previously focused on a "freemium" model where money was only used to bolster your poker chips, not constitute all of them. In-game advertisements for Zynga poker also proved profitable, but the game "Zynga Poker" is still within Facebook. Now Zynga wants to expand out from that, offering a standalone service. The online poker industry is of dubious legality, however. While Zynga has been able to create a viable product that will be legal in some parts of Europe, the US still deems online pay-for-play poker illegal. Currently there is legislation pending regarding the future of online poker in the US, but no one knows for sure how it's going to end up. Several online poker enterprises have been charged with illegal gambling and fraud in the US; Zynga will avoid creating a domestic product until they have the go-ahead from their lawyers. An identifiable trend in the worldwide online poker is increasing regulation; strict laws could shut down Zynga's future revenue prospects.
Zynga is still a connected to Facebook by an umbilical cord, yet the new terms between the two corporations damper Zynga's future on the social network. Zynga needs to find alternate sources of revenue in order to grow, or else the company will lose money and its stock will depreciate further. A variety of options do exist for the gaming company, however, and it is making headway into creating new revenue generating products. I believe that the stock may fall in the next several quarters as its relationship with Facebook becomes less profitable, but if Zynga can succeed in mobile and the online poker space it will one day thrive.
Disclosure: I have no positions in any stocks mentioned, and no plans to initiate any positions within the next 72 hours. I wrote this article myself, and it expresses my own opinions. I am not receiving compensation for it (other than from Seeking Alpha). I have no business relationship with any company whose stock is mentioned in this article.