Ben Bernanke is arguably the most powerful person in the world. At his personal discretion is control over the global reserve currency in the U.S. dollar. And he has wielded this control with unyielding force in recent years. For not long after the outbreak of the financial crisis in 2008, the U.S. Federal Reserve under his direction began to undertake unprecedented and extraordinary policy measures to resuscitate global markets. While he has been properly lauded as the person primarily responsible for rescuing the global economy from the abyss, he is now at risk of having gone way too far with his policy acrobatics. Not only has his policy support continued virtually unabated in the years since, what was once radical and emergency policy action has now become the norm.
As a result, the Fed has now printed a staggering $2.1 trillion and counting yet the global economy remains stuck in the doldrums while the risk of a major financial accident rises with each new dollar minted. While the appropriateness of this persistently aggressive policy action including another $85 billion per month indefinitely into the future remains the subject of intense discussion, it raises a more important fundamental question. Does it really make sense to have so much unchecked power concentrated with a single individual in the Chairman of the Federal Reserve? Perhaps not.
The Fed is designed to be isolated from political influence. It consists of 19 key individuals that are not elected but instead are appointed. This includes 12 Federal Reserve Bank presidents, which are appointed by their respective regional Bank boards to five-year terms. This also includes the Board of Governors that consists of 7 members that are appointed by the President of the United States to 14-year terms that are staggered every two years. Included within the Board of Governors are the Chairman and Vice Chairman of the Federal Reserve, both of which are also appointed by the President to 4-year terms in these leadership roles. The idea behind isolating these individuals from political influence is that they will act only with the best interests of the U.S. economy and its financial system in mind. At least that is the idea.
The powers bestowed on the Chairman of the Federal Reserve are extraordinary. One of the Fed's key tasks is to carry out Open Market Operations, which deals with the buying and selling of securities, through the Federal Open Market Committee (FOMC). It is from this committee where interest rates changes occur. It is also where programs like quantitative easing (QE) originate. Only 12 of these 19 key members are voting members of the FOMC including the Chairman, the Vice Chairman, the five other Board Governors, the Federal Reserve Bank of New York President and four other regional bank presidents on a one-year rotating basis. In other words, only 8 people are regular voters on the FOMC, and the person that leads this committee is the Chairman. While it is widely suggested that the Chairman considers the views of the FOMC carefully when making policy decisions, in the end it is the Chairman's call in terms of how to proceed. In short, the final word on decisions related to the global reserve currency rest in the hands of one single individual, the Chairman of the Federal Reserve.
This concentration of power is troublesome for the following reasons.
First, it runs completely contrary to the checks and balances structure that is present across most every other key segment of the U.S. government. For example, if the President of the United States wishes to pursue a specific fiscal policy objective, he cannot simply just implement it. Instead, he must consult with the legislative branch including the Senate and the House of Representatives in a time consuming process order to negotiate on exactly how these policy initiatives should be pursued if at all. And a consensus agreement much be reached before any such policy can be signed into law and implemented. Such is not the case with the Federal Reserve. Instead, if the Chairman wakes up one morning and decides over his oatmeal that it is time to print another $40 billion per month in new U.S. currency, it will almost certainly be so as quickly as the next business day.
But doesn't the Fed Chairman need to get approval from the FOMC before taking action? This is where the second point of concern exists. One does not have to search far to find a policy expert that strongly disagrees with the current monetary course being pursued by the Fed. But these dissenting views do not matter in the end, for they are not part of the Federal Reserve. However, one also does not need to dig too deeply to find key members of the U.S. Federal Reserve including past or current voting members of the FOMC that also strongly disagree with the Fed's policy actions. Numerous public comments from the likes of Richmond President Jeffrey Lacker, Dallas President Richard Fisher or Philadelphia President Charles Plosser highlight this point. Yet when it comes time to vote, more often than not those with dissenting views on the FOMC fall in line and vote in favor of the Chairman's view.
While this is admirable show of solidarity behind their leader, it highlights a key fundamental flaw in that it prevents dissenting views from being clearly articulated and allowed to gain serious momentum in internal policy debates in any meaningful way. If this were not the case, perhaps the prodigious and hawkish Kevin Warsh would still be a member of the Board of Governors today. Returning to our other branches of government, one would likely blanch regardless of their political views at the idea of Justices Sotomayor or Scalia defying their own legal beliefs and falling in line with Chief Justice Roberts based simply on a show of solidarity for the Supreme Court of the United States. But such is seemingly the way at the Federal Reserve.
The final point of concern deals with the fact that the position is not bounded by time. When one is elected to the job of President of the United States, you are limited to two terms and then you are done. Although Senators and Representatives do not have term limits, only so much autonomous power can be wielded in a group of 535 members. And while Supreme Court Justices receive lifetime appointments, they have eight other people with which they have to agree or disagree on any particular legal decision. Not so with the Chairman of the Federal Reserve. Instead, you can be appointed and reappointed over and over and over again.
One has to look no further than the previous Fed Chairman Alan Greenspan. He was first appointed to the job in August 1987 and was reappointed four times, serving nearly 19 years in the position before turning over the reins in January 2006. Along the way he became widely exalted and known as "The Maestro". I'm sorry, but titles like "The Maestro" should be left to third-world autocrats, not critically important policy makers in the United States of America. What this title also highlights is the degree of power concentrated in a key position that can be held by a single individual for decades.
In short, because of Fed's current structure, a single individual in the Chairman of the Federal Reserve effectively determines monetary policy. He is effectively free to carry out these policies without requiring the approval of anyone else outside of the committee that calls him their boss. And the policy views of this single individual can be carried out for decades if repeatedly reappointed like some have been in the past.
I do not doubt the integrity of Ben Bernanke. I strongly believe that he is acting in what he believes is the best interest of the U.S. economy and its financial markets. And his time in the Chairman's role has certainly been fraught with major challenges. He is only one smart person, however, in a country where a lot of very intelligent people on the very same topic have widely divergent views about how monetary policy should be administered today. But by the structure of the Fed, the fate of the global economy and its financial markets are essentially riding on the research conclusions of one single person.
And it's not as though these extraordinary policy solutions now being implemented are proven by past precedence. Instead, the various policy initiatives including Quantitative Easing, Operation Twist and others are experiments that are being tested real-time with the global economy and its markets serving as their grand laboratory. Only time will tell how they ultimately play out, but perhaps these are actions that should have undergone a far more rigorous, deliberative and collaborative process before being implemented.
I am not suggesting that monetary policy actions should be subject to Congressional approval or anything close to the sort. The Fed is already subject to enough political pressure already - a reflection on the experience of Arthur Burns during his time as Chairman of the Federal Reserve is particularly instructive to this point - and involving the executive or legislative branches of government any more than they already are would be highly counterproductive. After all, it was the ability of the Fed to act quickly and decisively during the depths of the financial crisis that saved the global economy. Once again, Chairman Bernanke deserves great credit for this accomplishment.
Instead, restructuring the Fed and in particular the FOMC to ensure that a truly more balanced and rigorous policy debate is undertaken may have merit. Instead of having control of the Fed funneling up to a single individual in the Chairman, perhaps having the Board of Governors assume a more Supreme Court like structure where policy views are weighted more equally and dissenting views can be more substantively developed and articulated might help protect against the more extreme views of any single committee member from dominating the decision making at any given point in time. While it seems that Chairman Bernanke has made strides in more carefully considering the views of his committee members relative to his predecessor, it can be argued that much more should be done.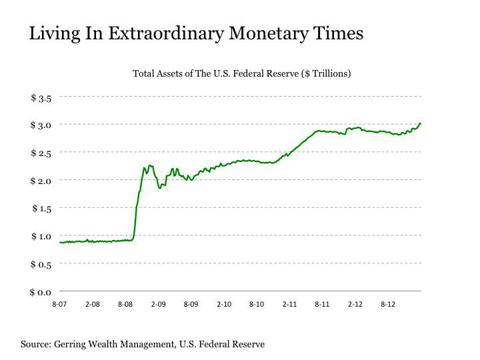 In the meantime, we are left to navigate the reality. The inclination of Chairman Bernanke is to print aggressively. This policy approach is consistent with his research and will define his legacy whether good or bad. He has guided the Fed's balance sheet in excess of $3 trillion in assets, and it will surpass $4 trillion by the start of next year. In other words, he will have single handedly printed U.S. dollars totaling over 21% of U.S. GDP by the time his current term ends in January 2014. Extraordinary indeed.
Recent history has shown that selected risk assets perform well while the Fed is printing. This includes U.S. stocks (NYSEARCA:SPY). Higher beta offerings such as U.S. mid-cap stocks (NYSEARCA:MDY) and emerging market stocks (NYSEARCA:EEM) have performed particularly well in such environments. High yield bonds (NYSEARCA:HYG) have also provided an attractive alternative for those seeking stock like returns during these money printing phases with relatively less risk.
From a fundamental perspective, the superior long-term prospects are best going forward for real assets that serve as a store of value as the U.S. dollar is being printed and debased. This includes gold (NYSEARCA:GLD) and silver (NYSEARCA:SLV), which is best owned in a portfolio through securities such as the Central GoldTrust (NYSEMKT:GTU), the Central Fund of Canada (NYSEMKT:CEF) and the Sprott Physical Silver Trust (NYSEARCA:PSLV). Oil is also a particularly attractive alternative, with names like Occidental Petroleum (NYSE:OXY) and Apache (NYSE:APA) providing exposures that are highly correlated with oil prices. The same is true with copper and BHP Billiton (NYSE:BHP).
Disclosure: I am long APA, BHP, CEF, EEM, GTU, HYG, MDY, OXY, PSLV. I wrote this article myself, and it expresses my own opinions. I am not receiving compensation for it (other than from Seeking Alpha). I have no business relationship with any company whose stock is mentioned in this article.
Disclaimer: This post is for information purposes only. There are risks involved with investing including loss of principal. Gerring Wealth Management (GWM) makes no explicit or implicit guarantee with respect to performance or the outcome of any investment or projections made by GWM. There is no guarantee that the goals of the strategies discussed by GWM will be met.