LinkedIn (LNKD) shattered analyst expectations, posting an impressive 21% increase in revenue over the third quarter to a total of $304 M on a total user base of 202 M professionals. Even more impressively, LinkedIn generated a heavily anticipated strong profit of $11.5 M on these revenues for a 400% increase on Q3. But is this earnings and revenues growth enough to justify its valuation, let alone the spike in share price this news is going to cause?
1) Background - 2012 in summary
LinkedIn has some notoriety among stocks as being the best performing social media stock. Seemingly immune to the great collapse many in the industry experienced in 2012, LinkedIn has sustained its astronomical valuation, with the stock nearly doubling since January 2012 while its industry companions Facebook (NASDAQ:FB) and Yelp (NYSE:YELP) posted losses and the hardest hit stocks of the group, Groupon (NASDAQ:GRPN) and Zynga (NASDAQ:ZNGA) had a huge chunk of value wiped out during the year.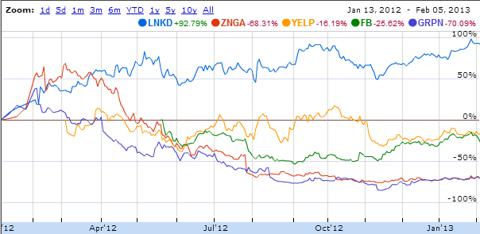 In my previous article, I examined why LinkedIn is different from this group, and whether that was sufficient to justify the price at which it traded hands. I concluded that while LinkedIn's operations are very promising, there is such a high level of growth priced into the stock that it would be difficult to justify an entry at this rate.
Since then, LinkedIn has further increased from the $95.62 at the time of writing to Thursday's $124 and after hours on the earnings release to around $135, or a 42% increase! At this point you may curse me, or vow to avenge your lost opportunity by buying in as soon as you can to profit from this nice growth rate. Yet I will stubbornly restate that entry into LinkedIn at this point doesn't make any sense and strongly urge you to stay away.
A stock's share price should price in future potential growth at a discounted rate to reflect the risk of different results from those expected. In our case, the magnitude of growth that is already priced into LinkedIn's stock is so tremendous that this growth is required just to sustain its value, and there's nowhere to go but down from here.
2) Crunching some numbers from Q4 2012
Memberships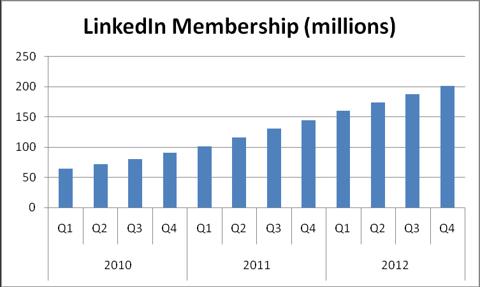 LinkedIn ended the year with approximately 202 M members, up significantly from the 145 M in December of 2011. The growth rate in memberships continued to decline from the average rates around 12% in 2010 to the third quarter's rate of 7.75%. This decline is logical as the denominator is increasing with the larger starting subscriber base. The number of new members maintained pace, with a continued average of two new members per second during the course of the quarter.
International Markets
LinkedIn reported over 64% of the new subscribers were from international markets. LinkedIn is targeting international markets for its future growth and stands to vastly expand membership figures by following through. While the US continues to represent by far the largest portion of total revenues with 64% for 2012, this figure has been declining consistently between 4 and 5% year over year since 2010. This is hard evidence for the importance international markets will play for LinkedIn's planned continued growth rates.
Total Revenues
LinkedIn's steady growth in memberships contributed well to its strong growth in revenues. It posted a growth in revenues of $51.6M to a total of $303.6 M for the quarter, nearly doubling revenues from the comparative quarter in 2011. For the majority of this analysis I will focus on the revenues instead of the earnings reported by LinkedIn since in its current growth stage, LinkedIn has been prioritizing revenue growth at the expense of margins.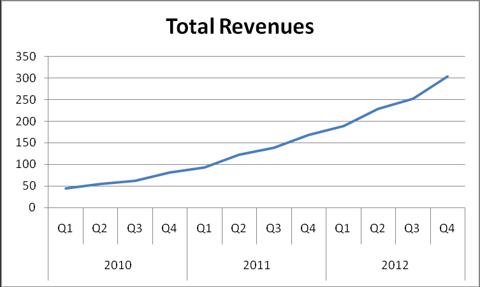 Revenues by product
LinkedIn generates revenues from three main categories:
a) Talent Solutions - The hiring arm which generated 53% of total revenue in Q4 2012
b) Premium Subscriptions - the extended membership services generated 20% of total revenue in Q4 2012
c) Marketing Solution - the advertising division which generated 27% of total revenue in Q4 2012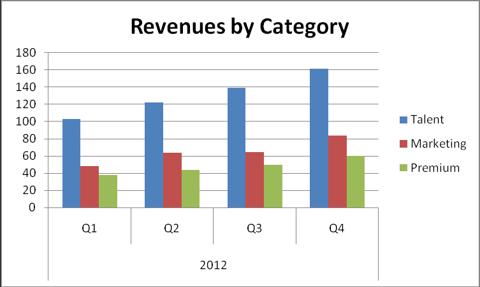 LinkedIn was able to grow its revenues fairly consistently with year over year growth in revenues ranging from 50% in Talent solutions, 66% in Marketing solutions to 80% in Premium subscriptions. The most encouraging of these figures is the growth in premium subscriptions. The ability to up-sell existing users on premium profiles presents LinkedIn with a stable and profitable source for additional revenues, and could drive the growth in revenues into 2013.
Revenues per member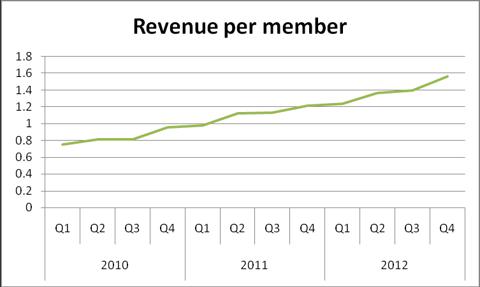 LinkedIn seems to be succeeding at continually finding ways to further monetize its service as proven by the average 7.8% revenue growth rate quarter over quarter with 12% growth in the fourth quarter. The full year 2012 results provide LinkedIn with $5.6 in revenues per user, up sharply by 27% from $4.44 in 2011.
This growth in revenues coupled with the memberships growth seems to be the key to LinkedIn's planned exploding growth as it results in multiplied revenue growth. Not only is every new user bringing in more overall revenues, every quarter is bringing in more revenues per user. Therefore, if LinkedIn is able to continue this pattern, a continuing drop in the growth rate of users will not hurt LinkedIn's revenue growth as much.
Revenues Per Member Company Comparison
| | | | | |
| --- | --- | --- | --- | --- |
| | LNKD | | | Notes |
| Revenues | 303.60 | 1,585.00 | 316.00 | In $ Millions, Q4 2012 (ZNGA - Q32012) |
| Members | 201.90 | 1,060.00 | 227.00 | In Millions, FB and LNKD - Members, ZNGA - Active Monthly Users |
| Revenues per user | 1.50 | 1.50 | 1.39 | |
Comparing this figure of revenue per member to its competitors, it's very clear that LinkedIn is by no means a pioneer in growing membership per user. Facebook, which lagged LinkedIn in the prior quarter by $1.25 to LinkedIn's $1.35 has quickly caught up in Q4 and matched the revenues per member. Facebook furthermore does this on a much larger scale, with over a billion members. Ailing Zynga is not far behind the group as well, with its various products earnings it only 7% less revenues per user than Facebook and LinkedIn
What I find disappointing about this figure is the fact that LinkedIn does not outpace these competitors by a wide margin. With users paying monthly fees for premium subscriptions and recruiters and hiring companies paying for the recruiting services, it seems logical that LinkedIn should have a strong competitive advantage over its rivals and command a strong premium in revenues per user.
3) What then is the value of one share?
As evidenced by its Price to Earnings ratio, LinkedIn is clearly beyond traditional metrics for valuation. We will use some alternative metrics to see if we can determine a reasonable and logical valuation:
| | | |
| --- | --- | --- |
| Members | 201.90 | In Millions, FB and LNKD - Members, ZNGA - Active Monthly Users |
| Shares outstanding | 107.00 | In Millions, Information from Google Finance |
| Members per share | 1.89 | |
| Price per share | 124.09 | Closing on February 8th, 2013 |
| Price per member | 65.76 | |
Each member of LinkedIn is currently being traded at a rate of $65.76. So your one share of LinkedIn is worth two members, grossing about $5.60 each in 2012, resulting in a price to sales ratio of 11.7 on total 2012 revenues.
Where does it stack up to competitors?
Alas, if it can't command a significant premium over its competitors in revenues per member, where then does LinkedIn's stack up in comparison?
Price per member

LinkedIn

65.76

Facebook

64.33

Zynga

10.66
Facebook and LinkedIn are on a very even playing field, with Zynga subscribers are approximately 6.5 times cheaper. Zynga experienced a sharp correction during the course of 2012. Its current price per member results in a price to sales ratio of approximately 1.9 using the Q3 revenues extrapolated for the year.
Zynga's beaten down price gives us an opportunity to catch a glimpse of the pricing difference that is accounted for by the growth projections in LinkedIn.
Projecting Revenue Growth
How reasonable then is this growth that is priced into the shares? As calculated above in the Q4 figures, if your $65 member had a growth rate of 7.75% in number per quarter and a growth rate in revenues of 12% per quarter, and we could assume a continued growth at these rates, the following would be the resulting price to sales projection:
| | | | | | | | | |
| --- | --- | --- | --- | --- | --- | --- | --- | --- |
| Future Quarter | 2012 Q4 | +1 Q | +2 Q | +3 Q | +4 Q | +8 Q | +10 Q | +12 Q |
| | | | | | | | | |
| Price per member (original) | 65.76 | 65.76 | 65.76 | 65.76 | 65.76 | 65.76 | 65.76 | 65.76 |
| | | | | | | | | |
| Members "owned" | 1.00 | 1.08 | 1.16 | 1.24 | 1.34 | 1.78 | 2.06 | 2.38 |
| Revenues per member | 5.60 | 6.27 | 7.02 | 7.87 | 8.81 | 13.87 | 17.39 | 21.82 |
| Total Revenues | 5.60 | 6.74 | 8.12 | 9.77 | 11.77 | 24.73 | 35.85 | 51.96 |
| | | | | | | | | |
| Price to sales ratio | 11.74 | 9.75 | 8.10 | 6.73 | 5.59 | 2.66 | 1.83 | 1.27 |
Thus, your price of $65.76 is paying for a price to sales ratio of 2.7 in two years and 1.3 in three. It will match Zynga's current ratio in less than 10 quarters. The growth rates assumed may be optimistic, however LinkedIn's track record has proven that these may very well be attainable.
While this may not seem so bad, I want to ensure that I am specifying that as a shareholder you are paying this price today. This means that the growth of 7.75% in memberships and 12% in revenues is already paid for. If LinkedIn cannot meet this revenue growth, your price to sales ratio will take even longer to realize.
Conclusion
The problem resulting from LinkedIn's current valuation is the very limited potential upside in the long term, and the inevitable downside. Each share of LinkedIn represents an interest to the shareholder in 1.89 members, resulting in a price per member of nearly $66. This price is very steep for a member who provided LinkedIn with $5.60 in total revenues in 2012.
The cause of this immense premium is the anticipation of growth that has swept the share prices up 90% over the past year and rising. If we are to consider the value of the shares today, they price in at least 2.5 years of continued growth at the current breakneck speeds based on a more reasonable price to sales ratio.
LinkedIn also has a tremendous amount of unproven territory in its ability to generate real earnings. Q4 2012 earnings per share were reported at $0.10, however in its current growth stage, LinkedIn is prioritizing revenue growth at the expense of margins. Sooner or later however, LinkedIn will have to transition and its ability to retain a profit from its revenues will be sharply put to the test.
Disclosure: I have no positions in any stocks mentioned, and no plans to initiate any positions within the next 72 hours. I wrote this article myself, and it expresses my own opinions. I am not receiving compensation for it (other than from Seeking Alpha). I have no business relationship with any company whose stock is mentioned in this article.