The commodity sector is beginning to shape up like we thought, with some movement into areas where we are bullish and exits from areas where we are not. The earnings and conference calls are still coming out, but this is supplying us with a lot of information to further build our cases either for against names in various sectors. We will be discussing this all after earnings season once we have all the facts and can go into detail.
Currently though we still like companies with growing production profiles and even more so if those companies have the takeaway capacity to actually be able to tie in their new wells to infrastructure and get the resulting production to market. One cannot stress how important the transportation is and it is a point overlooked by many. Remember to factor this into your decisions and always add a few months for new areas and look at neighbors to see if they have numerous wells sitting around waiting for tie in. Company websites or IR departments usually provide a list of wells waiting to be tied in, and if neighboring wells are not going to be flowing into production for 3-6 months as midstream assets are being built and/or pipeline streamers laid out, then that is the minimum for the company you want to invest in to get tied in. Research, research, research.
Commodity prices this morning are as follows:
Gold: $1670.10/ounce down by $1.20/ounce
Silver: $31.46/ounce up by $0.057/ounce
Oil: $95.92/barrel up by $0.09/barrel
RBOB Gas: $3.0052/gallon up by $0.0053/gallon
Natural Gas: $3.28/MMbtu up by $0.005/MMbtu
Oil & Natural Gas
SandRidge Energy (NYSE:SD) shares continue to head lower and the fact that they are beneath the $6/share level now is hardly surprising. The shares fell another $0.21 (3.41%) yesterday to close at $5.94/share on decent volume of 12.7 million shares. We have heard some investors say that they are glad to have been in SandRidge shares and not the two Mississippian Trusts, but this comment most certainly misses the point. If one looks at the trusts as representative of the entire SandRidge play in the Mississippi Lime, then there are most certainly issues ahead for the parent of the trust because there will be the issue of higher natural gas content to deal with, followed by lower than expected cash flows and another revision of the company's EURs per well throughout the play. These two trusts did have exposure to some of the areas which SandRidge was saying appeared to be their better acreage, so how all this plays out will in fact be important.
What all this trouble in the emerging mixed production areas is proving is our prediction that investors will flock towards the oil names. The shales can be unpredictable, but investors can deal with lower production numbers as a whole when the most profitable portion of that production maintains its proper % of the estimated production and with the Bakken that is a given. Investors are still coming around to the idea of paying up for the oil names, but at least they are beginning to embrace the idea now and not fooling themselves trying to call some nonexistent bottom in the natural gas market, because that will be like trying to find a piece of hay in a haystack (you'll find one wherever you look, but it probably won't be the correct one). Names like Kodiak Oil & Gas (NYSE:KOG) shall continue to be strong and our guess is that these companies will either get bought out at rich premiums or will get to buy NGL and natural gas properties at steep discounts. Either way we see the oil names as the value creators for shareholders in the industry.
Oil Field Services
It may have been our favorite conference call of the season (Patterson-UTI's that is), although it does not show up in the Seeking Alpha transcript (see here), as an analyst with Raymond James said, "Congratulations, guys, on making all the other pressure pumpers look like dorks." Not something you see or hear every day when listening to quarterly calls, but it should be mandatory for all analysts to find unique phrases such as this to either congratulate management for good quarters or ridicule them for poor results. It sure would make for some good laughs.
Joking aside, the company really did make the rest of the industry look like dorks as they added equipment at a time when the rest of the industry is in the process of removing equipment from service and storing it as supply in most cases outstrips demand. The number of operating rigs that the company had was down overall but still ahead of expectations. Patterson-UTI (NASDAQ:PTEN) also guided for approximately 123 rigs drilling in Q1 and for an average of about 97 rigs for the 2013 year. With revenues having fallen 10%, the company managed to outpace estimates and report $652.8 million which was safely above the consensus of $599.52 million. This certainly tells us that there is strength in the Marcellus and in Texas.
Rare Earths
It is easy to remember the days when Molycorp (MCP) would have rallied 10-20% on any whiff of a rumor of a buyout, but yesterday that was certainly not the case. Worse still is the fact that this week also included an upgrade from JP Morgan as they moved shares to a 'Neutral' rating from an 'Underweight'. Regarding the takeover news, we understand where it came from but investors need to understand just how preposterous this is. First the whole rare earths premise is focused on the fact that the western world needs 'Security of Supply' after having sold off all of the infrastructure and expertise to the Chinese over the past few decades. Molycorp now represents the effort to rebuild that infrastructure as well as the largest mine for LREEs outside of China which is located in the US, and one is supposed to buy into the notion that the US is simply going to stand by while another foreign company comes in to purchase these assets? Hardly, Molymet is well served as a shareholder but outright ownership is another story which sadly does not have a chapter in the volume we are reading. The fact that the shares sold off into the strength pretty much says it all.
Precious Metals
We have been bullish silver for some time, and it has held in considerably well all things considered. We also liked the silver miners on pullbacks and the pullback in Silver Wheaton (SLW) would have been a very nice entry point for investors as shares have quickly recovered from the $34/share low to the current $37.18/share. This is in part due to the company's recent deal with Vale, whereby Silver Wheaton set up gold streams which will add significantly to their gold production that they already stream. This deal reinvigorated the bulls but we think it will be silver which ultimately drives the shares higher and that is the story we are watching, although no one can complain about the company making deals which are well received by the market and reward shareholders.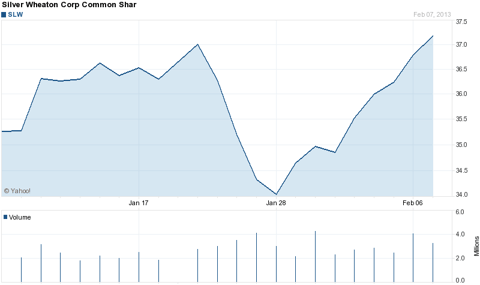 Chart courtesy of Yahoo Finance.
Disclosure: I have no positions in any stocks mentioned, and no plans to initiate any positions within the next 72 hours. I wrote this article myself, and it expresses my own opinions. I am not receiving compensation for it (other than from Seeking Alpha). I have no business relationship with any company whose stock is mentioned in this article.