Two Harbors Investment Corp. (NYSE:TWO) is a REIT that specializes in investing in RMBS -- both Agency and Non-Agency and related investments. It is externally managed and advised by PRCM Advisers, LLC, a wholly owned subsidiary of Pine River Capital Management LP. For Q4 2012 TWO had core earnings of $0.28 per share and GAAP earnings of $0.64 per share. Its leverage declined from 3.8x to 3.4x at the end of the quarter. TWO paid a $0.55 quarterly dividend (18.06% annually at TWO's close Thursday February 7, 2013 of $12.18). This dividend alone makes TWO a very attractive investment.
An event in Q4 2012 has made TWO an even better investment for 2013. TWO contributed its portfolio of single family homes to Silver Bay Realty Trust Corp. (NYSE:SBY) in exchange for 17.8 million shares in the recently concluded IPO of SBY. These shares are subject to a 90-day lockup, which expires in mid March 2013. TWO has announced that it intends to distribute as a special dividend the SBY shares to TWO shareholders at some time after the lockup expires (subject to the approval of TWO's board). As of December 31, 2012, TWO itself had approximately 299 million shares.
This means each shareholder would get approximately 0.0595318 shares of SBY for every share of TWO that the TWO shareholder owned. With SBY trading at $21.26 at the close on Thursday February 7, 2013, each TWO shareholder would effectively get an extra $1.265645 per share. At TWO's closing Thursday of $12.18, that would amount to an extra "special" 10.39% dividend for the FY2013. This would bring the total dividend for FY2013 to approximately 28.45%, presuming the distribution does take place in 2013. That is a huge, almost guaranteed return. It makes TWO a huge buy right now.
Of course, investors will want to assure themselves that TWO's business is doing well, and it is. From January 2, 2012 to December 31, 2012, TWO's stock gained 26.98%. On top of this it declared a total of $1.71 in dividends in 2012 (the pay date of the last was January 18, 2013). If you invested at the January 2, 2012 price of $9.23 per share, this amounted to an 18.53% dividend. Combining the dividend with the stock price appreciation, you get a total return for FY2012 of approximately 45%. Just about any investor would be happy with that.
The housing market has been improving. The CoreLogic Home Price Index was +7.5% on a rolling 12 month basis as of January 1, 2013. The Fed has been strongly backing the housing market with Operation Twist in 2012, and both QE3 ($40B/month in MBS buying) and QE4 ($45B/month in long term US Treasuries buying) continuing in 2013. The Fed has also stated that it intends to keep the Fed Funds rate (and the Discount rate) low until at least mid 2015. Low interest and mortgage rates are expected to persist for a long time. This should continue to allow TWO to make good profits in a relatively stable interest rate environment. It should buoy the US housing market considerably.
The core earnings chart (below) for TWO are a bit worrisome.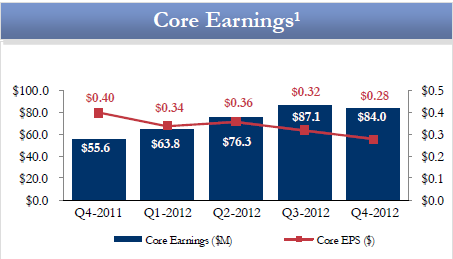 However, when you consider that TWO had significant capital tied up in single family homes and Silver Bay stock during Q3 and Q4, the chart is probably a bit misleading, and it rather reflects quite good performance. The average capital being used for single family real estate and Silver Bay stock in Q4 was $295 million.
TWO's expense ratio (see chart below) has been improving due to economies of scale as the company has grown. This is a good example of good management.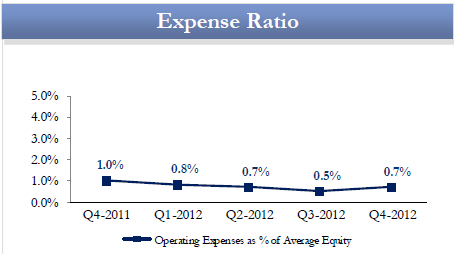 Lest anyone think the work with Silver Bay was unprofitable, it was quite profitable. TWO realized gains of approximately $10.6 million in Q4 2012 from its contribution of single family properties to Silver Bay. TWO expects to realize an estimated $8.3 million in 2013 driven by installment gains, fee reductions, and working capital adjustments.
TWO's annualized portfolio yields have been steady throughout the year too (see chart below).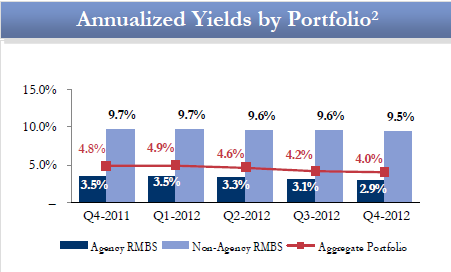 The slow decline probably reflects the tightening of mortgage rates with the new Fed programs. The 30-year fixed rate mortgage got down to approximately 3.30% in the fall. It has since risen slowly back to approximately 3.60% this week. This should help TWO's yields rise from their fall lows. In fact, the table below shows that yields did in fact rise from the beginning of Q4 to the end of Q4. With the further recent rise in mortgage rates, I would expect this rise to continue.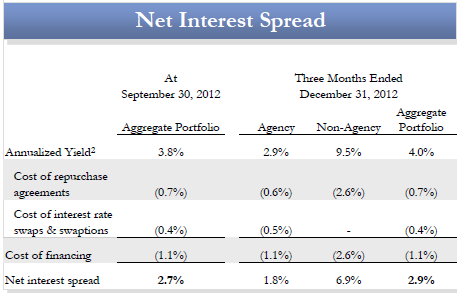 The chart below provides a good illustration of TWO's RMBS portfolio breakout as of December 31, 2012.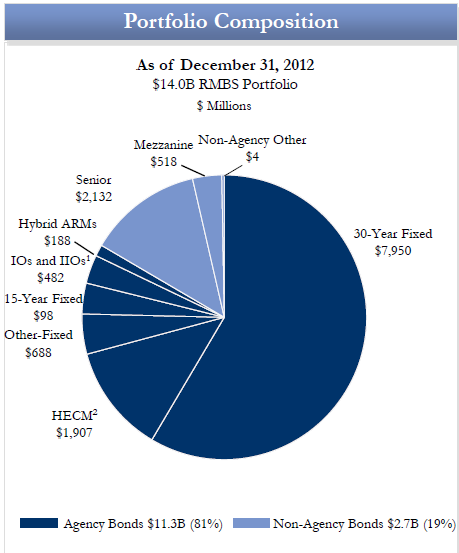 Keep in mind that TWO has also expanded into the single family home market, and it intends to earn part of its money every year by passing these homes through to Silver Bay Realty. This is a new part of its business that appears to be very profitable and very sensible in the current market. It also provides an easy and inexpensive way to dispose of any foreclosed upon properties. The targeted capital allocation chart below gives the investor an idea of how big a part of TWO's business single family homes have become in just a short time.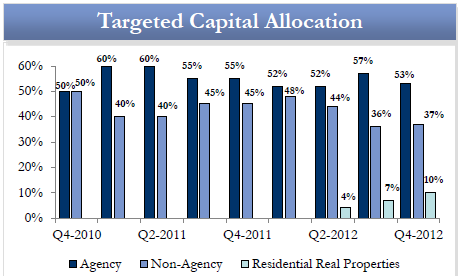 Through the use of all of its investment venues, TWO has managed to continuously grow its book value. It grew it from $9.03 per share at the end of Q4 2011 to $11.54 per share at the end of Q4 2012. This is great growth for a company that pays the kind of dividend TWO does. Perhaps most impressive is that it grew its book value from $11.44 at the end of Q3 2012 to $11.54 at the end of Q4 2012 even in the face of very low mortgage rates, which tend to decrease book value (especially on Agency MBS). QE4 also likely acted to increase the premium companies had to pay for Agency RMBS. This tended to decrease the net interest rate spread.
TWO has managed to protect its earnings by careful Agency RMBS selection. 98% of its Agency securities had implicit or explicit prepayment protection. This allowed TWO to maintain some of the lowest CPRs in the business throughout 2012. The Agency RMBS CPR only moved from 5.9% in Q4 2011 to 6.6% in Q4 2012. The non-Agency CPR only moved from 2.4% in Q4 2011 to 3.2% in Q4 2012. These may be the best in the business. Expect TWO to continue in this vein. The management team appears to be excellent.
Fundamentally TWO is positioning itself well for the current market environment. It has executed fantastically in the past, and there is no reason to presume that it will not continue its fine performance. With the prospect of a near 30% dividend in 2013, it is hard for an investor to ignore this stock.
The five year chart of TWO provides some technical direction for this trade.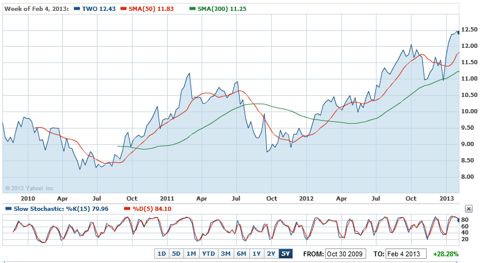 The slow stochastic sub chart shows that TWO is overbought in the short term. The main chart shows that TWO is in a strong uptrend. TWO is a bit overextended in this uptrend, so it might be wise to wait for a slight pullback in TWO before buying. The stock price is also still above TWO's book value of $11.54. However, an investor probably would want to get into TWO before mid March in order to be sure to qualify for the special dividend of 10%+. The regular dividend of about 18% looks quite attractive too. The PE of 10.16 seems very reasonable for this high dividend payer. TWO has a five star CAPS rating, and I would expect it to get a few analyst upgrades with the expectations I have outlined above. TWO is a strong buy.
That being said, one should not ignore the sequestration issue that will finally come due in March. One should not ignore that the overall market is overbought. One should not ignore that such market gurus as Doug Kass believe we may have already seen the top of the market for 2013. With these things in mind, one should perhaps consider averaging in. Still, it is hard to ignore that 18%+ regular dividend and the 10%+ special dividend.
NOTE: Some of the above fundamental data came from Yahoo Finance.
Good Luck Trading.
Disclosure: I have no positions in any stocks mentioned, but may initiate a long position in TWO over the next 72 hours. I wrote this article myself, and it expresses my own opinions. I am not receiving compensation for it (other than from Seeking Alpha). I have no business relationship with any company whose stock is mentioned in this article.