Both Asia and Europe are looking good this morning and it looks like it will carry over into the US. There is nothing better than a Friday to close a week that is green and the market maintaining the current strength to pull more capital in from the sidelines is only a good thing for those already invested. Net-net we are more than 'all in', but in the retirement account we are sitting on a sizable cash position which we would be happy to deploy if we came up with another good idea that fit within the parameters of the risk profile, time frame and industry (for diversification purposes). At this point we are relegated to the sidelines waiting for a few names to retrace to areas where we feel buying is acceptable.
Chart of the Day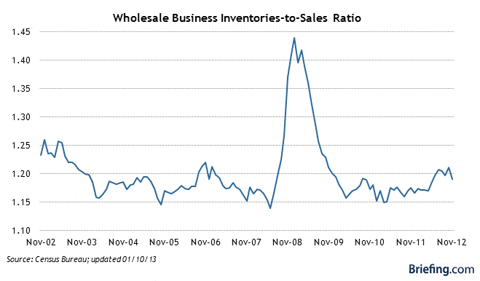 Chart courtesy of Briefing.
We have economic news due out today, and it is as follows (these are the consensus estimates):
Trade Balance (8:30 AM EST): -$45.4 billion
Wholesale Inventories (10:00 AM EST): 0.3%
Asian markets finished higher today:
All Ordinaries - up 0.68%
Shanghai Composite - up 0.57%
Nikkei 225 - down 1.80%
NZSE 50 - up 0.73%
Seoul Composite - up 0.99%
In Europe markets are higher this morning:
CAC 40 - up 0.43%
DAX - down 0.07%
FTSE 100 - up 0.36%
OSE - up 0.23%
Technology
Akamai (NASDAQ:AKAM) saw shares end the day at $35.26/share yesterday after falling $6.32 (15.20%) on the company's earnings. As we have seen numerous times over the past few quarters with various names, the company beat on the bottom line and missed on the top line. So it seems that cost cutting and a keen eye on expenses assisted in the beat on the EPS figure but the operations performed under expectations of analysts. One important point that the company made and investors should take note of is the fact that Akamai stated that margins will remain in the low 40% range over the next few quarters, even though their competitors are seeing margins expanding.
There was a lot of red in the technology sector yesterday for companies who reported and Atmel (NASDAQ:ATML) was among the losers with Akamai, as shares finished down $1.01 (14.15%) to close at $6.13/share. The shares had been a big winner over the past three months as investors rotated back in as the market recovered, but it is back to the penalty box now due to their inability to deliver for investors and they could be in there for a while. The company's operating margin was -3.8% for Q4 2012 with Y/Y Gross Margins having fallen approximately 10 percentage points from 48.1% to 38.1%. That is certainly an ugly trend but revenues continue to fall and during the 4th Quarter they came in at $345.1 million.
Oh, and then there is always our pet peeve among larger tech companies which are not big growers; the share repurchase programs. Atmel repurchased 3.3 million shares at an average price of $4.87/share. Share repurchases as a whole in the tech industry are a complete waste, as shareholder money is used to lower the share count only to have more shares issued through option grants to executives and employee options which it seems everyone in the company's ranks are entitled to. Not that this will be the case going forward, but historically that has been the industry's standard operating procedure.
Finance
It seems only obvious that in the Justice Department's case against Standard & Poor's that McGraw-Hill (MHP) will be forced to settle by paying fines while not admitting wrongdoing in the situation. That is the way these cases usually play out, but with the Justice Department handling the case and teaming up with numerous states, rather than the SEC running point, anything can happen. Before that can happen though, everyone gets to take their cheap shots…including competitor Fitch who lowered their rating on McGraw-Hill due to the litigation risk. If that is not irony then what is? The move also is a downgrade to a competitor which is an upgrade to itself and its future business endeavors. Remember, Fitch is the baby in the 'Big Three' of the industry and they may come out stronger, not weaker after the government is done with S&P and possibly even Moody's.
Airlines
The news flow in the industry picked up again yesterday with two big stories. First was the worst kept secret in the industry, that US Airways (LCC) and American Airlines will be merging and as of right now it appears that the creditors of bankrupt American Airlines are set to receive between 70-80% of the combined entity. This is another great move for the industry as it consolidates major players further which drives down the competition, allows for better supply management of passenger seats on routes and drives down costs as efficiencies are realized. The last round of bankruptcies appear to have worked as investors FINALLY woke up to the fact that these serial bankruptcy filers needed to be combined rather than kept as stand-alone companies which could only prosper in good times and not bad. The days of oversupply appear to be behind us, and that should be good news for both employees and investors, although the loser is probably the consumer as they face higher fares.
If one wonders what a combined US Airways and American Airlines can look like and what performance could look like, simply take a look at Delta Airlines (NYSE:DAL) which has been a steady consolidator within the industry. The stock set another 52-week high yesterday and is a beneficiary of not only their acquisitions but everyone else's as well. When we look at the industry right now we like what we see as prices for oil have been falling or at least steady but labor costs have been under control too. That may not last however, which is why Delta has to be on any investor serious about investing in the sector because as the input prices begin to increase, labor and fuel, Delta has a tremendous hedge; a refinery. With falling prices it hardly benefits them (in a normal market) as everyone experiences fuel cost deflation, but with high margins for refiners right now they benefit from that too as the spread increases. What investors should be interested in for the future are rising prices that takes fuel costs to a level where it is not profitable to operate, because that is where Delta will have the advantage with lower costs for jet fuel due to the refinery. That is not something new, but a point which readers should keep in mind.
The second big story is how the winter storm Nemo will affect the industry's operations in the Northeast US. It affected US Airways' results last quarter and flights have already been cancelled by numerous carriers. It will be interesting to see how long the storm keeps the industry grounded, but we would suspect they would be flying sooner rather than later as this should not have the damage to infrastructure that Superstorm Sandy did.
Disclosure: I have no positions in any stocks mentioned, and no plans to initiate any positions within the next 72 hours. I wrote this article myself, and it expresses my own opinions. I am not receiving compensation for it (other than from Seeking Alpha). I have no business relationship with any company whose stock is mentioned in this article.