Shares of Oncolytics Biotech (ONCY) are in the spotlight today after the company reported positive Reolysin clinical trial data from a Phase 2 Study in squamous cell carcinoma of the lung.
The drug was used intravenously in combination with chemotherapy drugs carboplatin and paclitaxel. It was tested on patients suffering from metastatic or recurrent squamous cell carcinoma of the lung. The company said 95% of the patients experienced a reduction in the size of their tumors. Squamous cell carcinomas account for about a fourth of all lung cancers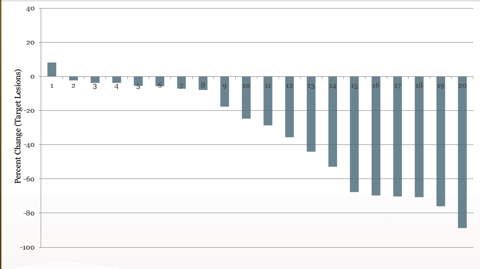 Shares are up more than 30% on this news.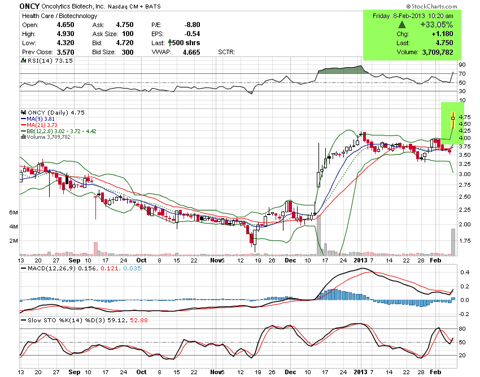 The American Cancer Society estimates that in 2013, approximately 230,000 new cases of lung cancer will be diagnosed. Approximately 84% of all lung cancers are classified as non-small cell lung cancer (NSCLC); squamous cell carcinomas account for approximately 25% of all lung cancers. Lung cancer is by far the leading cause of cancer death among both men and women. There will be an estimated 160,000 deaths from lung cancer in the United States in 2012, accounting for around 28% of all cancer deaths. More people die of lung cancer than from colon, breast, and prostate cancers combined.
Reolysin works by infecting patients with the reovirus, to which most people have been exposed by adulthood, and which typically causes few or no symptoms. Normal cells are able to fight the infection, but cancer cells with Ras gene mutations cannot, and the unchecked multiplication of the virus kills them by causing them to rupture. Then, the virus moves on to destroy nearby tumor cells.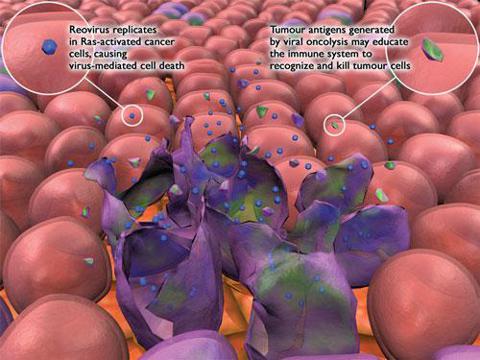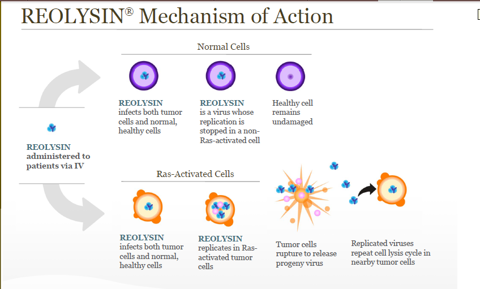 In December 2012, the company also announced initial positive top line data from a Phase 3 study of patients with head and neck cancers treated with Reolysin and the same two chemotherapy drugs, paclitaxel (Taxol) and carboplatin (Paraplatin). That research showed that patients on the Reolysin regimen were more likely to have stable or smaller tumors than patients who only took chemotherapy.
The study, known as REO 018, included 105 patients. Oncolytics found that 86% of patients who were treated with Reolysin had stable or smaller tumors approximately six weeks after treatment, compared with 67% of patients treated with paclitaxel and carboplatin.
Since Reolysin has shown activity in a broad range of cancers, Oncolytics has conducted clinical trials in multiple cancer indications with the objective of developing Reolysin as a human cancer therapeutic. Clinical trials are being conducted in the United States, the United Kingdom, Canada, and internationally.
Reolysin has been studied in over 30 clinical trials including translational, Phase 1, Phase 2, and Phase 3 studies in a broad range of cancer indications.
In addition, the company is examining the effectiveness of Reolysin in head and neck cancer, advanced or metastatic breast cancer, advanced or metastatic colorectal cancer, recurrent or metastatic castration resistant prostate cancer, metastatic pancreatic cancer, persistent or recurrent ovarian, fallopian tube or primary peritoneal cancer, metastatic melanoma, advanced pancreatic cancer, advanced head and neck cancers, metastatic sarcomas, and advanced malignancies.
Chief Executive Brad Thompson said in Press release today:
Based on these findings we intend to continue to look at Reolysin as a treatment for cancers of the lung and cancers that metastasize to the lung.
As of September 30, 2012, Oncolytics had about ~$28 million in cash and cash equivalents. In 2011, the company had approximately ~$35 million in cash at the end of the third quarter. Total assets were $28.6 million in 2012, down from $35.6 million in for the same time period in 2011. Total liabilities were $6.7 million in 2012, an increase from $6.5 million in 2011. The company's expenses were $9.3 million for the third quarter of 2012, up substantially from $6.2 million spent during the same period in 2011. Oncolytics year-to-date expenses was $28.2 million, up from $17.4 million spent during the same time period in 2011.
Oncolytics is burning cash fast. At current spending rates, the company will run out of money in 2013. The company must either cut expenses or raise additional funds by equity or debt financing, or obtain funds from in-licensing opportunities, corporate partnerships, research grants or other means to continue operating. But Reolysin is a new and novel cancer treatment, Oncolytics estimates that at least five million new patients a year will develop cancers with Ras involvement. Many of these patients could benefit from Reolysin therapy. Based on this, I think Oncolytics Biotech is a speculative buy.
Disclosure: I have no positions in any stocks mentioned, and no plans to initiate any positions within the next 72 hours. I wrote this article myself, and it expresses my own opinions. I am not receiving compensation for it (other than from Seeking Alpha). I have no business relationship with any company whose stock is mentioned in this article.