McDonald's (NYSE:MCD) just reported today that its January same store sales dropped 1.9% worldwide. This was worse than the 1.1% drop analysts were expecting. I continue to believe that McDonald's will see profit margins drop in the quarters and years ahead as aggregate demand faces pressure forcing them to increase advertising and keep prices competitive. This will likely put pressure on the share price of McDonald's.
Appreciate that McDonald's net profit margins over the past four quarters was 19.82% according to Yahoo Finance. McDonald's net profit margins were between 10.7% and 13.3% from 2002 - 2006!
I am giving a warning on aggregate retail and food service sales numbers for January based on aggregate hours worked in the retail sector.
Let's first take a look at real retail and food service sales since 1992 per this chart: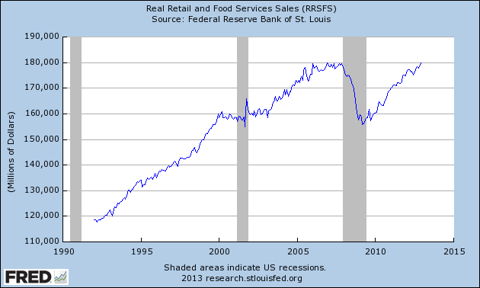 Note: Figures are Deflated Using the Consumer Price Index for All Urban Consumers (1982-84=100)
Real retail and food service sales have been rising steadily since plunging in the middle of the last recession. This trend might be about to change.
From a year over year perspective, the above chart looks like this: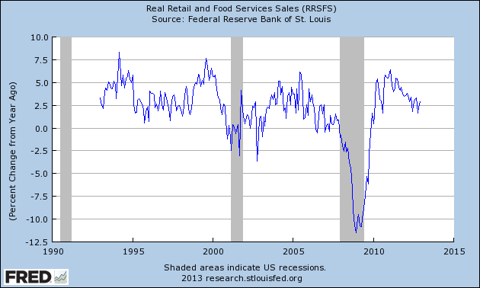 This chart above shows the very cyclical nature of the growth and slowdown experienced over time.
Since this is inflation adjusted sales figures, it'll come closer to also being volume of sales year over year change.
The warning for January sales figures, which will be released on Wednesday, February 13th at 8:30 a.m., comes from the drop in aggregate hours in retail trade I noticed in January's employment report.
Retail trade employed 14,829,000 employees in January 2012. In January of 2013, retail trade had 15,041,000 employees for an increase of about 1.42% from the year before.
The average employee in retail trade worked 31.8 hours per week in January of 2012. In January of 2013, the average work week declined to just 31.3 hours per week or about 1.55% less hours.
Putting those figures together, there was an aggregate drop in hours worked in retail trade in January of 2013 Vs. January 2012 of about 0.17%.
Putting aggregate hours worked in retail trade and real retail and food services sales together to compare year over year change, we get the following chart: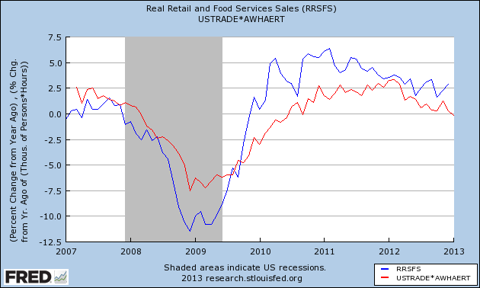 The red line is the aggregate hours worked in retail trade and the blue line is real retail and food services sales, both year over year percent change.
Given that McDonald's missed on worldwide same store sales by a rather wide margin, dropping 1.9% on expectations of a drop of 1.1%, look out for retail and food service sales figures to see a larger than expected drop come Wednesday.
Retail stocks have enjoyed a very robust performance since bottoming out in 2009.
My guess is that as the volume of goods sold through retail begins to decline on a year over year basis, competition is going to heat up and that should put pressure on profit margins.
It's also worth noting that average hourly wages for all employees in retail trade are showing stronger growth than the total average for the private sector.
Per the bar chart below, retail trade employees (blue bar) are seeing a higher year over year wage increase Vs. total private sector (red bar):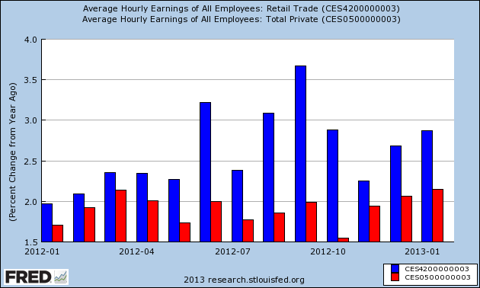 These higher wages will be showing up on the bottom line of retailers putting more pressure on profit margins.
I would say now is a good time to re-look at your retail stock holdings and keep a close eye on both revenue growth and net/gross profit margins.
The SPDR S&P Retail ETF (NYSEARCA:XRT) (chart below) has performed very well over the past four years now. If fundamentals were to play a role in this fund's performance in the months and quarters ahead, this fund and many retail stocks could see a correction in price.
Disclosure: I have no positions in any stocks mentioned, and no plans to initiate any positions within the next 72 hours. I wrote this article myself, and it expresses my own opinions. I am not receiving compensation for it (other than from Seeking Alpha). I have no business relationship with any company whose stock is mentioned in this article.