This week, I'm sharing a chart that's certain to make tax-happy Washingtonians drool. Then it's on to the No. 1 reason why China and Japan (yes, Japan) are the best international markets to invest in right now. Last, but not least, we'll check on the "scariest jobs chart ever." (Hint: It's getting less scary.)
Here Come the Tax Increases
The "Fiscal Cliff" compromise already jacked up personal income tax rates. But the spendaholics in Washington aren't done yet. This time, though, corporations are going to get the squeeze. Here's why: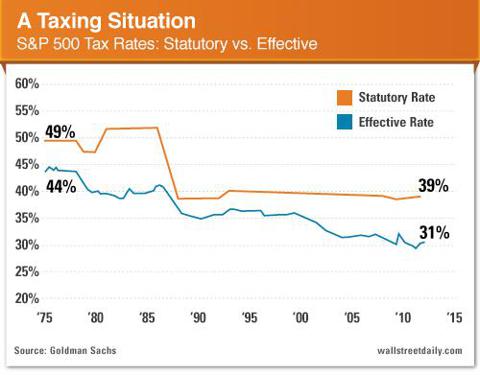 Although the U.S. statutory corporate tax rate rests at 39%, the effective tax rate paid by S&P 500 firms is much lower. It's currently hovering around 30%. The cause for the discrepancy? Tax breaks, subsidies and loopholes, of course.
"The tax preferences that create the gap between effective and statutory rates will likely receive scrutiny from policymakers as they attempt to reform the tax code," says Goldman Sachs' David Kostin. You think, David?
I'll bet more than a few politicians are drooling over the possibility of eliminating all of these breaks. That way, more tax revenue flows into Washington. They'll (hopefully) face reality at some point, though. Taxing more and spending more doesn't add up to a deficit reduction. Just saying.
Call It a Comeback (Part 1)
File this under the most unexpected bull market in history. (It wasn't so unexpected for us, though. See here.)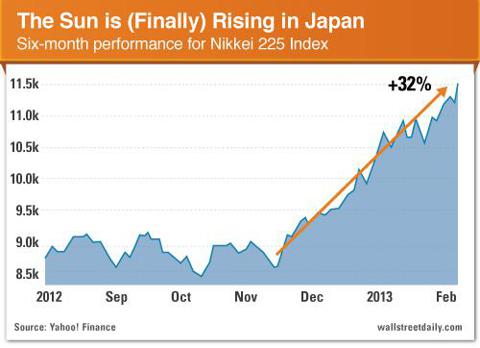 Japan's Nikkei 225 Index keeps surging off the November lows. If we go by the textbook definition of a bull market (a rise of 20%), then it's official. Japanese stocks are up 32.3% -- and counting. If you haven't done so already, you might want to consider entering a position in the WisdomTree Japan Hedged Equity Fund (NYSEARCA:DXJ), the WisdomTree Japan SmallCap Dividend Fund (NYSEARCA:DFJ), or the Japan Smaller Capitalization Fund (NYSE:JOF).
Don't say I never provide you with options!
Call It a Comeback (Part 2)
File this under "Finally!" Chinese stocks, which were once the epicenter of emerging markets profits -- then the epicenter of emerging markets losses -- officially got their grove back.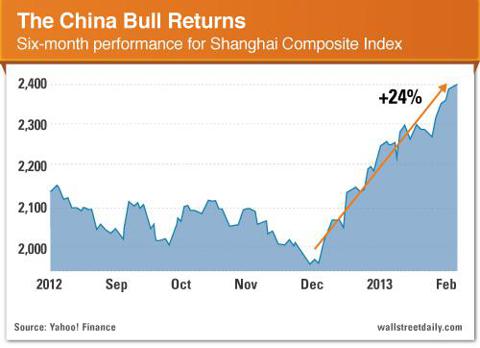 Since early December, the Shanghai Composite Index is up 24.2%. You'll recall, a few weeks ago, I shared three ways to capitalize on a new bull market in China. So what are you waiting for?
The Scariest Jobs Chart Ever Gets Less Scary
I've highlighted the anemic employment recovery in the United States by sharing "The Scariest Jobs Chart Ever" with you on multiple occasions. And today, it's time for an update.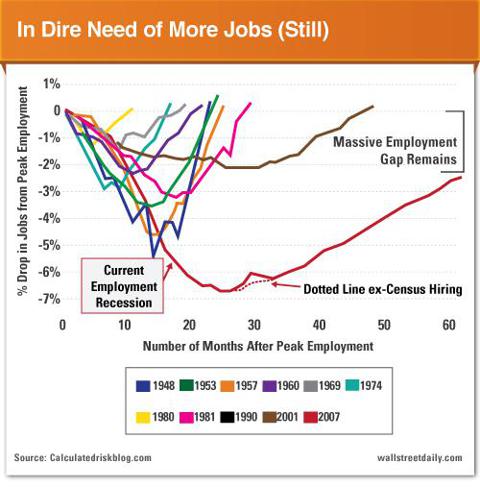 As you can see, job losses from the start of this recession are far from being recouped in percentage terms. So a massive unemployment gap (still) remains. But at least we're making progress, right?