TGP-Axon Capital, an investment group founded by Dinakar Singh, who formally worked for Goldman from 1990-2004, has had a huge stake in the unpredictable Sandridge Energy (NYSE:SD) for quite some time, but recently its stake has grown to 6.7% ownership.
The company has publicly proclaimed its distaste and distrust of Tom Ward, SD's CEO and founder throughout the past, but on Thursday, 2/7/2013, the story just got a whole lot juicer. TGP-Axon released a 97 page presentation for shareholders which not only highlights the misfortunes of SD as a company, but more profoundly brings attention to Tom Ward's misdeeds and conflicts of interest. I feel this report is not an optional read for shareholders, but is an imperative read. Some of this presentation is so shocking I felt inclined to summarize it here on Seeking Alpha for those without the time to review the 97 pages of material.
Tom Ward's compensation is abnormal:
Relative to other CEOs of oil and gas companies with similar market caps, Mr. Ward seems grossly over valued, especially since the performance of SD shares shouldn't warrant such an exuberant salary. Shockingly, Tom Ward was paid almost 3% of SD's market cap during 2008-2011, not including special payments due to his "Well Participation" program. Last year, CEO pay was 4.38x SD's peer average.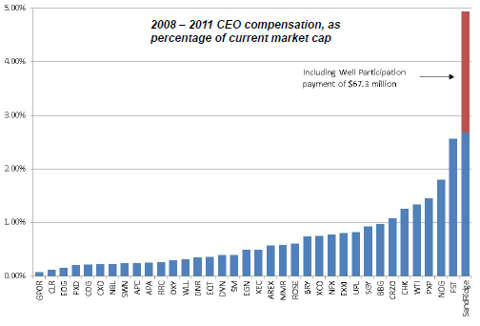 (Click to enlarge)
Tom Ward was paid $150 M in direct payments over the past 5 years, even though the stock sank nearly 80% over this time frame. This includes a special $67 M for his special interests in oil and gas wells. Why did Mr. Ward have interest in wells that shareholders and SD did not? Actually, when you think about it, since the CEO sold his personal interests to SD, he basically sold interests to shareholders of the company. How is this allowed?
The rich compensation not only is enjoyed by the CEO, however. TGP uncovered SD's COO and CFO are among the highest paid executives of its peer group, while directors at SD were also overpaid $360 K/year. By comparison, similar positions at Exxon Mobil (NYSE:XOM), a company over 100 times SD's size, are paid roughly 20% less. In light of this material presented by TGP-Axon, it seems SD's CEO as well as execs are overpaid, especially considering the stock's performance: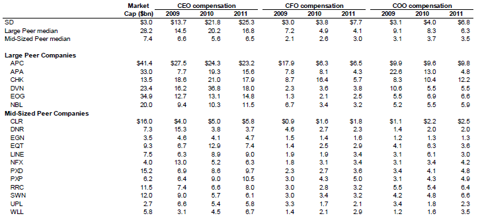 (Click to enlarge)
But just when you thought it couldn't get any better for Ward, TGP also discovered Ward has unlimited personal use of the company's 4 corporate jets, in which Mr. Ward uses for personal weekend getaways to places like Las Vegas and the Bahamas, according to the report. The planes include a Falcon 900EX, one of the most expensive private business jets made. Click to view a tour of the jet Tom enjoys at expense to shareholders:
To make matters even worse, TGP claims SD employs over 15 full time employees to maintain and fly the jets.
In addition to a lavish personal travel allowance, SandRidge also provides support for the Oklahoma City Thunder, an NBA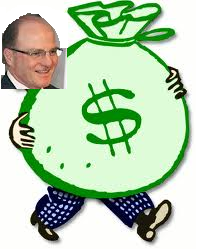 basketball franchise of which Mr. Ward owns 19% of. SandRidge pays $3.3 million annually in sponsorship fees and licenses, as well as a special suite costing $0.2 million per year. But wait it gets even better. When Mr. Ward doesn't use his tickets, he sells them to the company. TGP-Axon claims SD paid Ward $0.3 million for tickets in 2012. Now for the perpetual cherry on top of this wildly delicious CEO ice cream sundae of a compensation package, SD provides almost $1 million/year worth of personal accounting services to Mr. Ward.
Other sections of the report contain allegations of insider "sweetheart" deals between employees and SD, like oddly timed buying and selling of properties and oil & gas wells, particularly involving WCT Resources. WCT Resources is owned by trusts established by Tom and Sch'ree Ward for the benefit of Tom Ward's children (Ward Children's Trust). Supposedly, WCT Resources is run by Trent Ward, Tom Ward's son. It is believed that this entity has a strange and lucratively beneficial relationship with Sandridge at the expense of shareholders, in which WCT sells properties directly to SD only a short time after initially purchasing these properties. Odd, isn't it?
TGP-Axon still sees value in assets:
Next, TGP-Axon compensates for these negatives with positives regarding the value of SD's assets. They explain how they plan to unlock this hidden value by reducing these unreasonable employee compensation packages and other general overhead wastes. If Ward is ultimately ousted as TGP-Axon seeks, SD would be transformed into a pure play Mississippian Lime E&P company with:
15-20 tears of high quality inventory
over 1 million acres of longer term
cash flow sufficient to run 20-25 rigs.
Slide #53 shows what supposedly would happen to SD if TGP had their way: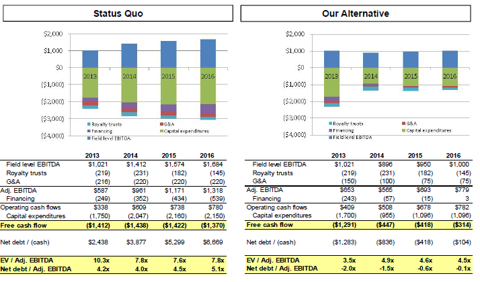 (Click to enlarge)
There is much difference here, namely the reduction of debt and improvement of free cash flow. There is no doubt SD's has significant value in its assets, and many analysts aren't shy about this hidden value, as long as the Mississippian Lime can be sensibly developed going forward: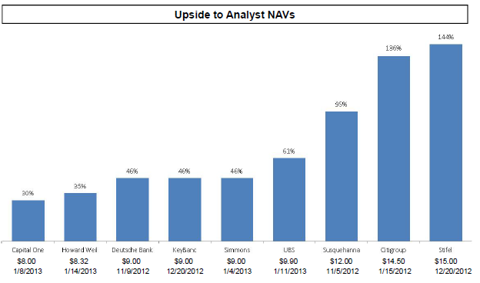 (Click to enlarge)
Summary:
After reading about Ward's shady dealings and realizing the long term underperformance of SD shares, TGP-Axon's presentation sounds much like an Einhorn short sellers case against SD. However, after reading about the true NAV of SD's Mississippian assets and the potential of these assets if developed responsibly, it seems there truly is some hidden value and upside to be gained if the market can regain trust in SD management. However, one of the only foreseeable paths to reestablish the market's trust would be to oust Ward, and to end all dealings with WCT Resources.
Since TGP-Axon owns over 6% of SD, it might have its interests better aligned with shareholders than Ward, who has under 5% stock ownership and seemingly much more to gain from his lavish compensation package and personal use of company jets. If you don't own SD already, you might want to stand clear until the Tom Ward/TGP-Axon skirmish has ended.
Disclosure: I have no positions in any stocks mentioned, and no plans to initiate any positions within the next 72 hours. I wrote this article myself, and it expresses my own opinions. I am not receiving compensation for it (other than from Seeking Alpha). I have no business relationship with any company whose stock is mentioned in this article. I have owned SD over the past year