Overview
In August 2011, I developed a simple dividend growth strategy designed for people like my parents, who need income and want less volatility, to reduce worrying about their investments. I have since created four additional model Dividend Growth [DG] portfolios (Small Cap, Income Growth, High Yield/Low Payout [HYLP], Low Beta/High Dividend Growth Rate). Overall these models have performed very well versus the S&P 500 (NYSEARCA:SPY) over the last year and a half. The DG-IncomeGrowth and DG-HYLP models will be rebalanced over the next two months.
Of the models, the Dividend Aristocrat+ (DA+) model is the easiest to implement, as it is based primarily on the S&P 500 Dividend Aristocrat list, which contains just 54 stocks. I couldn't find an official 2013 update on S&P's site, so I used two other articles that discussed changes to the index. One discussed the treatment of Abbott Labs (NYSE:ABT) and AbbVie (NYSE:ABBV) post-spin off, and the other listed four additions and one deletion from the index. While ABT has been removed from the CCC list from David Fish, I have retained them, since that is what S&P apparently did. I use an equal sector weighting for this portfolio. Since the DA list did not have enough stocks in each sector for this strategy, I used the CCC list to enhance the universe.

Over the last 12 months, the DA+ model portfolio has outperformed the SPY on both an absolute and relative return basis. Its yield was 3.61% for the year, and its beta was 0.81, so it achieved its goals of providing a decent income stream with less volatility than the market. Fifteen of the 30 stocks had returns over 17.4%, with PPG Industries (NYSE:PPG) being the biggest winner returning 68.4% and Consolidated Edison (NYSE:ED) the biggest loser at -8.0%.
Building the Portfolio
Based on a research study from the UK that I have previously discussed, I organized the DA list by sector, with the goal of having a 30-stock portfolio that equally weights each sector and each stock. I used the 10-sector Global Industry Classification Standard [GICS], which is what Schwab research uses. Some sectors had less than three stocks, so I turned to the CCC list to supplement the DA list, hence the portfolio is referred to as "DA+". I favored Champions, as they are closest to the Aristocrats, but I also included a couple well-known, high-yielding names, some of which were already in the portfolio.
Additions (Ticker) [years of DG]
Stocks within each sector were next sorted by yield. The research suggests that higher yielders performed better than the average DG stock, plus income investors want yield, so I favored those stocks. I proceeded to take the three highest yielders in each sector.
Before final acceptance, there were two final tests. First, if the payout ratio was above 70%, I checked the firm's financials to see if quarterly operating cash flows sufficiently covered dividend payments for at least three of the last four quarters. HCP (NYSE:HCP) failed this test and was replaced with the next highest yielder from its sector. Finally, I checked each of the 30 holdings for my "-20% stop loss" rule. If the stock price underperformed the S&P by 20% for four consecutive weeks, my prior research suggests there is a better than 50% chance that it will either cut its dividend or the price may drop another 20%. None of the stocks triggered the stop loss, though ED and NWN are close. Note that both of these tests are designed to avoid potential harm.
The closing DA+ account value on February 1, 2013 was $408,316.56, so around $13,600 was invested in each stock. I factored in commission costs of $8.95 per trade and minimized transactions by trimming or adding to existing holdings, instead of selling everything and starting from scratch. Only eight of the 30 stocks were completely replaced. Honestly, given the total value of the portfolio, the commissions are trivial. Individual investors with smaller portfolios may not want to bother making the holdings exactly equal, as it is not cost-effective to trim a small number of shares from a holding.
The 2013 DA+ Portfolio
The resulting portfolio is provided in the graphic below; prices are as of the close on February 1, 2013. The portfolio has an average yield of 3.52%, which is the same level as the 2012 DA+ portfolio. So despite the run-up in the stock market, through dividend growth and a little swapping of holdings, we have maintained the same yield. six of the 30 holdings are due for a dividend increase in the next two months, so the dividend payout will increase soon assuming they all deliver. Rebalancing helps to shift funds from stocks that have appreciated significantly, and hence have a lower yield, to stocks with higher yield. T. Rowe Price (NASDAQ:TROW), 3M (NYSE:MMM), and PPG are examples of stocks that were rotated out, and each was replaced with a higher-yielding alternative.
The rebalanced portfolio's 0.75 beta is lower than the original portfolio's 0.81 beta. For those wanting even lower beta, weighting the utilities, energy, healthcare, and consumer staples sectors more would lower the beta of the portfolio. The three utilities have particularly low betas. The average PE is a little high, but that seems to be the norm with more investors pursuing dividend stocks for yield. I was surprised that the average payout ratio was just 58%, but it is mainly because of a handful of very low payouts under 35% [HRS, CVX, XOM, CB, AFL and CAH]. Note that because their current earnings had major adjustments that skewed the averages, I calculated forward PE and payout ratios for VZ and T, and excluded KMP because it is an MLP. The dividend growth rates are not as high as my other portfolios, but there is nothing wrong with an 8% average DGR, and it aligns with the projected earnings growth rates.
Portfolio Statistics:
Average years of dividend growth = 35.7

years.

Average yield = 3.52%
Average PE = 17.2
Average Payout Ratio = 58%
Est. 1-yea

r and 5-year

EPS Growth = 9.6% and 7.1%
1-yr DGR = 8.1%
3-yr DGR = 17.3%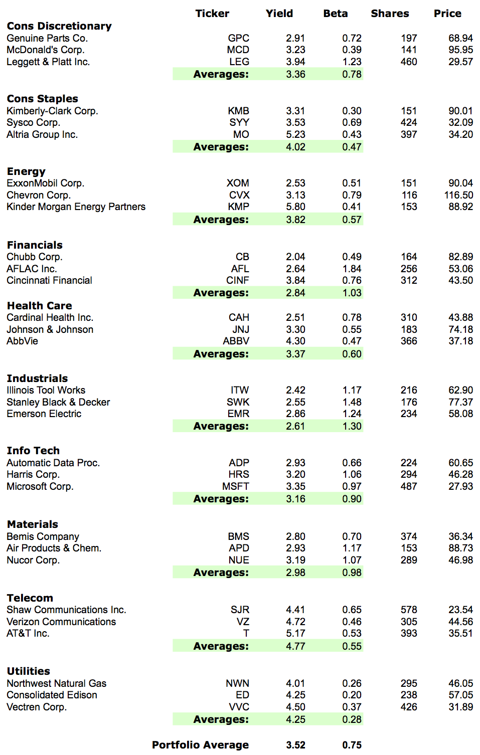 Summary
The DA+ Portfolio is designed to be easy to implement, to follow DG investment strategies, and to apply DG research in a simple, understandable manner. To date, it has outperformed its benchmarks, and I will continue to track the rebalanced portfolio and provide monthly updates. I believe this portfolio offers investors considerable safety, as it contains mainly large-cap firms with very long-term dividend growth histories.
While easy to implement, this portfolio does have some limitations. The universe of Dividend Aristocrats is small, thus there isn't much of a selection process and turnover is relatively low. This is what makes the strategy so simple, but it also limits the investor, at least if s/he is strictly following this strategy and not choosing stocks from outside of the Dividend Aristocrats. The DA list also contains mostly large-cap stocks, which provide safety, but may restrict growth potential. See my DG-HYLP and DG-IncomeGrowth models for other high-yielding holdings.
Next Steps
I have updated my virtual DA+ portfolio with the new holdings as of the closing prices on February 1, 2013. I will continue to track this portfolio and report on its performance relative to the SPY, S&P Dividend ETF (NYSEARCA:SDY), and the other DG model portfolios. The next full rebalance will occur in one year, unless there are major market movements that necessitate the need for action. If any portfolio holdings cut their dividend, get bought out, or exhibit the -20% stop loss rule, they will be removed and replaced with another stock from the same sector based on the screening process.
I welcome feedback on this portfolio process, as I continue to refine it based on comments, observations, and new learning. I hope SA members find the process and the recommended list useful for identifying potential candidates for their portfolios. I view this work as action research, an attempt to test out the recommendations from prior research and the comments that followed from it. I use this model as a benchmark for comparison, and always recommend doing additional research on individual firms before purchasing their stock.
Disclosure: I am long MCD, KMB, KMP, CB, MSFT, VZ. I wrote this article myself, and it expresses my own opinions. I am not receiving compensation for it (other than from Seeking Alpha). I have no business relationship with any company whose stock is mentioned in this article.