Aubrey McClendon, most likely the biggest bull in the history of natural gas, essentially threw in the towel last week as he stepped down from his post at Chesapeake Energy (NYSE:CHK). Whether he was forced out or not doesn't really matter. What matters is that this is a guy that staked his entire career and personal wealth on the natural gas industry, and in many respects leaves it with his head hanging low and the industry in tatters. At best, his legacy is tarnished.
I have little basis for arguing for or against this being a turning point for natural gas (NYSEARCA:UNG). But I do find it interesting that this is occurring at a time when the bullish sentiment surrounding natural gas has waned significantly, to the point where the Commitment of Traders report is showing an unusually high level of shorts in the market. This is oftentimes a contrarian indicator. See the chart below:
Click to enlarge images.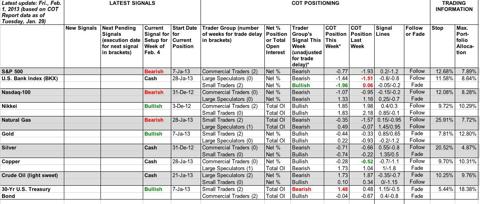 While the longer-term charts show that natural gas has been horrible, since April 2012 there has been a 70% move up. On the chart below there is a series of higher lows throughout this period: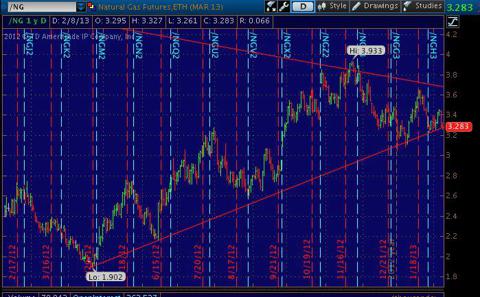 Yesterday's move down of about 4% on heavy volume after a bearish storage report has gotten sentiment very bearish. Industry experts like Dan Dicker have basically thrown in the towel on the industry. In an article that came out yesterday while the entire natural gas complex was crashing, Dicker wrote the following:
So, good riddance to the 'Bernie Ebbers of Energy' -- but where does that leave us in natural gas? We have a surplus not likely to end anytime soon and a price that will languish well under 'excitement' levels for those that explore and produce. Without that excitement, you'll not see any incentive to fundamentally move any closer to a natural gas future, either as a transport or as a further supplement into the electrical grid. It may be counterintuitive but true: Cheap gas hasn't done anything to promote gas. Recent proposals to convert LNG import terminals into export plants are a bizarre market reaction to a natural gas BUST -- and a silly solution to what really is a U.S. natural resource bonanza.
What we do know is that McClendon has been involved in some transactions that would be classified as shady at best. In 2008, McClendon was forced to sell an enormous chunk of CHK shares that he previously purchased on margin, which obviously helped crash the stock. Then in 2012 it was reported by Reuters that he pledged his stake in oil and gas wells owned by CHK for $1.1 billion worth of loans taken out on behalf of three companies owned by McClendon, that also listed CHK's headquarters' address as their own address. The collateral was used to buy the very same type of well stakes that CHK owned. After further research was done, it was revealed that these loans were commonplace going all the way back to 1992 when he pledged assets of CHK for Chesapeake Investments, another company owned by McClendon. The combination of all these deals and a falling stock price has clearly clouded McClendon's reputation.
Since the natural gas market is fickle at best, I'm not smart enough to say with clarity one way or the other if this is a sign that natural gas is ready to spike higher. But it is uncanny how events like this oftentimes mark major turning points in markets/commodities. The fundamentals are horrible in natural gas. Everyone knows this. After all the commodity is down from $14 to $3 over the past six years. I think investors/traders would be wise to consider this as a potential turning point -- with the obvious caveat that it is a risky trade. While the decay factors of the ETFs like UNG and VelocityShares 3x Natural Gas (NYSEARCA:UGAZ) make these bad buy-and-hold securities, I think going long natural gas via these vehicles isn't the worst idea on the heels of McClendon's departure.
Disclosure: I have no positions in any stocks mentioned, and no plans to initiate any positions within the next 72 hours. I wrote this article myself, and it expresses my own opinions. I am not receiving compensation for it (other than from Seeking Alpha). I have no business relationship with any company whose stock is mentioned in this article.