American Capital Agency Corp (NASDAQ:AGNC) has long been the high standard for Agency Mortgage REITs (mREITs) and it's no secret that QE3 has put a ton of pressure on the sector. Spreads have continued to tighten, driving down returns, and as managers look to the future they have to consider the impact of rising rates and the cost of the leverage that they employ. At AGNC, Net Book Value (NBV) per share decreased from $32.49 in the third quarter to $31.64 at the end of 2012 (representing a 2.62% decrease). AGNC hasn't had a decrease in NBV since the 2012Q1 to 2012Q3 drop from $25.21 per share to $23.43. With this in mind, the question to ask is: is it finally time to sell AGNC?
Peer Group
AGNC's true peer is Annaly Capital Management (NYSE:NLY), which is another large Agency mREIT. Both are well established and face the same challenges facing the agency mortgage market since they cannot go searching for yield in the non-agency space.
Dividend
AGNC has a quarterly dividend of $1.25 per share, which is an annualized yield of 16.0% with February 7's closing price of $31.20. The management at AGNC has also done a phenomenal job of managing their dividend and has kept it constant at $1.25 for the past four quarters (prior to that it was $1.40). Compare this with Annaly which offers a quarterly dividend of $0.45 per share (which has been decreasing since the second quarter of 2011), which is an annualized yield of 12.3% using the closing price of $14.66 on February 7.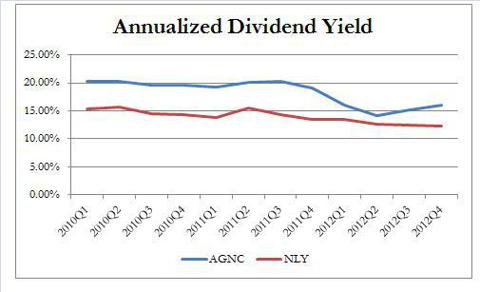 *2012Q4 Yields reflect Feb. 7 prices. All others use quarter-end prices.
Asset Yield
Over the course of 2012, the yield on agency assets declined. This affected both AGNC and Annaly, although AGNC was able to realize an increase in 2012Q4 while Annaly continued to decline.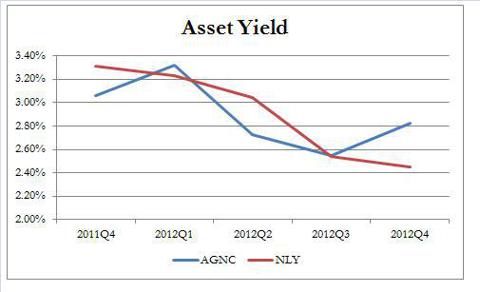 Leverage
Using leverage is the cornerstone of the mREIT industry - how else do you think you can have a dividend yielding 16% with asset yields less than 3%? AGNC employs more leverage then Annaly, but over the past year AGNC is trending towards less leverage while Annaly is becoming more levered.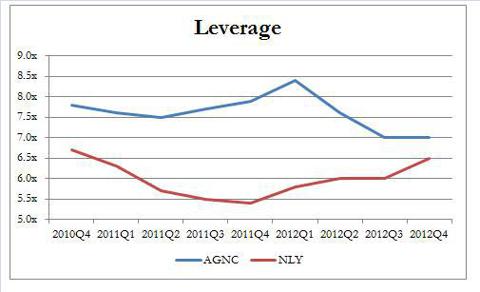 Net Book Value
With asset yields declining it's going to have a negative impact on net book value. AGNC has done a great job of managing NBV while asset yields have declined: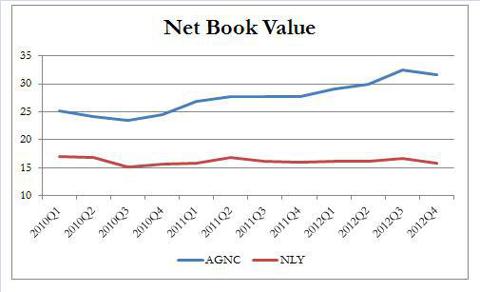 The above chart shows how AGNC's NBV has grown while Annaly's has stayed relatively stable. Both Annaly and AGNC had decreases in NBV in the fourth quarter, but the there is still a positive trend for AGNC while Annaly continues to look flat. Quarter-over-quarter, Annaly had a larger decrease than AGNC in the fourth quarter and has not had a larger percentage increase than AGNC since the second quarter in 2011.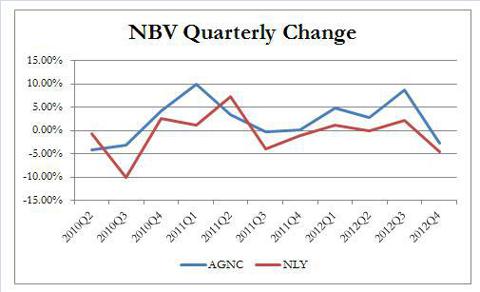 Price to Net Book Value
Both AGNC and Annaly are trading below NBV - AGNC is 1.39% below book value while Annaly is trading 7.51% below. This marks the first time that AGNC has traded below book since the third quarter 2011.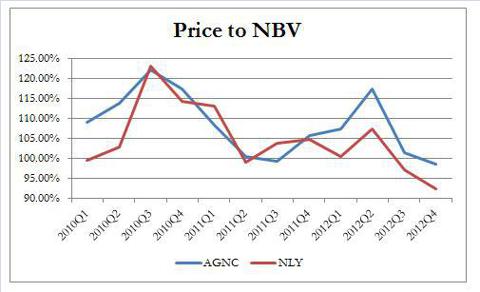 Is It Time To Sell American Capital Agency?
The short answer - no, unless you're giving up on the Agency mREIT sector as a whole. AGNC is trading below book and the management team has proven time and time again that they are absolutely top notch. The slight hiccup in NBV this past quarter is nothing to get worried about given the long history of generating value for shareholders. The company also has $2.4 billion in cash on the balance sheet, which is down from $2.5 billion in the third quarter but up from $1.3 billion at the end of 2011. American Capital is well positioned for a strong 2013, even if QE Infinity continues throughout.
Disclosure: I am long AGNC, NLY. I wrote this article myself, and it expresses my own opinions. I am not receiving compensation for it (other than from Seeking Alpha). I have no business relationship with any company whose stock is mentioned in this article.