Whether you are new to dividend investing or you are a seasoned pro, it's likely that your main goal is to build a long-term portfolio that generates consistent income over time with as little volatility as possible. That said, over the next few weeks we will continue publishing our 10-part series which should help you build your own 6% DIY Dividend Portfolio for 2013.
In part 1, we highlighted the investment plan and strategy for the portfolio and parts 2-10 will highlight each sector in the S&P 500, including high-rated stocks within each sector that you should consider for your portfolio. Below is a schedule of the entire series. Please make sure to "follow" us so that you will be notified when each new article is published.
Financials
This is what a financial-driven recession looks like graphically. The Financial sector was down over 80% during the 2008 recession. The sector has been by far the weakest sector in the S&P 500 over the past 5 years, with the worst current 5-year total return (-27.9%) and the highest drawdown (-82.7%). In addition, the sector has the highest average beta (1.52) of any sector.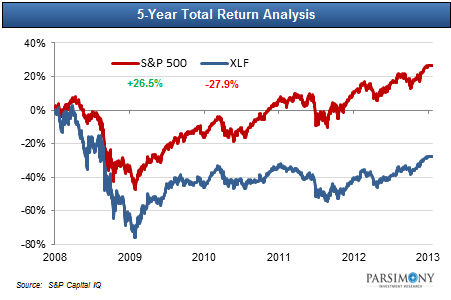 Even though financial stocks make up about 25% of our dividend stock universe, it's no surprise that there are only a few high-rated stocks in the sector. That said, below is a list of some of our top-rated dividend stocks in the financial sector. Note that our composite rating ranges from 0 (lowest) to 99 (highest).

Thankfully, the financial sector is a mixed bag of industries (not just banks), some of which have done quite well over the past 5 years and currently offer investors very attractive yields. Our list of top-rated stocks in the sector include two insurance companies, two real estate investment trusts, and one asset manager. As you can see from the table above, these top-rated stocks in the sector have an average beta of 1.11 and each has significantly outperformed the sector as a whole, averaging a 5-year total return of 120.5%.
The tables below highlight some of the key data points that we analyze when ranking our dividend stocks.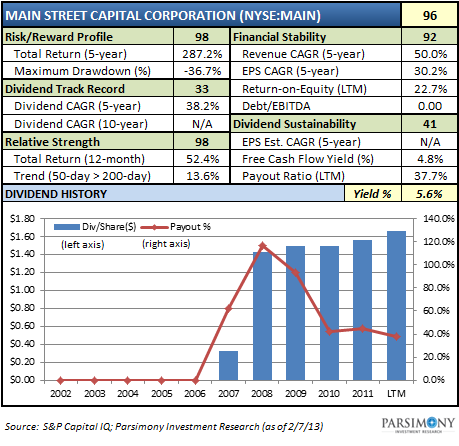 Main Street Capital (NYSE:MAIN) is a business development company ("BDC") that provides long-term debt and equity capital to middle market companies. MAIN has increased its dividend at a compound annual rate of 38% over the past 5 years. The company has a very attractive dividend yield (5.6%) and it has delivered shareholders a 287% total return over the past 5 years. Note: MAIN pays regular monthly dividends to its shareholders.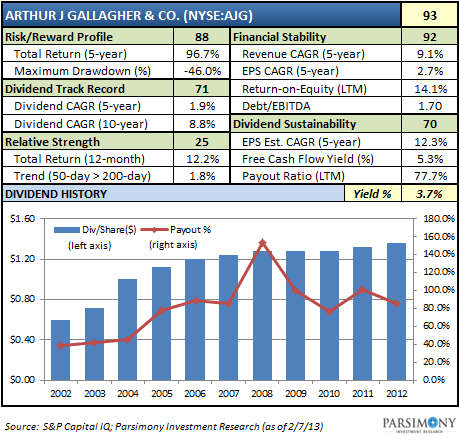 While Arthur J Gallagher's (NYSE:AJG) dividend increases have slowed in recent years, the company has consistently paid dividends every quarter since its public offering in 1984. AJG has a solid dividend yield (3.7%) and very good ratings for Financial Stability (92) and Dividend Sustainability (70).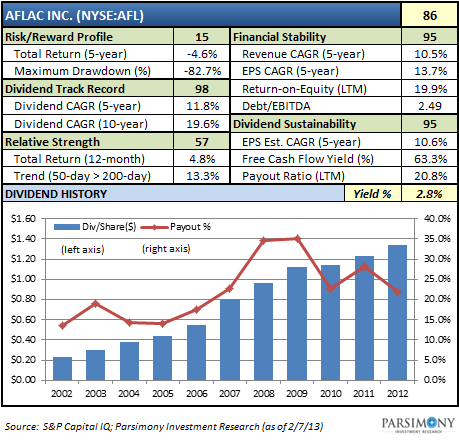 Aflac, Inc. (NYSE:AFL) is one of only a handful of stocks that has a sub-rating over 90 in 3 of our 5 sub-rating categories. Aflac has grown dividends at a compound annual rate of almost 20% over the past 10 years and it still has a very low payout ratio of 20.8%. The company recently announced a 6.1% increase in the quarterly cash dividend, which marks the 30th consecutive year in which the dividend has been increased.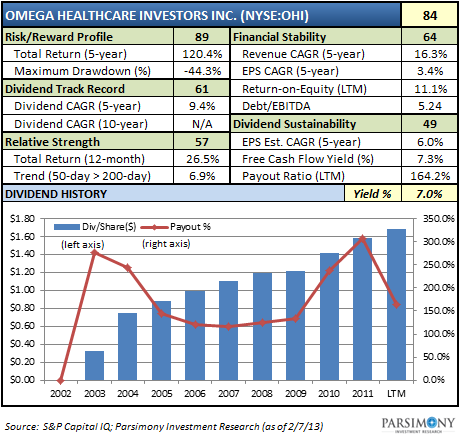 Omega Healthcare Investors (NYSE:OHI) is a real estate investment trust investing in and providing financing to the long-term care industry. The company has increased its dividend at a compound annual rate of 9.4% over the past 5 years and delivered shareholders a 120% total return over this period. OHI has a very attractive yield of 7.0% and we believe the stock would be a great addition to a long-term DIY Dividend Portfolio.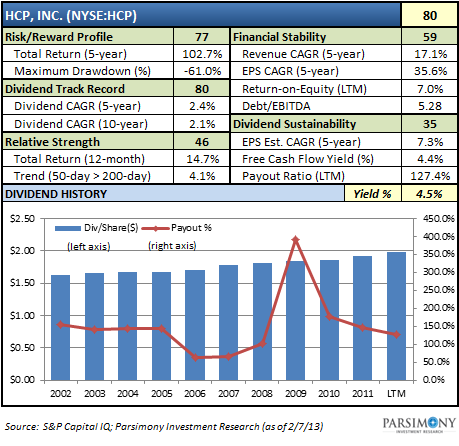 Despite HCP Inc.'s (NYSE:HCP) relatively low historical dividend growth rate, the company has a very nice dividend yield (4.3%). HCP is a Real Estate Investment Trust, which is why its historical payout ratios are so high (due to a REITs requirement to distribute the majority of its earnings to shareholders). HCP was the first healthcare REIT selected to the S&P 500 index, it has increased its dividend per share for 27 consecutive years, and it is the only REIT included in the S&P 500 Dividend Aristocrats index.
Conclusion
Even though it may be hard to fathom, there are clearly some attractive opportunities in the financial sector for your DIY Dividend Portfolio. The key takeaway here is that many of the broader sectors have sub-industries that perform much better than the sector as a whole. This is part of the reason why we developed the Parsimony rating system. If you rank all of the stocks in a sector against their peers on a consistent basis, it becomes clear which companies are the strongest and which offer the best investment opportunities going forward.
Disclosure: I am long AFL. I wrote this article myself, and it expresses my own opinions. I am not receiving compensation for it (other than from Seeking Alpha). I have no business relationship with any company whose stock is mentioned in this article.