In major newspapers yesterday, Pfizer (NYSE:PFE) and Wyeth (WYE) took out full page ads touting the deal. There's even a trademarked tagline at the bottom, "Working together for a healthier world." Seriously, there's a "TM" after the platitude.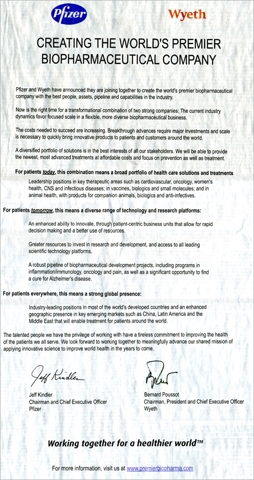 But Pfizer isn't just trying to convince the public at large that this is a good idea. More importantly, a source tells me that Pfizer Chairman and CEO Jeff Kindler, along with top level management, met with a handful of major sell-side analysts yesterday morning at the company's headquarters in Manhattan for about an hour-and-a-half. At least a couple of others who couldn't attend in person reportedly dialed in to listen. Kindler told the group he's got back-to-back meetings the rest of the day—I'm guessing with big, institutional investors.
He's going to have to do some major soothing after Monday's punishing stock market reaction.
At one point the Dow component was down as much as $2.16, or more than 12 percent. According to one of CNBC's in-house statisticians, PFE's closing price Monday of $15.65 was its lowest closing value since December 1st, 2008. The $1.80/10 percent decline was the biggest one-day dollar and percentage fall in more than two years. The stock is down 30 percent from a year ago and it's lost around 10 percent in the new year.
As Deutsche Bank's Barbara Ryan put it in a research note to clients yesterday morning, "The 50 percent dividend cut has clearly angered some investors, and the holders attracted purely to the yield may clearly choose other alternatives." But she's bullish on the prospects of the PFE WYE merger. DB makes a market in PFE and WYE, owns at least one percent of the shares and has done and wants to do more investment banking for the drugmakers.
One alternative appears to be Bristol-Myers Squibb (NYSE:BMY), which Jami Rubin at Goldman Sachs yesterday put on the so-called "America's Conviction Buy List." That's a euphemism, which some CNBC anchors occasionally poke fun at, meaning it's a screaming buy.
Rubin says the PFE-WYE deal makes a "wide range of strategic options, including M & A and IPO spins" for BMY "more likely." GS makes a market in BMY, has banked the company and wants to do it again soon.
BMY also reported earnings yesterday morning. Sales came in light, but the company beat the Street on the bottom line. And the drugmaker issued a 2009 earnings guidance range that takes in the current consensus.
Pfizer was originally going to report earnings tomorrow, but it put out its numbers Monday along with the Wyeth announcement. So, after the last couple of crazy days we've got a welcome respite until Eli Lilly (NYSE:LLY) and AstraZeneca (NYSE:AZN) report on Thursday.
In the meantime, I'll be blogging for a healthier world.