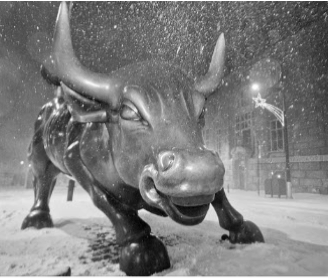 Bulls remain undaunted by higher payroll taxes, overbought conditions or much else. They worked hard to turn the week "green" for major indexes. The headline writers are quite busy spinning the good news. One stated "Nasdaq Near 12-Year High". Oh brother, wake me when its 5000 vs. 3200.
Seeing that we're long, I shouldn't complain too much. The game hasn't changed. On one side are very smart and experienced people who are raging at the machine. Most are gray-haired veterans who think they've seen it all. (The truth is, they haven't.) The other side are the money printing central banks and ZIRP that make any choices beyond stocks seem dumb. That's it.
As I suggested a few days ago, you either stay on the sidelines armed with your experienced wisdom, or hold your nose and dive into equities. If you agree, then this should lead subscribers to our Lazy or Hedged Lazy portfolios, as long as "the man" keeps printing.
If this rally persists, then it also means our active portfolio needs to deploy more of our cash to conditions.
Aside from more money printing, bulls seized on international trade data, which showed the U.S. trade deficit shrinking ($-38.5 billion vs. prior $-48.6 billion). This implied to bulls that GDP data would certainly expand. It was odd when compared to China announcing that its exports rose 25%. This prompted the wise guys at ZH to suggest that someone was lying. Further, bulls quickly forgot the horrible Productivity & Cost data from Thursday. But this is a go-go market with HFTs and algos, many constructed as hedge funds, controlling the show.
Risk assets like gold (NYSEARCA:GLD) are clearly out favor, and the dollar (NYSEARCA:UUP) rallied further post Draghi's comments to talk down the euro (NYSEARCA:FXE). Japan officials were surprised by how much the yen's (NYSEARCA:FXY) declined, which prompted a rally since so many are leaning heavily to one side of the trade. Commodities (NYSEARCA:DBC) were weaker, even as energy (NYSEARCA:USO) and (NYSEARCA:UGA) prices were flat, while grains (NYSEARCA:JJG) were weak after the crop report. Bonds (NYSEARCA:TLT) were marginally stronger in price.
Of note was Venezuela devaluing its currency, the bolivar, from 4.30 to 6.30 to the dollar. This will hurt creditors, and cause higher inflation naturally. This is a sideshow in the ongoing currency wars.
Major stock indexes rallied to see most close positive for the week. Market leaders were primarily in tech, with heavyweight Apple (NASDAQ:AAPL) leading the sector higher along with semiconductors (NASDAQ:SOXX).
The weekly charts below show first the raw DeMark sequential counts for XLK. The next chart features a similar view with our proprietary trading signals for SOXX. In the latter, small arrows (green or red) are indications to close long or short positions, while large green and red arrows indicate long or short signals. We'll be taking positions in both next week most likely.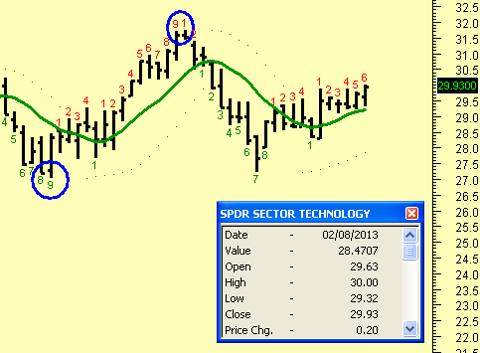 Volume was absurdly light, as perhaps many traders stayed away. Breadth per the WSJ was positive.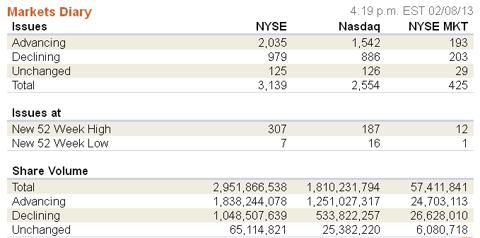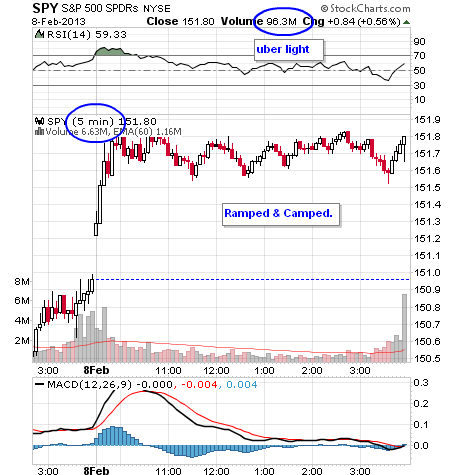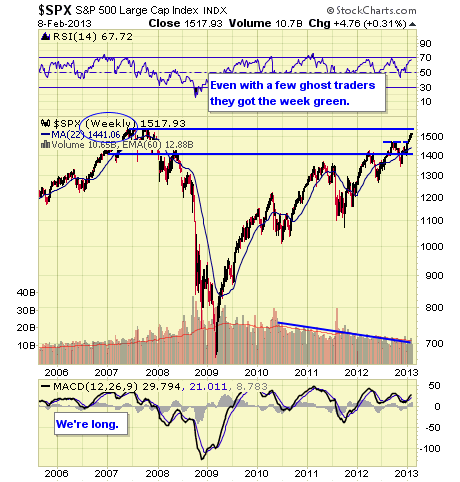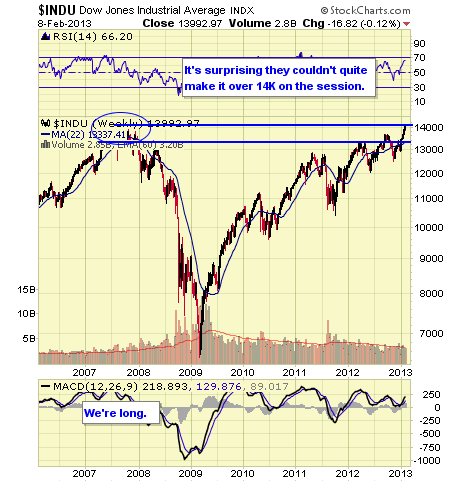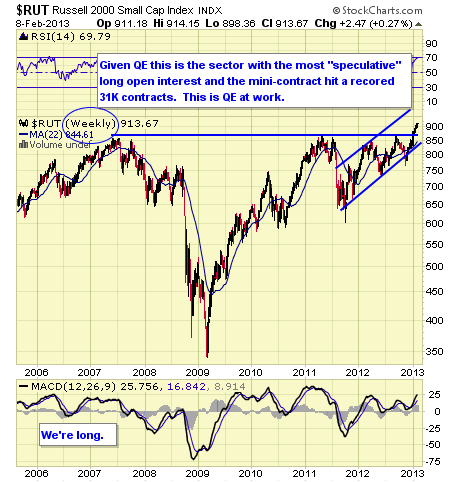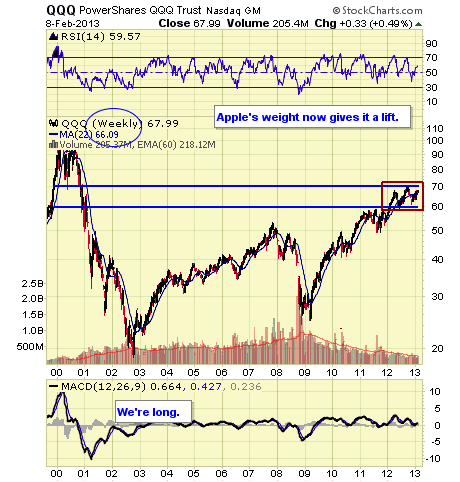 Continue to U.S. Sector, Stocks & Bond ETFs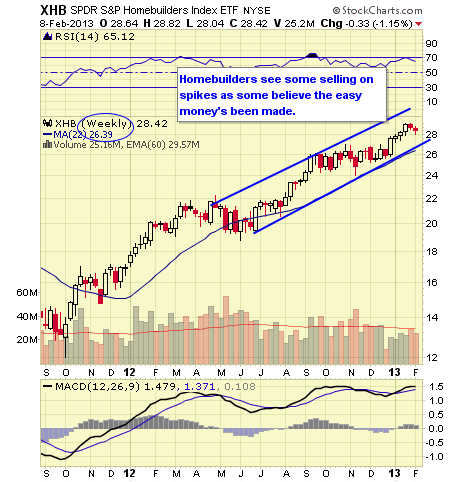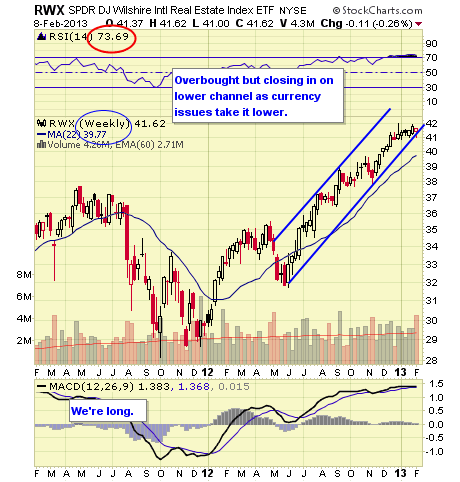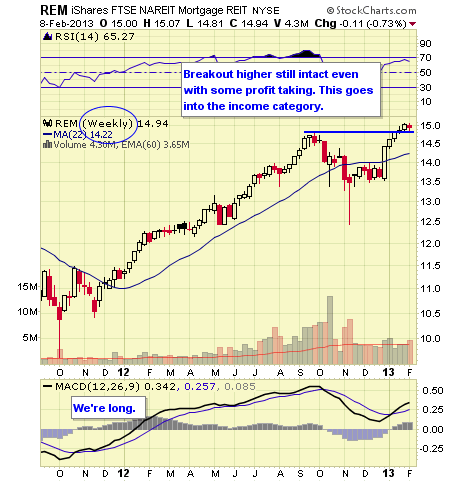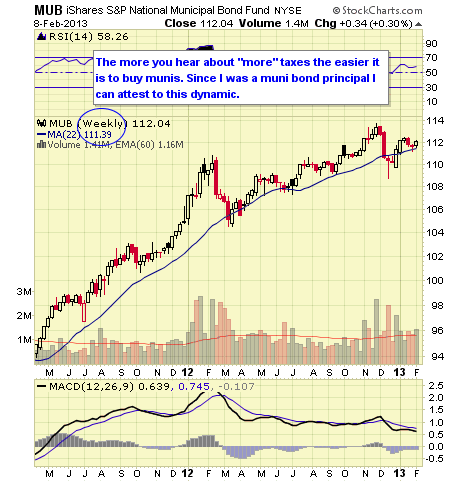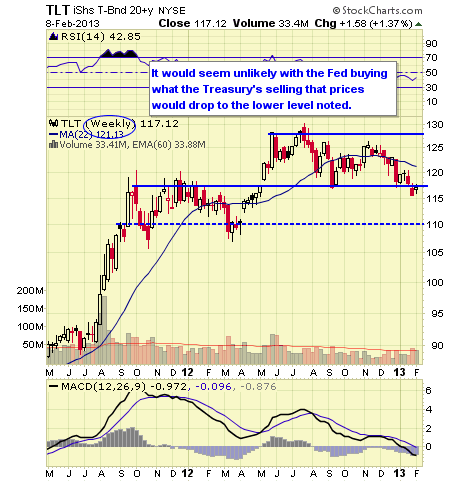 Continue to Currency & Commodity Market ETFs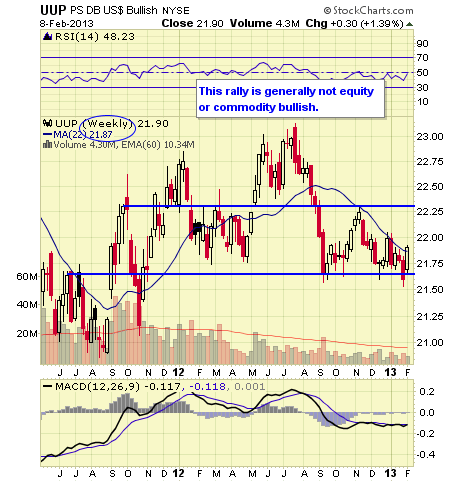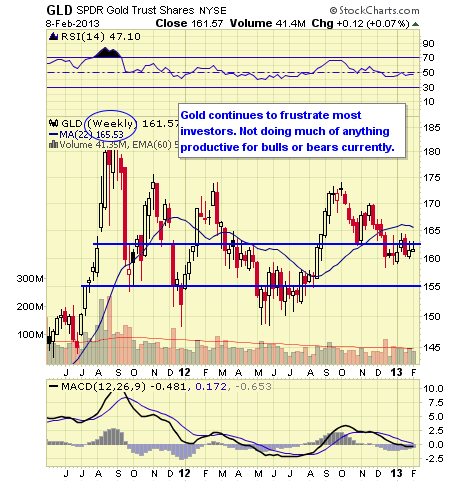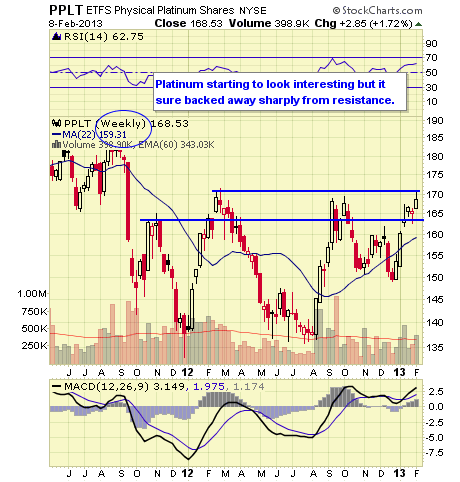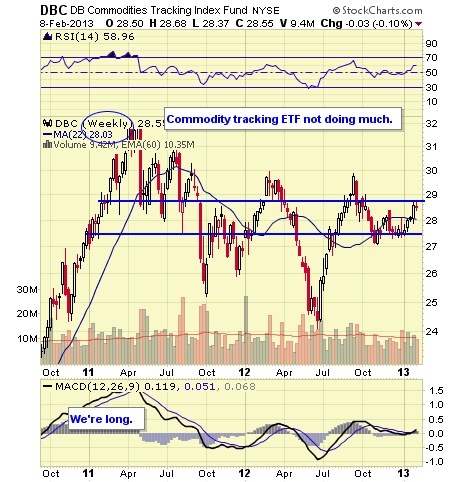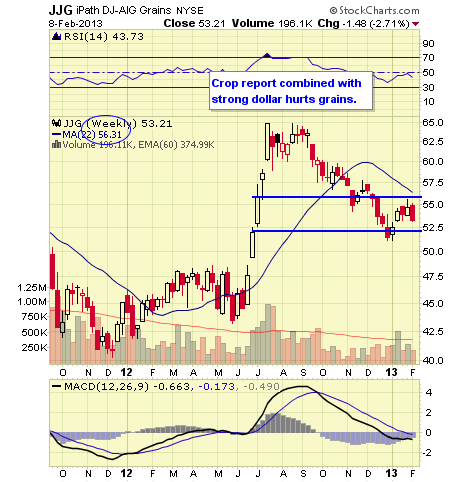 Continue to Overseas Sectors & ETFs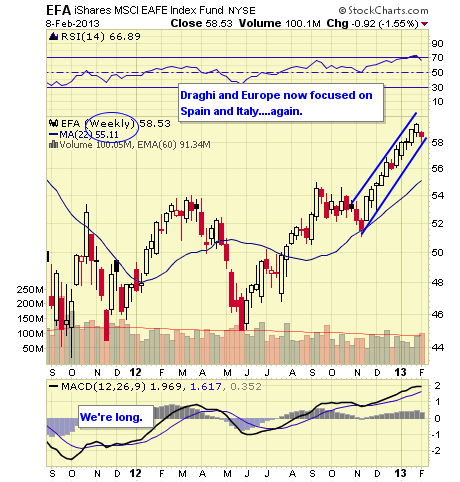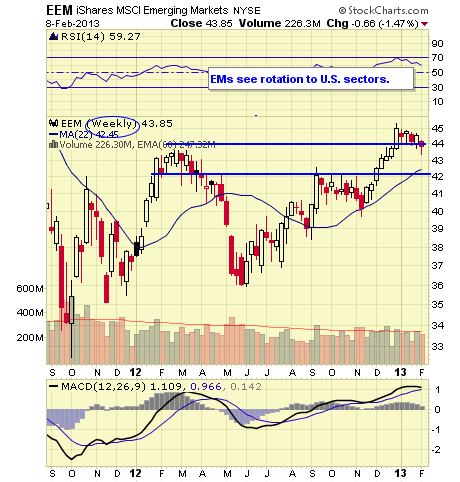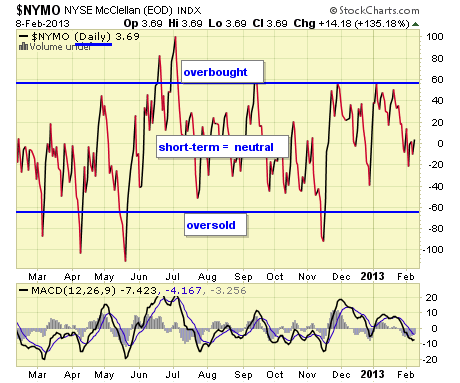 The NYMO is a market breadth indicator that is based on the difference between the number of advancing and declining issues on the NYSE. When readings are +60/-60, markets are extended short term.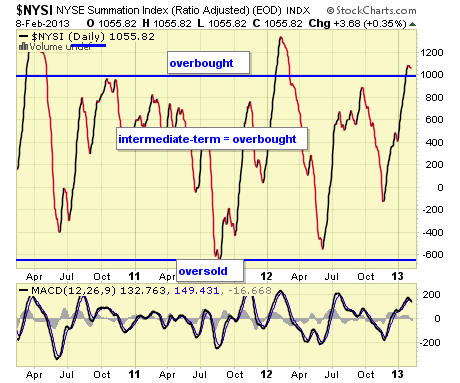 The McClellan Summation Index is a long-term version of the McClellan Oscillator. It is a market breadth indicator, and interpretation is similar to that of the McClellan Oscillator, except that it is more suited to major trends. I believe readings of +1000/-1000 reveal markets as much extended.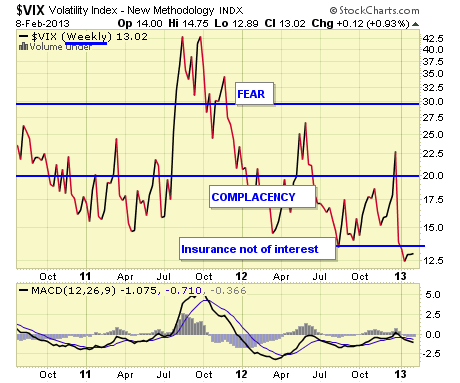 The VIX is a widely used measure of market risk, and is often referred to as the "investor fear gauge." Our own interpretation is highlighted in the chart above. The VIX measures the level of put option activity over a 30-day period. Greater buying of put options (protection) causes the index to rise.
Concluding Remarks
I've really nothing further to add since as of this writing, the blizzard is now commencing here in New England.
Disclaimer: The ETF Digest maintains an active ETF trading portfolio and a wide selection of ETFs away from portfolios in an independent listing. Current "trading" positions in active portfolios, if any, are embedded within charts: Lazy & Hedged Lazy Portfolios maintain the follow positions: VT, MGV, BND, BSV, VGT, VWO, VNO, IAU, DJCI, DJP, VMBS, VIG, ILF, EWA, IEV, EWC, EWJ, EWG, & EWU.
The charts and comments are only the author's view of market activity and aren't recommendations to buy or sell any security. Market sectors and related ETFs are selected based on his opinion as to their importance in providing the viewer a comprehensive summary of market conditions for the featured period. Chart annotations aren't predictive of any future market action rather, they only demonstrate the author's opinion as to a range of possibilities going forward.
Disclosure: I have no positions in any stocks mentioned, and no plans to initiate any positions within the next 72 hours. I wrote this article myself, and it expresses my own opinions. I am not receiving compensation for it. I have no business relationship with any company whose stock is mentioned in this article.