Ark Restaurants (NASDAQ:ARKR) is a sustainable company operating in the restaurant services industry. As I established in my previous articles, Part I and Part II of Ark Restaurants: A Low Risk Value Play, I outlined ARKR's fundamentals that make it a feasible investment for those seeking a value play with high growth potential. Following a small pullback in its security market price, I published a third article reiterating a buy on the stock at a price range of $16 to $17. In addition, ARKR ended FY 2012 on a strong note when it reported positive earnings right in line with analysts' estimates. Furthermore, recent news on the Street regarding ARKR being a potential acquisition candidate has augmented ARKR's stock price over 17%. Taking into consideration ARKR's low average volume traded per day, this increase is enormous. This article highlights the most up to date details regarding the terms of this potential acquisition, and provides valuation models to analyze ARKR's true value as a firm. To conclude, I will contrast ARKR's intrinsic value against the price per share Landry's, Inc. (LNY) has set forth in the offer letter.
Landry's Offer
On February 6, Landry's announced it has sent a letter to ARKR proposing to acquire ARKR for $22 per share. This value per share is roughly a $22 premium above ARKR's closing price per share on February 6th. In the letter, one of the topics discussed was ARKR's low average volume traded per day. Landry's management placed an emphasis on the liquidity benefits this acquisition would provide to shareholders. As for the terms of this agreement, Landry's management stated:
"We propose that this negotiated transaction be accomplished by way of a definitive merger agreement to acquire 100% of Ark's shares. We are also willing to discuss a structure that allows us, as a first step, to take our proposal directly to your stockholders to consummate the acquisition on an expedited basis. We are highly experienced in operating and acquiring restaurant companies, having recently completed the acquisition of prominent industry leaders including McCormick & Schmick's Seafood Restaurants, Inc. and Morton's Restaurant Group, Inc. We are familiar with the Company's business operations and therefore require limited due diligence. Our proposal is conditioned upon satisfactory completion of confirmatory due diligence, obtaining material consents and approvals, waiver of any applicable anti-takeover provisions, and other customary terms and conditions for a transaction of this type."
ARKR's three month price graph, provided below, illustrates the price increase following this announcement. Also, notice the spike in ARKR's volume traded over the past few days. This is indicated by the bar graph at the bottom of the chart.
Figure 1: ARKR's Three Month Price Graph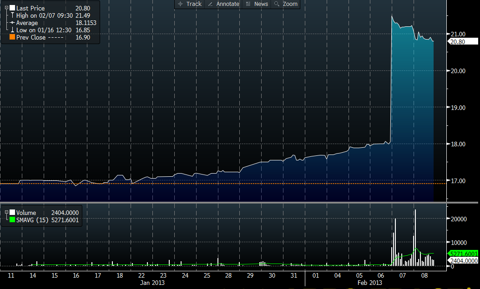 What Is ARKR's Fair Value?
After the recent spike in ARKR's security price, I am sure many active investors of ARKR have the same concerns regarding ARKR's valuation. What is ARKR's common stock really worth, and is Landry's offer fair? Just like any firm, ARKR's management has a fiduciary duty to maximize shareholder wealth. In this case in particular, ARKR's management is forced to make a decision in the best interests of its shareholders. Furthermore, it is important for investors of ARKR to fully understand the offer at stake, and also assess the financial condition of the company to determine if the offer at stake is actually fair.
To determine the fair value of ARKR's common stock outstanding, I used a simple valuation model incorporating ARKR's free cash flows, its capital structure, and a constant growth rate. For evaluating ARKR's capital structure, I calculated ARKR's weighted average cost of capital and used the computed value of 6.5% as the adjusted discount rate in this model. In addition, you will notice I have used an extremely conservative growth rate in order to provide conservative estimates. The model revealed a current intrinsic share price of $31.60, which is significantly different than Landry's offer of $22 per share.
Figure 2: The Corporate Valuation Model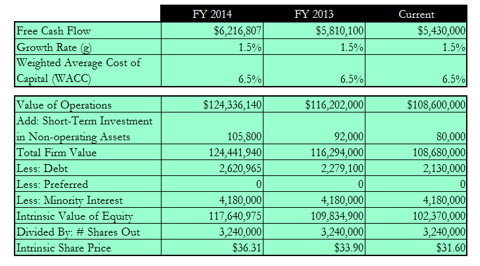 In conclusion, given ARKR's current financial position and conservative assumptions, ARKR is highly undervalued. ARKR's growth potential is huge, and its dedicated management has proven the company's ability to continue expanding as a firm. If the acquisition does not occur, ARKR is perfectly positioned to excel off an economic recovery, especially off a rebound from the suppressed casino industry. In conclusion, given ARKR's growth potential, I feel the expected future value of ARKR's common stock to shareholders is far more substantial than Landry's current offer at $22 per share.
Sources: The Wall Street Journal, Google Finance, Yahoo Finance, and TD Ameritrade.
Disclosure: I am long ARKR. I wrote this article myself, and it expresses my own opinions. I am not receiving compensation for it (other than from Seeking Alpha). I have no business relationship with any company whose stock is mentioned in this article.