Few industries even come close to the tradition of the United States railroad industry. Largely responsible for the expansion and development of the U.S., the railroads have been a steady investment for over a hundred years. Although the freight rail industry has maintained an old-school, blue-collar image for many years, this industry has continued to thrive as the economy has grown into the 21st century. Compared to other major industries, these companies have spent one of the highest percentages of revenues to implement mechanical improvements and technological advances in order to maintain their competitive advantage in the transportation industry.
The fact is that railroads are a critical part of the United States economy, and they also play a vital role in the competitiveness of the country from a global perspective. The freight rail industry is worth $60 billion, as it is responsible for moving 40% of the nation's freight (by ton-miles) across 140,000 miles of rail. Class I carriers such as Union Pacific (NYSE:UNP), Norfolk Southern (NYSE:NSC) and CSX (NYSE:CSX) are the largest in the industry, and although Class I companies only comprise of 1% of the number of U.S. freight railroad operators, they account for 89% of the employees and 92% of the industry's revenue.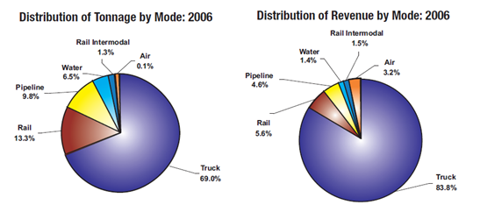 One reason why the freight rail industry has been so successful over the years is because their rates are so much lower than their competitors'. As you can see in the above charts, although rail accounts for over 14% of shipping tonnage, they only account for just over 6% of revenue, while trucking is 69% versus 84%, respectively. If taking distance into account, the disparity is even greater, with the freight rail industry accounting for around 40% of freight shipping by ton-miles, while trucking only makes up about 30%. In addition to this obvious benefit, rail has become an even more popular form of shipping due to its minimal environmental impact, especially relative to its trucking counterpart.
The Role Of Coal
Although the rails have proven to be environmentally friendly, environmental concerns are also beginning to seriously threaten the profitability of freight rail operators. Coal is currently the most important commodity carried by rail, as it accounts for over 40% of tonnage and just over 20% of revenue for the major Class I railroads. Approximately 2/3rds of U.S. coal shipments are handled by rail, with over 90% of the country's coal going to power plants. Unfortunately for freight rail operators, coal power plants have been under heavy scrutiny as a result of their negative impact on the environment. To compound the problem, not only has the country experienced warmer than usual weather over the past couple of years, but a cleaner and abundant substitute for coal, natural gas, has been hovering around record low prices.
To put the impact of coal on the railroads in perspective, just last month, CSX blamed weak demand in the coal market for a 3% decline in Q4 net income, as it stated that the decline in coal demand more than offset gains in intermodal and merchandise shipments. More specifically, coal revenue fell 18% in Q4 compared to the same period in 2011.
Norfolk Southern also saw a 14% decrease in Q4 year over year earnings as a result of its coal revenue dropping 23%. Union Pacific was actually able to post a 10% increase for Q4 earnings relative to Q4 2011, despite its coal demand being down 17%. However, this outperformance of its peers was largely a result of coal making up only 20% of UNP's shipments, while the fossil fuel accounts for 26% and 24% of CSX's and Norfolk Southern's shipments, respectively.
According to the U.S. Energy Information Administration (EIA), estimates of coal consumption in the electric power sector in 2012 were the lowest they've been since 1992. As the Obama Administration looks to tighten controls around the emission of greenhouse gases, as well as the disposal of coal related byproducts, it's pretty clear that railroads are going to have to start thinking about a potential substitute for coal, especially as natural gas remains cheap and abundant. As part of Q4 earnings commentary, CSX said that coal shipments will continue to be weak in 2013 and may be down around 10%.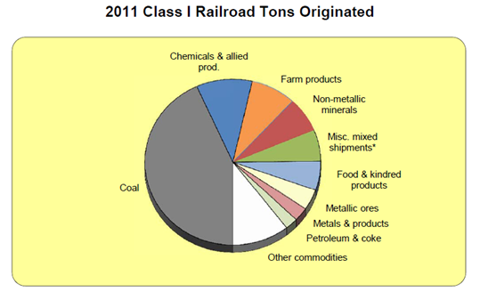 Courtesy of the Association of American Railroads
Why Coal Doesn't Matter
With coal making up such a large percentage of the railroad industry's freight tonnage and ultimately its revenue, the question investors have to ask themselves is what type of freight will serve as a substitute for coal as it continues to fall out of favor due to environmental concerns, especially as the pressure to move towards natural gas usage begins to build? The longer that question goes unanswered, the longer railroad profits will continue to face an uphill battle. However, there are a couple of potential replacements for coal in the pipeline, replacements that could prove to be very profitable.
Potential Energy Substitutes
Speaking of pipelines, crude oil will provide the most instant gratification for freight rail operators as a substitute for coal. Oil is obviously a vital component of our society, with the majority of its use going towards transportation and heating. In fact, as a result of tough oversight and additional regulations facing the pipeline industry, railroads have already begun to see a major uptick in oil shipments in recent years.
The below chart is representative of crude oil shipments by year from the Association of American Railroads. In this view, it's easy to spot the trend of increasing oil shipments.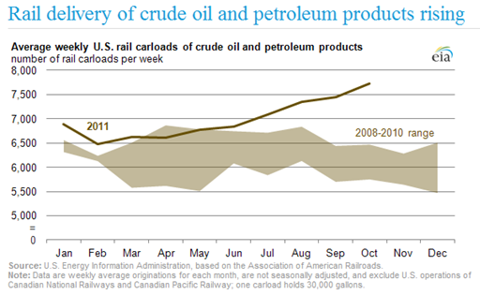 Courtesy of EIA
Although transporting oil via pipelines is much easier and cheaper for oil companies, as previously mentioned, due to the limitations that the Obama administration currently maintains, areas like the Bakken Shale in North Dakota continue to have limited access to pipelines, thus setting the railroad up as the next best option.
Union Pacific saw a 14% increase in its chemical shipments for Q4 2012, of which 29% consists of petroleum and LP gas. CSX reported an increase of 4% in its merchandise shipments, of which oil and gas is a main component, while Norfolk Southern also saw a rise of 4% in their comparable shipments.
While all of the major railroads have and will continue to see an increase in oil shipments, CSX and Norfolk Southern stand to potentially profit the most of this growing segment. This is because the majority of oil movement via train is currently between the Bakken Shale area and Canada to coastal refineries, mainly on the Gulf coast. Coastal refinery hubs continue to expand new rail terminals in order to increase capacity, with a couple of major projects being announced in 2012. One of these projects is taking place in Albany, NY, where Global Partners (NYSE:GLP) is tripling its ability to offload crude oil from trains, going from enough capacity to receive one 80 car train to two 120 car trains per day.
Railroads also stand to profit from the anti-pipeline movement through the transportation of liquefied natural gas (LNG) for both domestic and international use. While there has been some talk in recent months of the trucking industry converting from diesel to LNG, which would obviously boost demand, more immediately (and maybe realistically), a booming supply of natural gas along with high global prices for LNG make the exportation of it very attractive for the U.S. Although the process of liquefying the gas is relatively expensive, LNG that is worth around $3.70 per million BTU in the United States can sell for around $11 per million BTU abroad, with rates in Japan coming in at an even more impressive $17 per million BTU.
While opponents may argue that not only is the process of liquidating natural gas expensive, it's also roughly 30% worse for the environment relative to traditional natural gas due to emissions from the liquefaction and re-gasification processes. Not to mention the additional pollution that occurs as a result of the rail transportation. Despite this argument, it doesn't appear that our current administration will be budging any time soon on the pipeline issue, especially since the rail system's value proposition is much more expansive than the pipeline industry's. In fact, the Obama Administration has already shown its direct support for the rail industry with its high speed rail initiative, and maybe its indirect support with the opposition of pipeline expansion.
The Return And Growth Of Other Sectors
Ford (NYSE:F) and General Motors (NYSE:GM), have seen recent improvements in their sales as the auto industry begins to come back. In addition to this growth, housing starts have also given railroads some support in recent months, and although these industries will not completely fill the coal void, they are certainly great supplements to the growing oil and liquefied natural gas shipments. Norfolk Southern's automotive revenue increased 7% in Q4 year over year, while Union Pacific reported a 14% increase in automotive shipping revenue and a 3% increase in industrial products, of which 10% consists of lumber and 30% construction materials.
Other Catalysts
Rising crude oil prices will continue to make freight rail shipping more attractive relative to trucking as a result of lower costs. In addition, the rapid growth of online shopping through cyber retailers like Amazon (NASDAQ:AMZN), and even through traditional retailers like Wal-Mart (NYSE:WMT), will continue to steadily add to the bottom line of freight rail operators. Online auction houses and resell sites like eBay (NASDAQ:EBAY) also help to boost volumes of intermodal loads due to items being shipped multiple times throughout their useful life, instead of just once after an initial purchase, which has traditionally been the case. In the last 10 years, Amazon's revenue has risen over 1,000% to $61mm from $5.3mm, while eBay's revenue has grown about 550%, from $2.1mm in 2003 to $14mm in 2012.
Union Pacific, CSX and Norfolk Southern all posted gains in their intermodal shipping revenues for Q4 year over year. Intermodal revenue increased 6% for both UNP and CSX, and 5% for NSC.
Conclusion
So what does all this mean for the railroads? With all of the negative earnings forecasts and consistently pessimistic outlooks on coal consumption, we could start to see some price depreciation among these stocks as worries set in. However, these price drops should be considered little more than a buying opportunity, if the rails begin to go on discount.
Rising demand for oil with limited pipeline infrastructure will continue to benefit the freight rail industry. In addition to oil, the growing domestic and international demand for liquefied natural gas will not only supplement the loss of coal shipments, it will eventually take its place as one of rail's most valuable commodities.
An increase in car sales, new housing starts and construction, and even the rapid expansion of the online marketplace are all more positive signs that the railroads are going to be around and generating respectable profits for another hundred years.
Of course as an investor, there are some things you'll want to keep an eye out for. How the political environment plays out regarding the pipeline issue will have a considerable and direct effect on the rails. Pipeline expansions could cut into some of the freight rails' oil and gas profits, however, since branch rails are much more expansive than current or even proposed pipeline plans, the damage should be limited, if any at all.
For now, it appears that the rails will maintain the upper hand, with major selling features such as a more expansive reach and diverse usability, higher levels of safety and the creation of more jobs relative to developing and maintaining additional pipeline infrastructure.
Courtesy of the Association of American Railroads
Disclosure: I have no positions in any stocks mentioned, and no plans to initiate any positions within the next 72 hours. I wrote this article myself, and it expresses my own opinions. I am not receiving compensation for it (other than from Seeking Alpha). I have no business relationship with any company whose stock is mentioned in this article.