An unsolicited bid for Forestar Group (NYSE:FOR), a company principally involved in residential real-estate with minor interests in gas and oil royalties as well as the sale of wood fiber from its undeveloped land, was made by timber baron Holland M. Ware last Thursday, Jan. 22, for $15/share in cash. Based on the company's outstanding shares as of Oct. 31, 2008, the deal is worth around $535.5 million. The board of Forestar said they would consider the offer.
I was ready to pounce on this but took a step back when I saw that the stock of Forestar hadn't risen much after the announcement—at least, not as much as one might have expected. On the first trading day post-announcement, the stock closed at $12.09, up 30% from the previous close but still 24% from its offering price. That's a lot. So, I did some quick research and came up with some reasons as to why investors may not be so thrilled with it.
I'm Ware-y of this deal for a couple reasons. One is because of Mr. Ware's reputation. In 2007, he tried to take advantage of a loophole in Georgia state law whereby a charitable institution is exempt from paying property taxes. What he did was to donate 67,000 acres of Georgia timber land (worth around $100 million) to his animal charity which up until then had only $300,000 in assets. (Click here for the full story.) Not terribly ethical but clever nonetheless. (FYI, the Georgia legislature didn't let him get away with it.) This leaves me to wonder what Ware is up to now...
The other reason is because of his stock position in the company. As of 12/18/08 when the stock was trading around $5/share, Ware reported owning 2.35 million shares of Forestar stock representing 6.6% of the outstanding shares. Guess who owns nearly 10% of the company? Mega-investor Carl Icahn that's who. He's reported as owning 3.5 million shares as of 9/30/08. Before the end of September, Forestar stock had never traded below $15 as you can see from the weekly chart below. What I'm wondering is if Icahn along with other stockholders and company officers and directors who had purchased their stock before October 2008 will be willing to tender their shares at a loss. Would you?
Of course, the real-estate market may not recover for a while so in that respect this deal may offer some luke-warm appeal. As for me, I'm staying away from it.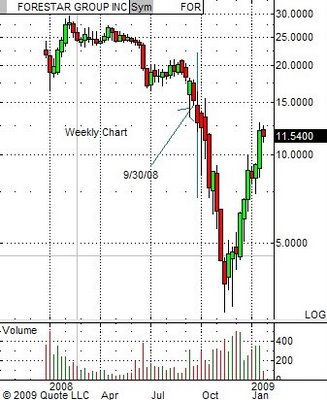 Disclosure: No position.