Philip Morris International (NYSE:PM) recently released its 4th quarter earnings results. You may know PM from such brands as Marlboro, Chesterfield and L&M. These strong brands allow PM to charge customers more for their products.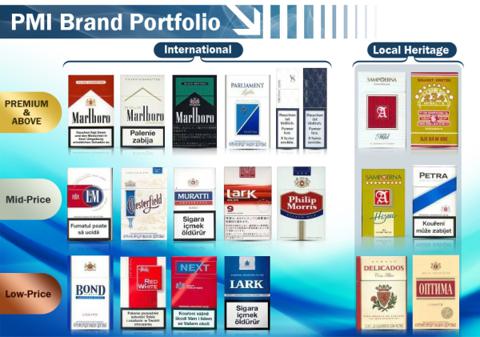 I will be taking a look at how PM's profit and sales are evolving and try to determine if PM is a buy at current prices.
Earnings per share up 6.6% YoY
EPS went up from $4.85 to $5.17, a 6.6% increase. This was partially due to a 1.4% increase in net sales, but also thanks to the lowering of costs from $10.68 billion to $10.37 billion ( a 2.9% decrease).
Sales increased in EEMA (Eastern Europe, Middle East and Africa)(+15.4%), Asia(+7.5%) and Latin America & Canada(+5.6%), but went down in the European Union.(-8.2%).
Dividend grows to $3.24 in 2012, up 14.9%
PM's dividend yields well over 3% with a payout ratio that looks very sustainable. In fact, paying out only 62.7% means PM has enough funds to buy back some of its own stock, which it regularly does.
PM's dividend has grown at an amazing rate since it was spun off from Altria in 2008.
| | | |
| --- | --- | --- |
| Year | Dividend | Yoy Increase |
| 2008 | $1.54 | |
| 2009 | $2.24 | 45.45% |
| 2010 | $2.44 | 8.93% |
| 2011 | $2.82 | 15.57% |
| 2012 | $3.24 | 14.89% |
Share Repurchase Program
The amount of shares repurchased by PM is amazing. After completing their previous $12 billion share repurchase earlier than planned, PM announced that it would buy back another $18 billion in shares in the coming 3 years (2012-2015). This will further raise the stock price, whilst lowering its dividend pay-out ratio.
All in all, should you buy PM?
It would seem that with its amazing dividend growth rate and increasing sales in all markets except the European Union, PM would be a buy at this point. There are however, some things that may cause concern:
- The EU market provides around 30% of PM's sales, but this number is dropping, and fast. Sales in other regions will have to increase to compensate for this. In 2012, this was not a problem, with EEMA sales going up at amazing speed.
- Part of the costs for PM are in USD, but income is in foreign currency. A strong $ may lower profits.
- An increase in taxation on cigarettes could reduce the amount of cigarettes sold. This risk isn't too high, because PM sells its product in over 180 countries worldwide.
Disclosure: I have no positions in any stocks mentioned, but may initiate a long position in PM over the next 72 hours. I wrote this article myself, and it expresses my own opinions. I am not receiving compensation for it (other than from Seeking Alpha). I have no business relationship with any company whose stock is mentioned in this article.