Imagine this, you buy a big pile of Apple (NASDAQ:AAPL) stock at $100 and then with the introduction of the iPhone, thinking the stock will go to $1500, you sell a big pile of puts thinking you will pocket all those premiums. But then the stock falls to $450! How much money are you making in Apple now? You have probably lost most of your gains and depending on how many puts you sold, you might even be breakeven.
I doubt that David Einhorn, the hedge fund manager of Greenlight Capital, made such a mistake, but it would partially explain the ludicrous proposal he pitched to Apple, pertaining to the share structure of the company. Meaning, when a hedge fund manager is desperate, he'll think of anything to try pump up a stock.
OK on a more serious note, while every board has "the obligation to examine all options to create and unlock additional value," making things more complicated does not fall into this category and, furthermore, will not add value to the company and to the stock. And the proposal by David Einhorn, in my opinion, will reduce the value of Apple's stock not increase it.
As per data on Yahoo, the forward annual dividend yield of Apple today is 2.3%. So to satisfy David Einhorn, all Apple has to do is raise the dividend by 1.7%. But why doesn't he ask for a dividend increase and instead asks for a different class of stock to be issued? I don't know, but whatever the reason, it makes no sense to me.
So what should Apple -- or any company for that matter -- do to increase the value of the company and its share price, when they have billions in the bank? The same thing that other tech heavyweights are doing with their money, and that is share repurchases.
Long-term, there is no better way than to add value to any stock, than reducing the float and thus leveraging and accelerating EPS growth. Companies such as Cisco (NASDAQ:CSCO), Microsoft (NASDAQ:MSFT), IBM (NYSE:IBM), Oracle (NYSE:ORCL) and Intel (NASDAQ:INTC) have been doing this for many years now.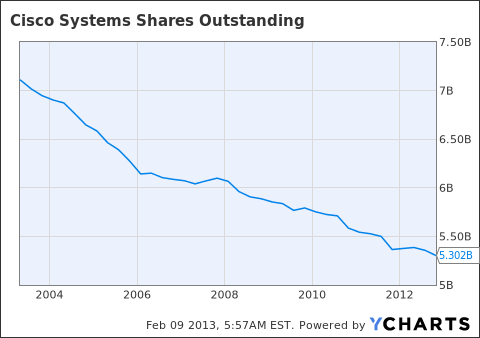 CSCO Shares Outstanding data by YCharts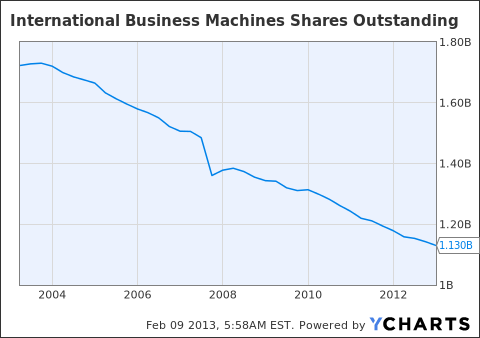 IBM Shares Outstanding data by YCharts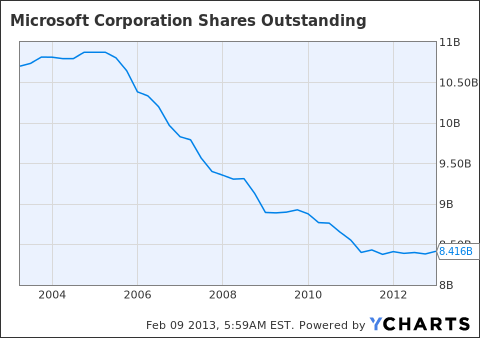 MSFT Shares Outstanding data by YCharts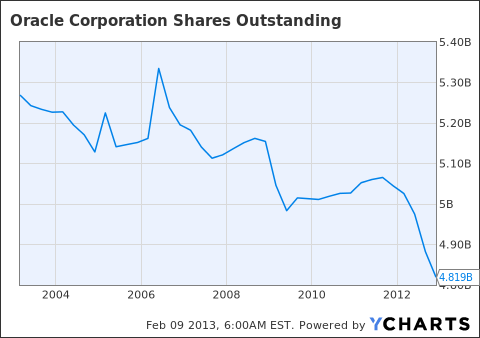 ORCL Shares Outstanding data by YCharts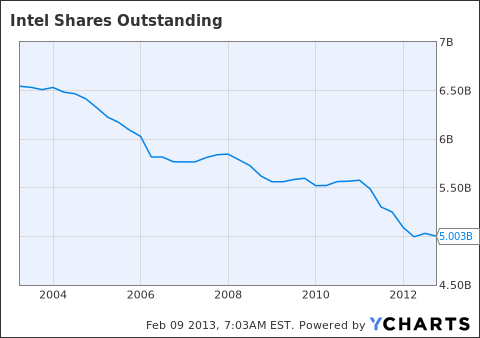 INTC Shares Outstanding data by YCharts
So why then have stocks like Microsoft and Intel been under-performing for many years now, if buying back shares is the answer? Because they were grossly overvalued many years ago to begin with. Reducing the float will not help when a stock is overvalued, especially, when a stock has a very high price/sales ratio (there's that pesky ratio again). Let me give you an example.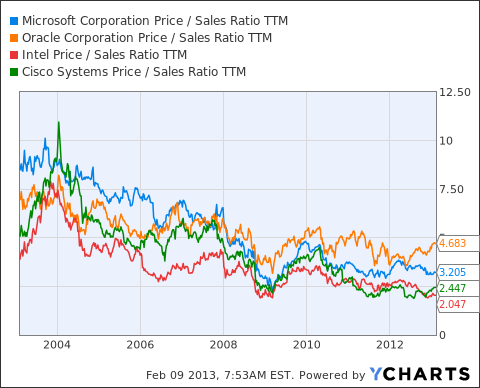 MSFT Price / Sales Ratio TTM data by YCharts
All the above stocks had an extremely high price/sales (and P/E) ratio years ago. In fact Oracle is still above my tolerance level.
But let's look at IBM: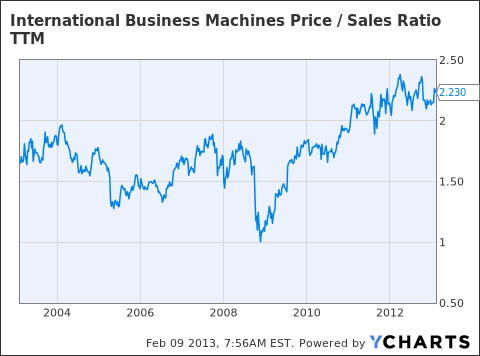 IBM Price / Sales Ratio TTM data by YCharts
See IBM was never overvalued on a price/sales basis. And that's the reason IBM is hovering around all-time highs today -- having reduced its float over many years -- while the other stocks mentioned above have had a lost decade.
(click to enlarge)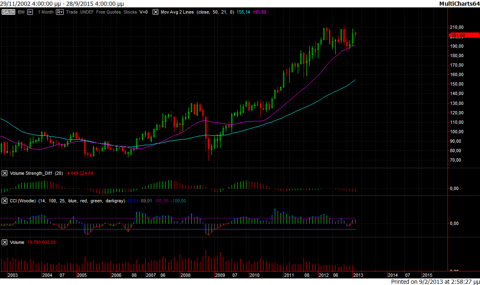 Today, however, things are different. Reducing the float from now on in the stocks mentioned above will have a positive effect on their stock price, because today these stocks are all fairly valued (especially on a P/E basis) and have a down to earth price/sales ratio.
As for Apple, today (as shown in the chart below) the stock is quite cheap and does not have a high price/sales ratio, therefore share repurchases will have the same effect that share repurchases had on IBM's stock.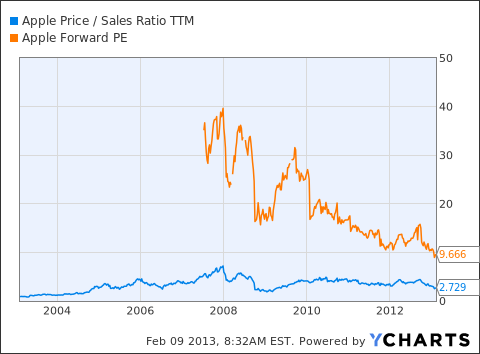 AAPL Price / Sales Ratio TTM data by YCharts
Bottom line
Apple should under no circumstances alter the share structure of the company with the ridiculous proposal of David Einhorn. Apple instead should target a steady cash hoard of around $100 billion and use all additional cash from earnings to repurchase shares on a steady basis. I would also add a 30:1 stock split in the mix.
Even with single-digit growth, buying back shares will propel EPS to much higher levels, that should provide for above average appreciation for shareholders from this point on long term. IBM is the best example of such a stock, and it would be wise for Apple to follow in its footsteps.
Disclosure: I have no positions in any stocks mentioned, and no plans to initiate any positions within the next 72 hours. I wrote this article myself, and it expresses my own opinions. I am not receiving compensation for it (other than from Seeking Alpha). I have no business relationship with any company whose stock is mentioned in this article.